Almost one month after a man allegedly attempted to execute an ex-policeman and was shot at the La Penitence Market, he was moments ago brought before the court on a stretcher and was charged with the attempted murder of Teon Allen called "Spoil Child."
Twenty-two-year-old Lashawn Lewis of Linden appeared before Chief Magistrate Ann McLennan at the Georgetown Magistrate's Court.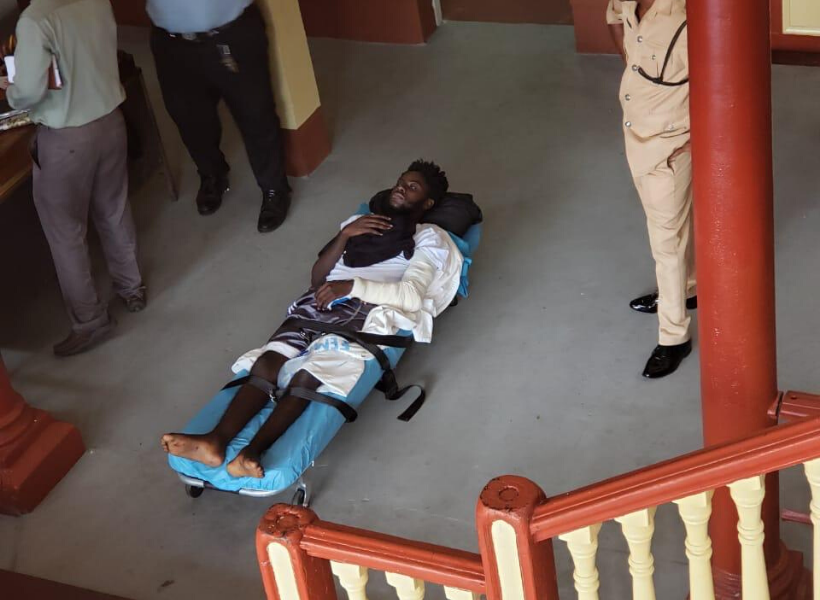 It is alleged that on October 5, 2019, at La Penitence Market, with intent to commit murder, he discharged rounds at Allen.
Lewis was not required to plead to the indictable charge after it was read to him.
His lawyer, Gordon Gilhuys, in an unsuccessful bail application, told the court that his client knows nothing about the allegation and is currently unable to walk since he was shot to his back near his spine.
The lawyer added that the bullet is still lodged in his client who is in serious pain and in need of proper medical attention.
However, Police Prosecutor Neville Jeffers objected to bail being granted to the accused on the grounds of the serious nature of the allegation and the penalty the charge attracts.
Facts presented by the prosecutor stated that on the day in question, Allen was at the market purchasing vegetables when the defendant and two others exited a car and started shooting in his direction.
It was reported that Allen ran for his life and when he reached a distance, he turned around and returned fire—injuring Lewis. The men then made good their escape.
The matter was reported, and following an investigation, he was charged for the offence.
The magistrate, after listening to the facts, remanded Lewis to prison until November 4.
According to reports, Allen had left Linden after his cousin, Eon Williams, 24, was executed last month. The prime suspect in Williams' murder is said to be the leader of a gang that is based in Cayenne.
Members of the Cayenne gang are Guyanese who have been reportedly committing illegal activities in both Guyana and Cayenne.
Based on information received, Allen and members from the Cayenne gang are at odds since surveillance footage showed the ex-cop shooting at two women, including Denise Grant—the mother of the Cayenne gang leader early last month.
Williams' murder was said to be in retaliation to Grant's shooting.
Guyana Standard has been informed that Allen has been hiding out in Georgetown since his cousin's execution.
Just last week, 'mob gang' member, Twenty-three-year-old Renard Caesar was charged and remanded to prison for the same offence after he appeared before Chief Magistrate Ann McLennan