Residents of Bagotstown, Peter's Hall and Mocha on the East Bank Demerara, can now breathe a sigh of relief as works began yesterday to rehabilitated the deplorable section of the road leading to the Haags Bosch landfill site.
These works come more than a month after the contract was awarded to B&J Civil Works, to the tune of $32M. The Ministry of Communities is the procuring entity.
The road is used to access several housing developments including the Young Professional Housing Scheme aback Eccles, Windsor Estates stretching from Bagotstown to Providence, and the Eccles Industrial Site. It is also one of the roads used by persons to gain access to the "Model Village" in Perseverance.
Further, the road serves as an alternative route for commuters during the rush-hour periods as persons living in villages south of Providence would enter the Mocha Access road and use the Dumpsite Road to dodge the traffic build-up at the Demerara Harbour Bridge.
When Guyana Standard visited the link on November 3, several depressions along the road heading east of the southern entrance of the Eccles Industrial Site were observed. Near the Young Professional Housing Scheme, this publication had observed what appeared to be ruts and sinking in multiple areas.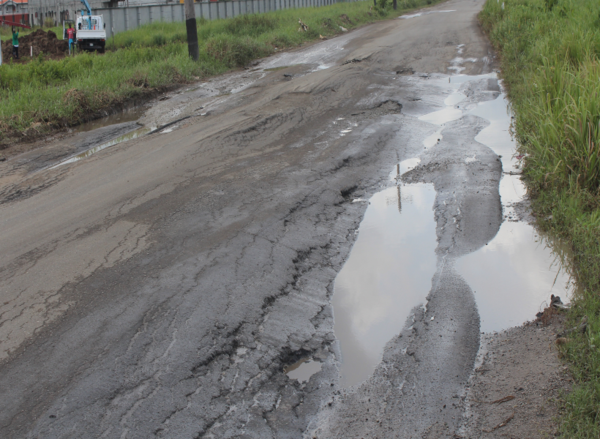 In that area, there was an almost 12-inch drop on both sides of the road, with the centre, at that time, bearing an approximate 24-inch wide surface, being the only part that seemed to retain its original elevation.
This pyramid-like layout created headaches for vehicle operators as the two opposing inclined areas could not facilitate the passage of vehicles because these slopes themselves contained ruts and potholes.
During a visit to the site yesterday, an excavator was seen levelling the road and backhoeing the sunken area. The flow of traffic has been limited to one lane with a traffic manager assisting with the passage of vehicles.
Guyana Standard understands that while works began further east of this particular site some time ago, the contractor decided to make this area a priority given its impassable state.
The entire road, stretching from Bagotstown Public Road to the landfill, is expected to be upgraded.