26-year-old Shivanand Roopnarine was this morning handed a life sentence with the possibility of being released on parole after serving 20 years, for the April 19, 2015, murder of his girlfriend Alicia McPherson, 18. She was stabbed 41 times. Roopnarine, a labourer, formerly of Grove, East Bank Demerara, appeared before Justice Sandil Kissoon at the commencement of the January Demerara Criminal Assizes. Roopnarine, who was represented by lawyer, Siand Dhurjon, pleaded guilty to a murder indictment presented against him by State Prosecutors Tiffini Lyken, Tuanna Hardy and Nafeeza Baig.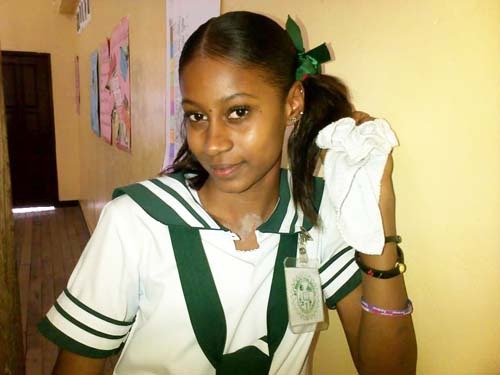 Based on previous reports, police had issued a wanted bulletin for Roopnarine shortly after the killing. In a caution statement to the police, Roopnarine is said to have admitted to stabbing the teenager multiple times about her body after meeting her in the company of another man at a dance in Sophia, Greater Georgetown. McPherson was discovered in a pool of blood in a toilet at the dance. During his address to the court, a remorseful Roopnarine begged his girlfriend's family for forgiveness.
Roopnarine, who had been on the run, was only arrested some 12 months after the crime.
McPherson's mother, Denise, fought to hold back tears as she stood in the witness box and expressed how much she still misses her daughter. Other family members, like McPherson's sister and others also broke down in tears. Justice Kissoon, in handing down the life sentence, told Roopnarine that he launched a brutal attack on a young woman with whom he shared a relationship.
The Judge noted that even though Roopnarine admitted his wrongdoing by entering a plea of guilty, the aggravating circumstances were overwhelming. For one, the Judge considered the age of the young girl and that a dangerous weapon, a knife, was used to inflict injuries on her. Further, the judge noted the number of stab wounds McPherson sustained, as well as the degree of planning and premeditation on Roopnarine's part. Her cause of death was given as shock and haemorrhage due to multiple stab wounds.