After being found guilty of murdering his ex-lover N'kosi Abrams, 39, her boyfriend Shawn Whyte and her 68-year-old stepfather Clifford Sampson, 51-year-old Gavin Graham hurled a plastic bottle filled with liquid at a State Prosecutor.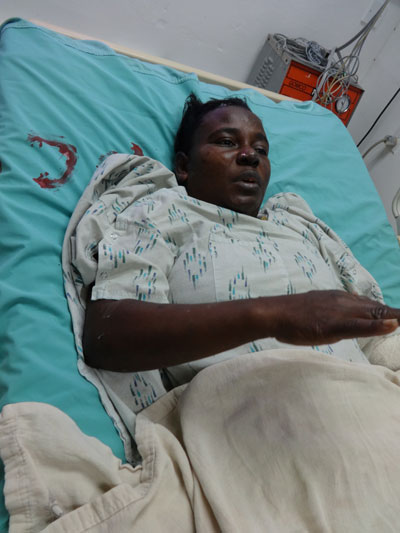 At the time, he was being escorted to the prisoners' holding area at the High Court in Demerara from where he would have been taken to prison to begin serving his life sentence. Following the jury delivering guilty verdicts, Justice Sandil Kissoon ordered that Graham serve life imprisonment on each of the counts with the possibility of parole after 30 years.
He will serve the three life sentences concurrently.
On January 3, 2015, Graham murdered Abrams, Sampson and Whyte. According to reports, Graham became annoyed after Abrams ended their relationship, and in turn, doused her Lot 636 'C' Field Sophia home, in gasoline before setting it on fire.  Before setting the house on fire, Graham locked the doors as to ensure no one could escape. Neighbours and relatives of the trio managed to break open the door to Abrams' apartment so that she and her spouse could be free.
As it relates to Sampson who resided in the upper flat of the building, the elderly man who suffered a stroke was forced to jump through a window to escape from the burning building.  They all suffered third degree burns to most of their bodies and eventually died at the Georgetown Public Hospital Corporation. Graham reportedly fled to Linden, his hometown, after committing the act, but was later handed over to the police by his mother.
Graham's lawyer, Ravindra Mohabir, during a plea in mitigation, told the court that his client is a father of two. Counsel added that Graham who has no previous convictions is a well behaved prisoners. The State Prosecutor, in her remarks, asked the Judge to consider that three persons lost their lives right in the sanctuary of their homes. According to the prosecutor, other persons, including children could have also died if they did not jump from the burning building.
The prosecutor said that based on the evidence presented during the trial, it is crystal clear that Graham's act was premeditated.  Also, the prosecutor pointed out that even after the jury announced its guilty verdict, Graham showed no expression of remorse. The prosecutor noted that innocent persons lost their lives. Against this backdrop, she asked the Judge to impose a sentence that will send a strong message to society, in that, the court will not condone these types of violence.
As for Graham, he maintained that he was innocent of the crimes. In fact, he claimed that he had been "set up". Abrams' sister, Candacy, said that her sibling's death has greatly impacted their family. She said, "My life is really uncomfortable. We [her family] are trying to get some closure to bring our family back together. My sister never really had a happy life with Gavin. I just want to ask him what example he is going to set for his children knowing what he has done. I feel relieved that justice has been served."
Justice Kissoon described the killings as a "brutal heinous tragedy that was contemplated and set in motion." Before an angry Graham left the courtroom, he told Justice Kissoon, "You had already planned these sentences for me." Police ranks at the courthouse fought to keep the upset prisoner under control. Graham made death threats to his former lover's family. He even bragged about his sentence. In fact he shouted, "Is nah the death sentence I get; is life. All of y'all [Abrams's family] gon' dead."
The murder convict's mother, who walked behind the State Prosecutor and threw a substance at her from the same bottle her son had earlier tossed at her, was arrested by police ranks.