By Feona Morrison
The worst thing that could possibly happen to a child is being told by their own parent they would become nothing in life. What is even more unbelievable, is that the very parent promised that he would live to witness his child's downfall.  You might have seen the child in question before, whether it was during presenting a story on the Evening News nightly newscast or in the fields tracking down a story.
He is 19-year-old Shemar Alleyne and with his unique voice, fresh perspective and strong passion for his craft, he is determined to make his name in the field of journalism. In fact, he is pursuing his life-long dream of being a Reporter, and is currently gainfully employed at the Guyana Times Media Group.
The teenager confessed that he has always had an eye for informing people about trends and new developments in and around the country. This very curiosity led to him sitting in front of the television for hours watching  various newscast one after the other.
Reacting to his father's negative comments, Alleyne said, "I had purpose in my heart that I wouldn't allow that to become a reality and as such, I fought to ensure that my dreams became a reality."
Growing up, the young man reflected that he was not privileged to have a normal life, as his parents parted ways when he was just one month old.
He said that his mom, Lisa Dowding, who he currently resides with at Tuschen, East Bank Essequibo, worked tirelessly to ensure him and his sister's needs were met.
Summarizing his humbled upbringing, Alleyne related, "In a nutshell, I grew up with more challenges than victories, however, all those challenges were able to shape me into the person I am today."
"In fact, I never had the courage to speak or meet new people but that has changed since I have joined this wonderful profession which gives me the opportunity to meet new people every day. I credit my success to my mother who has been with me throughout my life when the entire family thought that I wouldn't have become anything. My mother believed that there is greatness within me and as such, I am thankful for her," the young Reporter added.
For his mother's efforts, he will be forever grateful, since they have moulded him into the outstanding young man he is today.
A young Alleyne sees this as his life-long career and although he has been in the profession for one year and four months, he hopes to one day become a news anchor/editor.
Asked whether this is a career he will continue until retirement, Alleyne, without a bit of hesitation, replied, "Certainly, Yes! Becoming a Reporter was my dream that became a reality. It came so fast that it's almost unbelievable at times to know that I am actually living my dreams."
VOICE FOR THE VOICELESS
It is on Journalist and Reporters to be the voice for those who are left out of the public records. And Alleyne is no different; his interest lies primarily in doing human interest and investigative reporting as it allows him to be the voice for the voiceless, and to dig deep to bring all the details of a story to the forefront.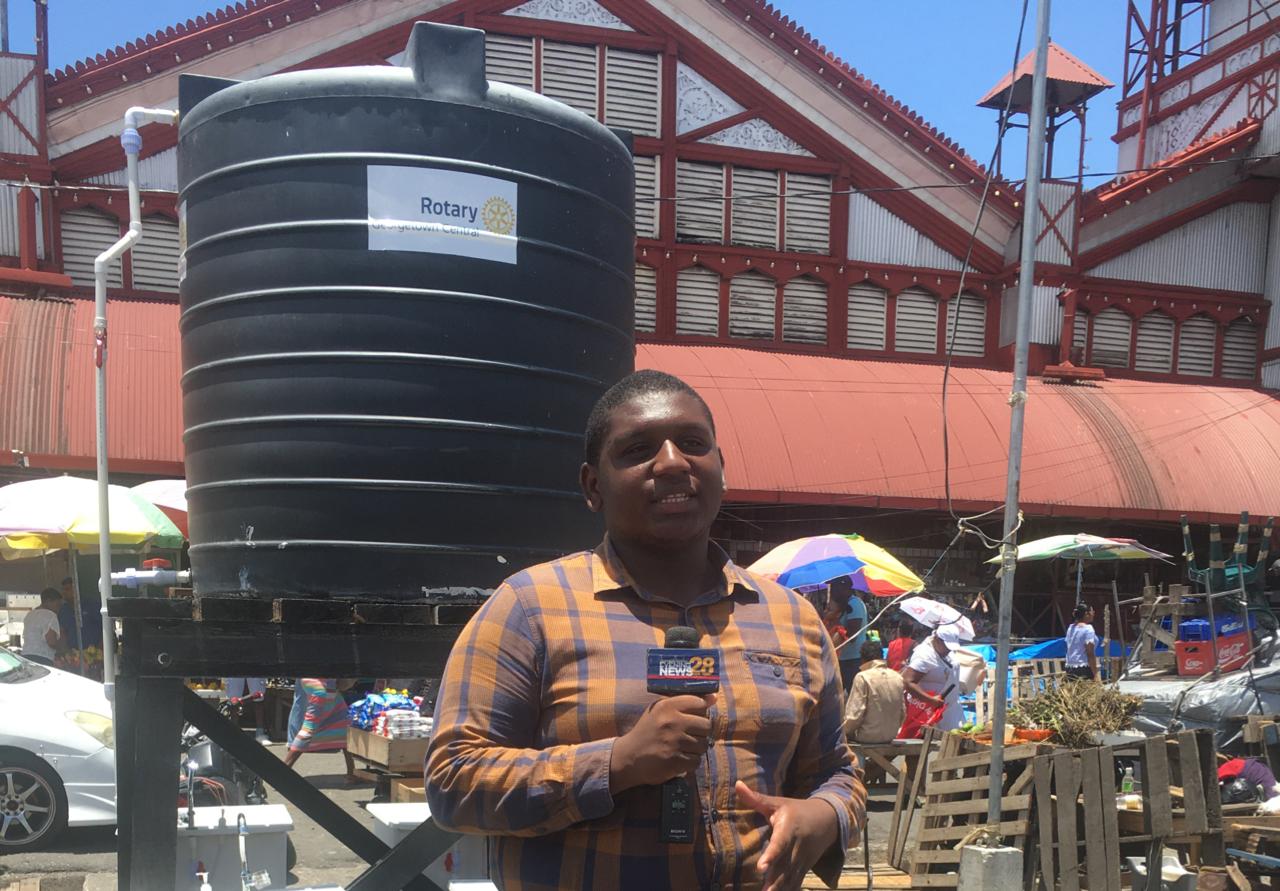 Asked to list some of his most notable writings to date, Alleyne said, "I would list two of my best writings. The first one is under the headline 'Sharezer Mendonca family still await death certificate.' This is one of my best stories because it was one year after Sharezer Mendonca lost her life and her family has been fighting tooth and nail to bring closure to her death."
He continued, "Another one of my favourites is 'Jude Bentley's daughter tells of pain of losing both parents on same road 13 years apart."
"This story has taught me how to love my parents without measures. Hearing her talk about losing both of her parents had reduced me to tears and it sends a strong message to the youths out there who are not listening and caring for their parents as they should do."
Being in the media profession comes with its fair share of challenges. Having to work for unusual hours, overtime, witnessing dead bodies, being chased and greeted by unpleasant remarks from angry protestors and the list goes on.
But according to Alleyne, this does not scare him one bit or makes him want to quit. In fact, he admitted, this has made him even more committed to the job and keeping the populace informed.
"Being in the profession for quite some time now, I can say that threats and verbal assault on media workers have increased in recent times. And as such, I would condemn any such acts due to the fact that we the Reporters are just trying to inform the nation about what is happening in and around Guyana. Look at what is going on during this Coronavirus disease pandemic. Persons in the media have been considered as essential workers."
COPING
The young Reporter opened up about handling strict deadlines and urgent news. The recent elections were a typical example.
This is what he had to say in that regard, "The recently concluded elections have damaged my mental health; I am still trying to recover. However, what I do is try to make a schedule for my work each day. It allows for a smooth flow and it helps me to reach deadlines easier. Once I know it's a piece for breaking news, I put that on at the top of my agenda."
His advice to aspiring Reporters is very simple.  He said, "The profession comes with its fair share of challenges and as such, I would advise any aspiring Reporter to be committed to the field;  that is the only way you will make it and to always be open to learning since the media is always evolving."
Right after leaving High School, he was an intern at Safetv2 Headline News. There, he had the benefit of first-hand experience in the media field, as he knew without no experience, it would have been challenging for him to land a Reporter job.
However, due to unforeseen circumstances, he never gained full-time employment and soon had to part ways with that company.
Like any other teenager, Alleyne's hobbies include writing and taking adventurous trips. He also finds joy in mimicking some of the most popular local news anchors.
And while he is working on becoming a well-rounded Reporter, he hopes to one day qualify himself academically. In the meantime, he revealed he will work to build a healthy relationship with his father.
It is a work in progress, Alleyne noted with much optimism.