(DPI)- Guyanese medical students studying in Cuba are set to receive care packages from the Department of Public Service as the government continues to assist citizens affected by the COVID-19 pandemic.
The parcels containing food supplies and sanitary items were packed on Thursday afternoon at the Public Service Department and flown out to Cuba this morning on a Caribbean Airlines flight.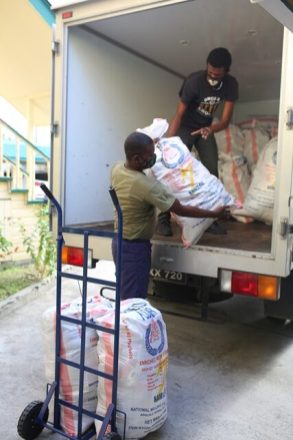 Yesterday, in an invited comment, Minister of Public Service, the Hon. Tabitha Sarabo-Halley disclosed that the packages totalled approximately $4.4 Million.
"There are 75 medical students in all, one student affairs officer will also get a package and there is another student also in Cuba. So, we sent 77 packages in all from the department of public service."
The Minister noted that families of these students were contacted and given the option of sending personal items.
She stated that in addition to the packages from the Public Service Department, hampers are also being sent to four athletes stranded on the island as well as staff from the Ministry of Foreign Affairs.
"There are also four boxers that are stranded in Cuba as such the Director of Sport also requested that some packages were sent. We are facilitating that as well as the staff from Foreign Affairs that are in Cuba, they will also receive packages," Minister Sarabo-Halley explained.
The care packages contain supplies which are expected to last two months.