The Civil Defence Commission (CDC) yesterday handed over 1,200 food hampers to the Ministry of Amerindian Affairs that were donated to provide relief to the residents of Moruca in the Barima-Waini (Region One) Administrative Region who are affected by the COVID-19 pandemic.
The communities of Kwebanna, Waramuri, Santa Cruz, Father's Beach, Manawarin, Assakata, Warapoka, Kariako, Waikarebi, Kokerite and Chinese Landing are the communities that will benefit from the hampers.
During the simple handover ceremony, Minister of Amerindian Affairs, Pauline Sukhai said "these hampers are being shipped to Santa Rosa from where they will then be transported to the vulnerable communities. We say vulnerable because communities under the lockdown were unable to conduct their village activities the way that they should and the lockdown also caused some limitation to supplies, goods and services getting into the area. Therefore, our response will have an impact in terms of food security and support for those who were unable to work."
CDC's Director-General Lieutenant-Colonel Kester Craig acknowledged the support of its partners to this initiative such as the Private Sector Commission (PSC), International Office for Migration (IOM), United Nations High Commissioner for Refugees (UNHCR), Food For the Poor (FFP) and Rotary.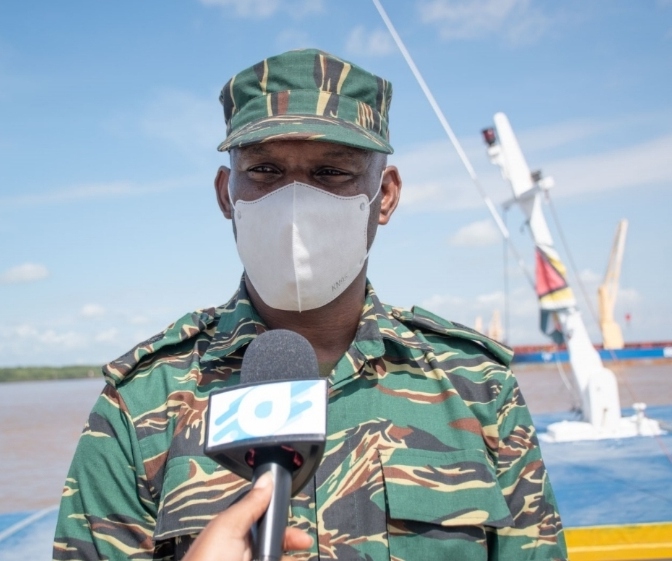 He encouraged other partners to come forward since the CDC welcomes donations of food supplies, personal care and sanitation supplies, or financing. Items can be sent to the CDC's headquarters, Thomas Road, Thomas Lands, daily between the hours of 9 am to 3 pm. Also, funds can be deposited to the Commission's Republic Bank account number 962356519938.