Now that the March 2 General and Regional Elections are over, it is now time for all newly elected and returning Regional Chairmen (RCs) and Vice Chairmen to put their shoulders to the wheel and ensure that citizens are served. This was the charge delivered by the President, Irfaan Ali during the swearing in of officers from nine Regional Democratic Councils (RDCs) this morning at the Arthur Chung Convention Centre (ACCC), Liliendaal East Coast Demerara.
President Ali, during his brief address to the regional officials, reminded that while RCs and VCs are representatives of different parties and have varying political views, they must not lose sight of their true purpose, that is, promoting the development of their respective regions.
He added that RDCs link Central and Local government, and therefore emphasised the importance of synergy. He told the officials that the government stands ready to assist, should they require.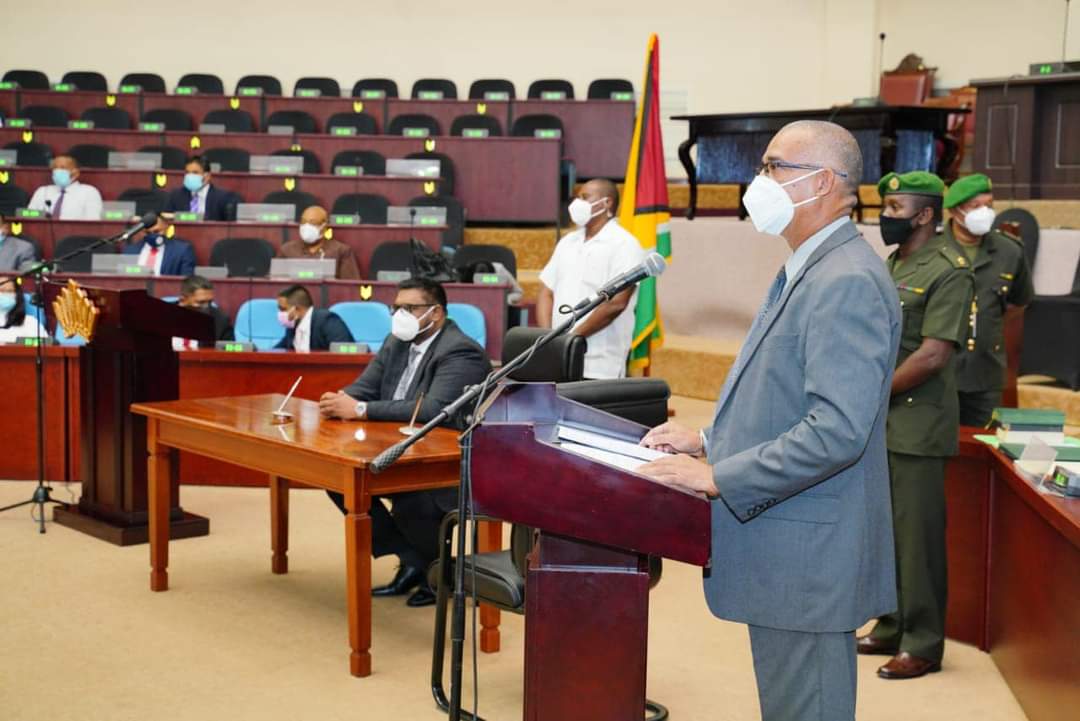 Guyana Standard understands that the RC and VC of Region Eight (Potaro/Siparuni) were not elected since several councillors, who are needed to cast votes, were affected by COVID-19.
The following officials took the Oath of Office today before the President:
REGION ONE
Chairman: Brentnol Ashley
Vice Chairman: Anasha Peters
REGION TWO
Chairperson: Vilma Audrey Da Silva
Vice Chairman: Humace Odit
REGION THREE
Regional Chairperson: Ishan Ayube
Regional Vice Chairperson: Omesh Satyanand
REGION FOUR
Regional Chairman: Daniel Seeram
Regional Vice Chairman: Samuel Sandy
REGION FIVE
Chairman: Vickchand Ramphal
Vice Chairman: Rion Lancedale Peters
REGION SIX
Regional Chairman: Permaul Armogan
Regional Vice Chairman – Zamal Hussain
REGION SEVEN
Regional Chairman: Kenneth Williams
Deputy Regional Chairman: Nageshwari Lochanprashad (Kamal Persaud)
REGION NINE
Regional Chairman: Bryan Allicock
Regional Vice Chairman: Bertie Xavier
REGION 10
Regional Chairman: Deron Adams
Regional Vice-Chair: Douglas Gittens