Over the past two weeks, Guyana has been impacted by heavy rainfall and thundershowers as well as above normal high tides that impacted sea and river
defences.
The Civil Defence Commission (CDC) immediately began conducting assessments and on the direction of Prime
Minister Brigadier (ret'd) Mark Phillips – who has ministerial responsibility for disaster management.
The National Emergency Operation Centre (NEOC) was subsequently activated. It comprises representatives from the Civil Defence Commission, Office of the Prime Minister, Mayor & City Councillors of Georgetown, Ministry of Local Government, Guyana Hydrometerological Services, Ministry of Education, Ministry of Public Works, Ministry of Health, Guyana Police Force, Guyana Defence Force, National Drainage & Irrigation Authority, Guyana Red Cross Society, Rotary Club of Georgetown and St. John's Ambulance Brigade.
The following activities have been completed and
ongoing:
❖ Assessments conducted in critically affected areas in Regions 2, 3, 4, 5, and 10. A total of 1543 homes were directly impacted.
❖ Distribution of 1649 cleaning hampers to households and RDCs/NDCs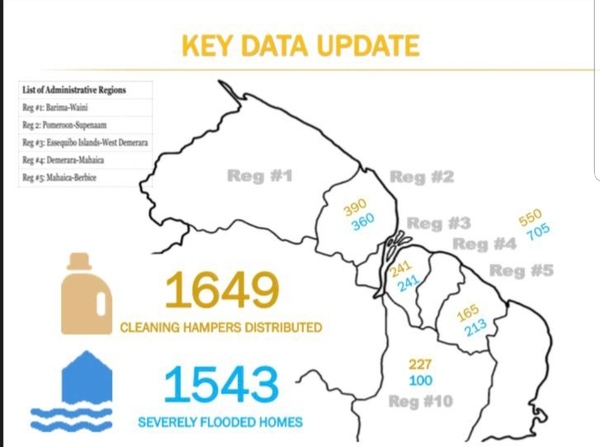 ❖ On the ground coordination by the Regional Democratic Councils (RDCs) and Neighbourhood Democratic Councils (NDCs)
❖ Deployment of assessment teams with the support of Guyana Defence Force (GDF), Coast Guard (CG) personnel and maritime assets
❖ Issuing of flood and prevention alerts to RDCs, Municipalities and NDCs
❖ Public information updates on social media
❖ Distribution of sandbags
The CDC said that it will continue to participate in the NEOC and distribute sandbags on demand. The Commission continues to monitor weather across all ten administrative regions and provide updates and advisories while continuing coordination with RDCs and NDCs.