By: Shemar Alleyne
A Qualfon employee is now traumatised and in a state of shock after being assaulted by a coworker whose sexual advances she turned down.
During an exclusive interview with Guyana Standard, the employee who asked us to conceal her identity recalled distinctively what transpired.
The traumatised woman said she presented herself to work on Sunday, November 8, 2020, during which one of her colleagues told her that he would like to see her in one of the company's rooms.
Heeding the advice, the young lady complied. "When I entered the room, it was a bit dark, and he told me to go and have a seat. He came and sat next to me, and he was like, 'What do I have to do to get you?' And I was like that is never going to happen, and when I said that, he placed his hands around my throat and pushed me straight up to the wall and tried to take off my underwear."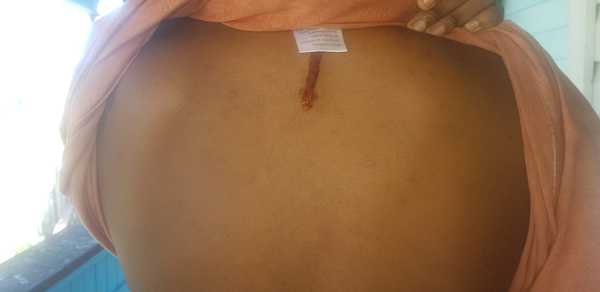 She continued, "And I told him that if he continued, I was going to scream, but he did not stop, and he placed his hands around my mouth, and I was about to pass out. I barely [pushed] him and got to run out of the room."
She suffered lacerations about her body as the perpetrator attempted to sexually assault her.
The employee stated that she sent one of her close friends to make a report with the Human Resources Department the following day.
"…HR was not open, but I went to my friend, and I told him what transpired. The next day, I was still shocked and traumatised, and I didn't go to work. But the following day, I sent my friend to HR because I didn't feel like going to work, and she went," the young woman explained.
She added that she went to the Leonora Police Station to make a report, but they advised her that she needs to make a report at the Providence Police Station.
When asked if she made the report to that police station, she said, "I didn't. I am scared to go anywhere by myself."
The outrage worker related to this publication that the resolution into the matter is shrouded with secrecy.
"They said that they were going to launch an investigation and it would close on Friday last, but they told me that they are not going to tell me what the resolution is. They told me that it was solved."
The young woman was keen to point out that this is not the first incident she heard of. "I did hear about a few; a few weeks prior, someone did come to me and told me the same person tried it on another girl in one room."
It is against this backdrop that the mortified worker contends, "The reason I am not fired as yet is because my friend posted it on Facebook. Usually what they do, they would fire the agent," she concluded.
Guyana Standard contacted the Human Resources Department, where it was disclosed that the HR Manager was not in and contact should be made with the Country's Director Luanna Persaud. However, phone calls to Persaud went unanswered.