Some 10-year-olds struggle with bullying at school, others grapple with the pain caused by their parents' separation. As for a young Denicia Williams, she spent many nights under her bed where she hid to avoid the stray bullets that used to pass through her home during the crime wave.
Speaking recently with Guyana Standard, Williams recalled that she hadn't the opportunity to benefit from the expert help of a child psychologist even after the trauma she experienced at the tender age of 10. Williams said that the trauma she experienced consumed her for quite some time and she wants to dedicate her career to helping children to cope with whatever version of mental or emotional trauma they experience.
The emotional wellbeing of children is just as essential as their physical health. Good mental health allows children to develop the resilience to cope with life's challenges and grow into well-rounded adults. Recognizing this, Williams thinks that she will be doing a great service to her country when she becomes a child psychologist since, as far as she knows, there are no professionals practicing child psychology only.
Williams, who hails from Buxton, East Coast Demerara (ECD), said that she had limited socialization during her childhood due to several circumstances. One such circumstance was the 2002 jailbreak that had an extremely negative effect on her community.
"I was exposed to a battlefield by day and a warzone by night. Where I lived was in the heart of all that took place. I recall having to hide under my bed many nights for fear of bullets that would pass through our home."
She added, "We were forced to move because we started to receive death threats."
Williams said that her struggles soon reflected on her performance at school. "I was frustrated and it was having major effects on me." Nevertheless, a resilient Williams was able to make it through and persevered even through High School successfully.
Williams said that while she is generally contented with the person she is today, she cannot negate the fact that she struggled to cope.
The young woman admitted that she was "stuck" for a while, not sure on which route to take. She recalled reflecting one day about her many struggles and they seemed impossible to overcome. She said that it was that thought process that helped her to arrive at her decision to pursue psychology.
Williams later pursued a Bachelor of Science in Psychology at the University of the Southern Caribbean with the help of the Guyana Conference of Seventh Day Adventist.
During her studies, she found her love for the proper care, understanding, and nurturing of children.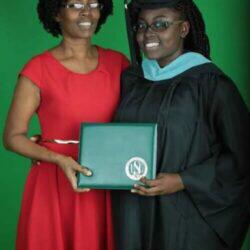 "Being a psychologist is a uniquely rewarding gift, and the power it gives creates an atmosphere of healing, hope, and peace. Each day, as I interact with persons from all walks of life, I aspire to leave them with hope. It takes courage, extra effort to decide firstly to walk into a place that is seen as taboo to many Guyanese, and 'I need help in coping with life's challenges and situations."
This young psychologist said that the most satisfying aspect of her job is seeing growth and development a person would receive overtime due to their commitment to becoming a new person.
She credited her success to her mom – the late Donna Williams, whom she said played an instrumental role in her life.
Apart from being a Psychologist at the Ministry of Health under the Mental Health Unit, Williams is an avid writer who plans to publish her first of many books soon.
Williams would be reading for her Master of Science in Psychology (MS) with a concentration in Child and Adolescent Psychology at Southern New Hampshire University soon.