Two of Guyana's most fervent protectors of the environment, being the Guyana Marine Conservation Society (GMCS) led by Mrs. Annette Arjoon-Martins and Environmental Management Consultants (EMC) headed by Shyam Nokta, signed a hallmark Memorandum of Understanding (MoU) to boost national efforts to protect and promote Guyana's rich biodiversity.
The simple yet important signing ceremony which took place at Duke Lodge in Kingston this morning was attended by Natural Resources Minister, Vickram Bharrat, and key staff members of Conservation International, the Protected Areas Commission, and the Environmental Protection Agency, among other special guests.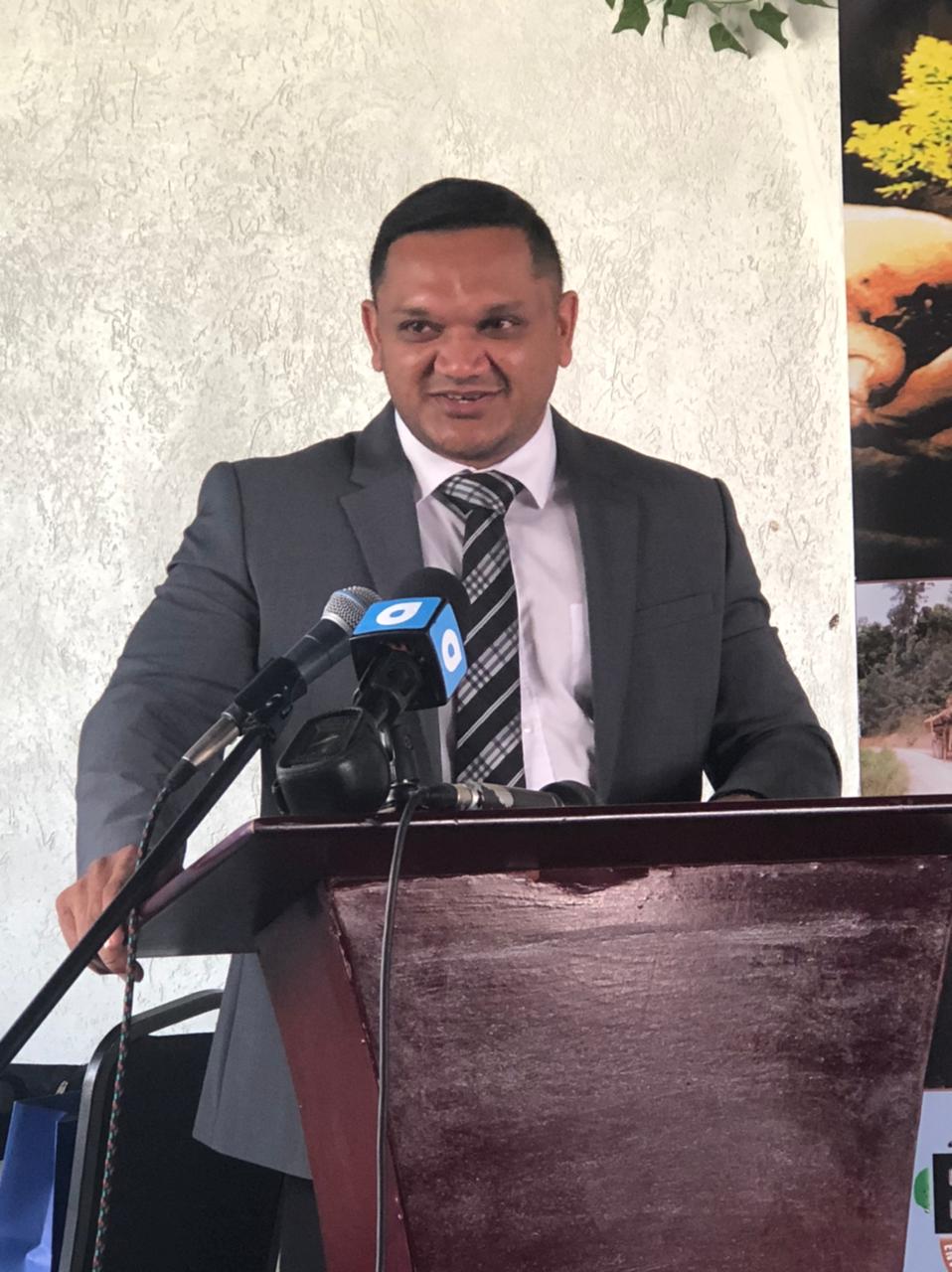 Before the signing of the MoU which occurred on World Wildlife Day, Mrs. Annette Arjoons was keen to provide her audience with an enthralling historical brief on the genesis of her love for marine life and the 21-year relationship that was shared between GMCS and the head of EMC. The staunch advocate for the protection of Guyana's Environment said it all started with the invaluable work of Dr. Peter Pritchard, otherwise known as the father of turtle conservation. The late marine biologist had started his travels to this part of the world in 1964, the same year Arjoon-Martins was born. The GMCS President recalled that Richard came to these shores as an undergraduate to study the sea turtle population of Guyana. Through his efforts, he found that Guyana had four of the seven endangered sea turtle species in the world: the Leatherback, the Green, the Hawksbill, and the Olive Riley.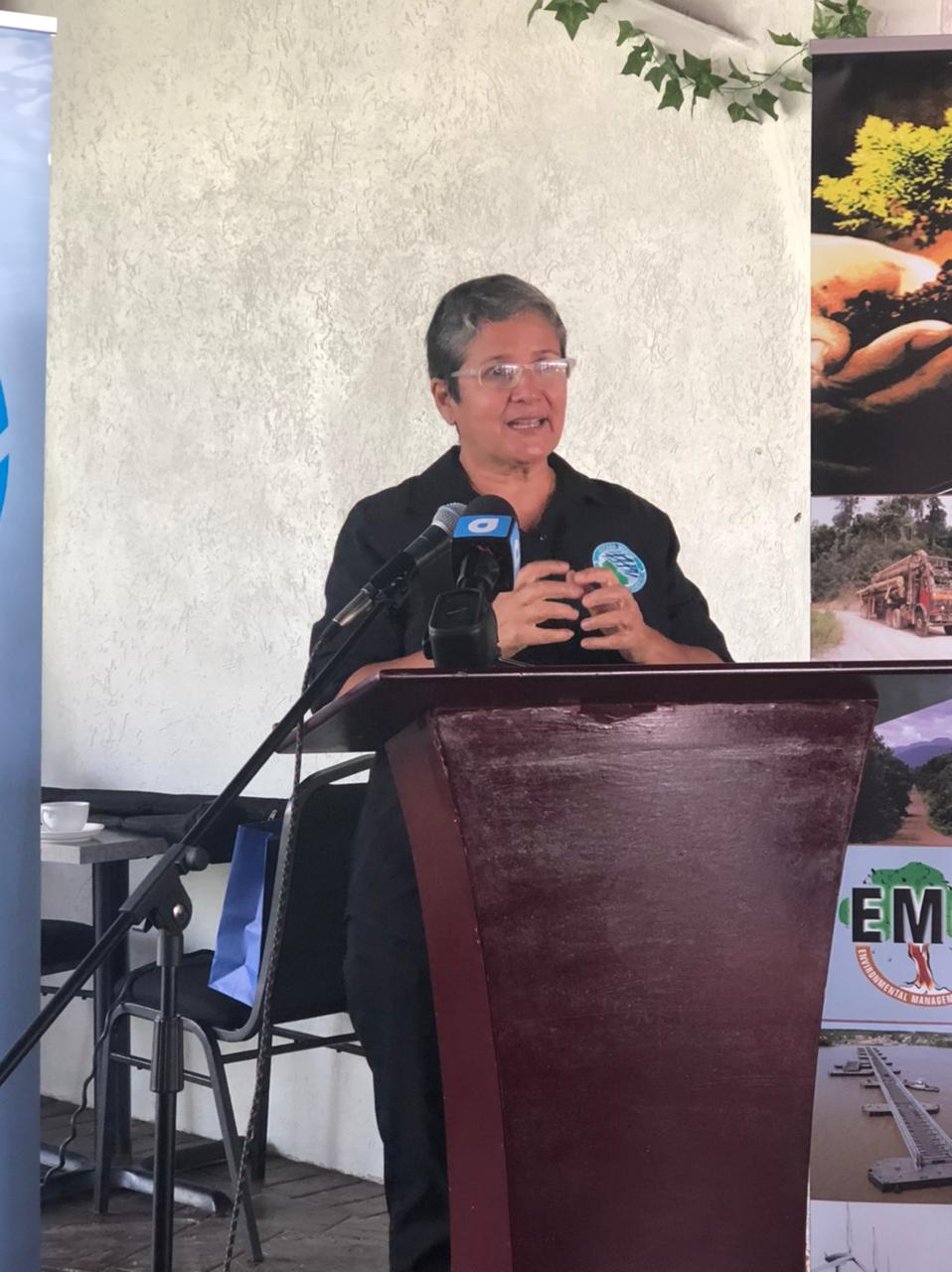 She shared that it was his work that allowed Guyana to have a 50-year-old database on these endangered species, while adding that it is one of the oldest repositories in the world.
So how did she become engrossed in this world of turtle conservation? The GMCS President shared, "When I used to fly many, many, years ago…I used to take him out to Mabaruma and I wondered what is this gentleman doing coming here every year. One year, I asked to go with him. I went to Shell Beach, went out on one of the nightly patrols, saw my first Green Turtle which was about 400 lbs huge and it was love at first sight." The event was one that saw Mrs. Arjoon-Martins becoming an informal liaison for his conservation project and in 2000, they both decided that it was time to formalize the initiative and co-founded the Guyana Marine Turtle Conservation Society (GMTCS) which was focused on conservation on Shell Beach and increasing awareness.
In 2003, she noted that the Protected Areas Commission worked along with GMTCS in making Shell Beach a protected area. Speaking to her partnership with Nokta, Arjoon-Martins noted that she was very fortunate to have him on board when he returned from the University of Oxford-Brookes. She said that at GMTCS, which later re-registered as GMCS to have a more expanded marine life mandate, Nokta was the brain and the was the heart of the initiative to protect the environment. The passion of that partnership has only grown stronger over the years.
In acknowledgment of this fact during his remarks, Nokta who was also one of the founding members of GMTCS shared that indeed, they both share a passion for the protection of the environment hence he is pleased to be signing the hallmark MoU, particularly on World Wildlife Day. He was keen to recognize that the American Chamber of Commerce Guyana would be partnering with both entities to help raise awareness about Guyana's rich biodiversity.
Also committing to assisting in this regard was Natural Resources Minister, Vickram Bharrat. In his keynote address, the Minister said that both the GMCS and EMC have demonstrated impressive records of accomplishment over the past 20 plus years in their efforts to promote environmental management, biodiversity conservation, sustainable forest management, and low carbon development. He was keen to note that the Guyana Marine Conservation Society is known for its commendable achievement of safeguarding the future existence and population recovery of the four species of marine turtles known to nest here in Guyana, while also addressing the needs of the surrounding communities who were previously reliant on turtle meat and eggs for their livelihoods. As for Environmental Management Consultants, he said that this group is also a well-renowned Guyanese company specializing in environmental services such as environmental and social impact assessments, environmental compliance, monitoring auditing and reporting, environmental and social management plans, amongst other services, which aim to enable green growth.
Given the impressive environmental protection records of the duo, Bharrat said that his Ministry welcomes this collaboration between the non-governmental organisation and the private sector to advance conservation and protection of the environment. "We believe the private sector has an important role in realising a low carbon economy and in many of the activities as part of the Low Carbon Development Strategy. Businesses not only have the resources, but also in some cases, like EMC, the experience and expertise and proven track record to spearhead initiatives which can ensure Guyana continues to be a leader in this area,"Minister Bharat stated.
Through the signing of this MoU, Bharrat asserted that the two companies will bring together Guyanese with immense expertise and experience, who will collaborate on initiatives surrounding education and awareness, community livelihood projects, research, training and capacity development. "I have no shadow of a doubt that these two organisations will be successful in their efforts to protect, conserve and also promote the sustainable use of Guyana's coastal and marine ecosystems, given their outstanding track records as environmental stalwarts,"the Minister concluded.