Opposition Member of Parliament (MP), Tabitha Sarabo-Halley has called for the Minister within the Office of the Prime Minister with responsibility for Public Affairs, Kwame McCoy to be charged with assault and removed from the National Assembly forthwith. She made this call during a press conference she shared with her husband, Clayton Halley, this morning.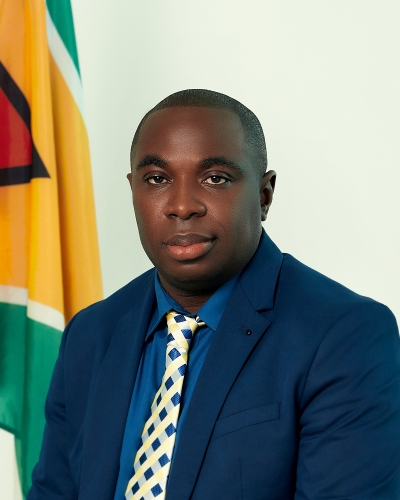 MP Sarabo-Halley is accusing McCoy of assaulting her on March 3 within the precincts of the Arthur Chung Conference Centre (ACCC) where the Committee of Supply convened to consider the revenue and expenditure for 2021.
The former Public Service Minister told reporters that McCoy invaded her space and thrust his phone to the left side of her head. She said that the medical report has revealed head trauma, and that the pain has extended to the left side of her neck. Sarabo-Halley said that since the incident, she has not left the confines of her home. Even as she spoke to media operatives virtually, the visibly distraught MP paused frequently to gather her thoughts to continue speaking on the details surrounding her alleged confrontation with McCoy.
Sarabo-Halley said that she is yet to receive word from the Guyana Police Force (GPF) regarding the investigation, while noting that the outcome of the probe will determine her future actions into the matter.
"I am hoping that the Guyana Police Force (GPF) does the right thing and charges are laid against McCoy," she said.
Sarabo-Halley stated that since the alleged incident, persons have accused her of "making the attack up" or "seeking attention". She made it clear that there is no need for her to do that, adding that she 'takes no pleasure' in it.
The MP said that McCoy must be expelled from the National Assembly because "anyone who is capable and finds it okay to assault any other Member of the National Assembly – anybody in society – should not be allowed to be in the highest legislative body of the country".
"If we condone it and allow him to be there, it just says to our society that we're not really about protecting our women and protecting the rights of our women," he declared.
Meanwhile, her husband has called for a thorough investigation into the matter. He registered his concern regarding the "handling" of the National Assembly by the Speaker, Manzoor Nadir, whom he said, did little to nothing to ensure that the concerns raised by female Coalition MPs were addressed.
He then issued a call for men in society to stand up and to speak out against violence against women.
"If I have to go to the Parliament and walk with my wife along the corridors to make sure she is safe, I will do that. If the Speaker will not ensure her safety, then I will do it," he said.
McCoy has since issued a statement denying the assault.