Fake identification card (ID), missing court documents, and ghost suspects are all features of a matter engaging the attention of the Guyana Police Force (GPF) as it tries to solve one crime that may very well lead to the uncovering of several others.
On Wednesday last, Rohit Lall, an electrical engineer residing in Eccles, reported to the police that he was swindled of two plots of land positioned at Eccles for which he is the transported owner. Lall, 60, reported that last year March, he went to Eccles Ramsburg Neighbourhood Democratic Council (NDC) to pay his rates and taxes when he learned that both plots of land were transferred to Mohamed Wazir of 429 Fourth Street, Herstelling by way of Transport issued in 2017.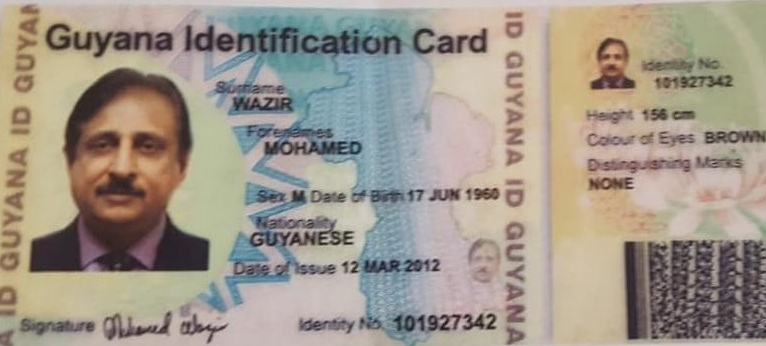 Lall later found out that the transport was effected as a result of a Court order granted by Justice Jaimarine Singh in 2008. That was said to be initiated by Wazir. It is important to note that the entire file for that case went missing from the court.
Checks revealed that Wazir is not living at the address given. Further, the ID card used by the man who purports to be Wazir is fake. Gecom has several persons registered as Mohamed Wazir but none of those who are listed look like the man presented in the fake ID. The force will now have an uphill task locating this ghost suspect.
Guyana Standard understands that the victim, Lall, waited a year before reporting the matter to the police as he was trying to recover his property through civil proceedings.
After recently being advised that the matter can be pursued as a criminal one, Lall approached the police. Police have since arrested one person, Dwayne Gentle, a realtor.
Gentle, 37, of 239 Foreshaw Street, Queenstown is said to be the owner of DAG realty. He is a former employee of the High Court Registry and was implicated in illegal activities before.
In fact, in 2010, Gentle appeared before the court when he faced a forgery charge. The then High Court Registry employee pleaded not guilty to forging a divorce absolute. He was placed on bail.
Gentle was arrested yesterday as he was the one who took the transport in Wazir's name and the photocopy of Wazir's ID to Eccles Ramsburg NDC to effect a name change.
Guyana Standard understands that Gentle told the police that the transport and photocopied ID were given to him by "Max" to take to the NDC. Gentle said he went to the Deeds Registry and verified the transport was genuine before taking it to the NDC.
He said he knows Max since 2009 but he does not know his correct name nor how he could be contacted. He said he never saw WAZIR also. Gentle remains in police custody.
There are still too many unanswered questions about this case but what is clear is that the mastermind of the scheme is well connected and knows how to execute his or her plan. While the Guyana Police Force has not made any significant break in the case, it intends to investigate every step of the process from the issuance of transport.
The Attorney General, Anil Nandlall, recently spoke of this very case. He said that he is hopeful that the probe will unravel the scheme and reveal the prevalent exploitation of loopholes by duplicitous individuals purporting to be Powers of Attorney to sell properties belonging to others.
During a live Facebook programme, "Government in Action," Nandlall said, "I have asked the Crime Chief to do a full-blown investigation into this matter, and to examine it at every link of the chain."
The AG revealed that there were similar instances where persons were swindled of their properties and surmised that this scheme is extensive.