With its nine billion barrels of equivalent resources in the Stabroek Block, and multi-billion barrels more still left to be explored, Guyana has sailed into the group of nations poised to have one of the fastest-growing oil economies in the world.
From 2015 to now, the light, sweet discoveries in the ExxonMobil-operated Stabroek Block offshore have led to calls for a modernized legislative and regulatory framework to ensure the oil money is properly accounted for.
But amid all the excitement on getting those systems in place, Felicia Arianne Collins, a young, vibrant Guyanese is eager to have the spotlight placed on the nation's marine life which needs greater protection.
It is, for this reason, she has pursued a career path that would enable her to do her part.
The five feet two inches mosaic of intelligence, humility, and pristine natural beauty, hails from Port Kaituma, a small sleepy rural community nestled in Region One. She is currently a volunteer with the Guyana Marine Conservation Society as the Project Coordinator for the Barima-Mora Passage Mammals survey.
As a Marine Biologist, this Port Kaituma belle is responsible for managing the timely implementation of this research project along with data collection and analysis.
During her exclusive interview with Guyana Standard, Collins who was born on July 30, 1997, detailed for us, her journey to becoming a Marine Biologist. The former student of Port Kaituma Primary School shared that it was not always her dream to take up the current profession. She said that passion only sprouted during her pursuit of Tertiary education.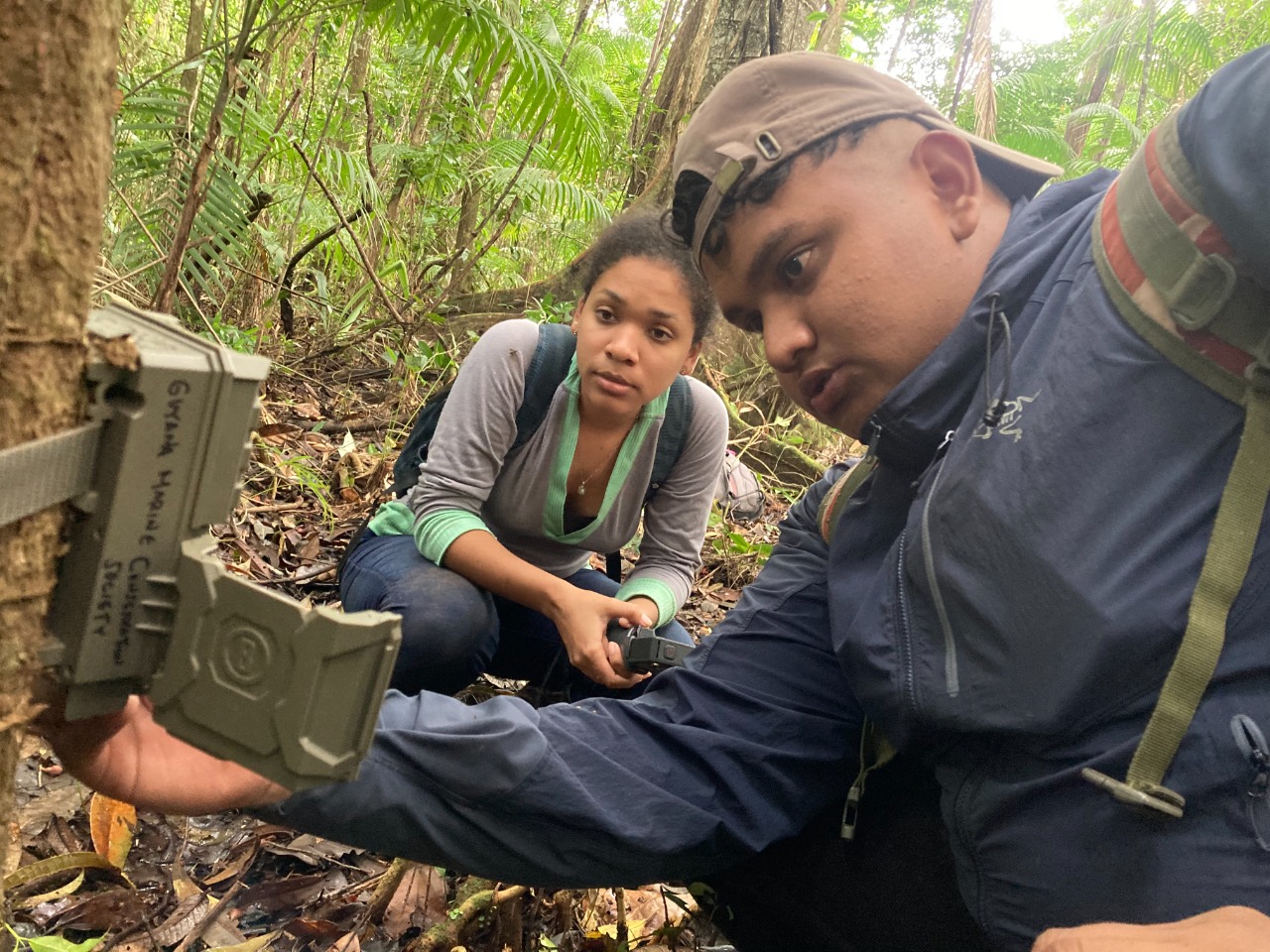 Expounding further, Collins asserted that in 2009, she was awarded a Hinterland Scholarship by the Ministry of Amerindian Affairs to attend North Georgetown Secondary School. After completing same, she moved onto the sixth form at Queen's College
The young woman intimated, "…Becoming a biologist was not something that ever crossed my mind. I always thought that I was going to become a doctor because that was what was expected of me. However, while in 6th form at Queen's College, I was made aware of the different career options available, and that I didn't have to stick to the generic doctor or lawyer as I once thought."
She added, "I always loved the outdoors and nature, and I wanted to better understand the inner workings of our natural world, so after signing up to study biology at the University of the West Indies in Trinidad I was introduced to the concept of marine biology."
Collins said that her lecturers constantly stressed its importance and fragility due to their thriving oil and gas economy. "And then it struck me; Guyana was also going to be in this same position in a few years. I thought to myself 'What about our marine resources? Are we prepared? Do we know what's in our waters?' And so just like that, I decided to specialize in marine biology because I saw it as a crucial need during this time," the young woman shared.
Upon making the foregoing decision, Collins said that her journey to being a qualified Marine Biologist entailed three years of late nights and early mornings coupled with loads of laboratory and field reports. She said that the journey required absolute determination and self-motivation, but stressed that it was all worth it. "I will admit, I still have much to learn, especially about our marine environment which is vastly different from Trinidad's because I can't exactly go snorkeling here (laughs) But my undergraduate journey was interesting. Learning about our environment always excites me," the Marine Biologist asserted.
Since taking up her line of work, Collins said she was shocked to learn that there are little to no baseline studies available on Guyana's marine environment.
Taking this into account, Collins shared that she is passionate about seeing Guyana improve its research and awareness programmes for the protection of marine life. Collins said, "We first need to understand the status of our marine species and this can only be done through research. It's not going to be easy, but I would like to see the different key agencies pooling their resources and sharing their data to make this happen. Only then can we begin to understand what we have and how is it being impacted. This is important for informed decision-making and marine spatial planning."
She added, "I also think educational awareness is another important aspect of marine protection. You know the saying out of sight, out of mind? Yeah, I feel like that's how our marine resources are treated and who can blame us? It's hard to get people excited about things that they cannot see. So, there is a need for us to do much more awareness campaigns which will only be possible if we have accurate data from research to support. These two will go hand in hand."
Looking ahead, Collins said she aspires to be an expert in her field whether it's in conservation or marine biology. It is also her fervent hope to one day assume a leadership position that allows her to be a mentor to the youths, especially those from hinterland communities.