One of the suspects involved in the murder of Ganesh Persaud who was fatally stabbed was on Wednesday remanded.
Twenty-four-year-old Kapildeo Gangadin of Annandale, East Coast Demerara, appeared at the Cove and John Magistrate's Court, East Coast Demerara (ECD) where he was remanded to prison on two counts of murder. The charges were read by Magistrate Fabayo Azore.
Gangadin was charged with the fatal stabbing of 20-year-old Ganesh Persaud, called 'Chris', on October 15, 2021, and the murder of Mukesh Mangra, called 'Paul', a fisherman who was murdered on January 18, 2020.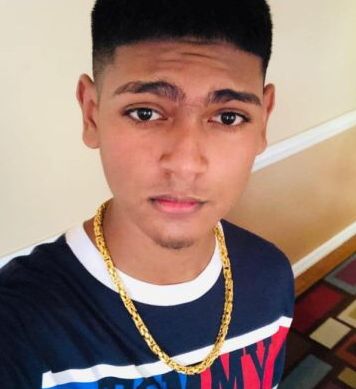 He was not required to plea to the two counts of murder. He was remanded to prison until January 17, 2022. The case was prosecuted by police corporal David Goodridge.
In relation to the murder of Persaud, Guyana Standard understands that Persaud was at his family's electronics store – Deals on Electronics at Strathspey, ECD, when according to the police, two men entered and pretended to be interested in a product before the man was fatally stabbed.
According to the police, Persaud was inside the store when he was reportedly confronted by Gangadin at around 16:30hrs. During the confrontation, Gangadin allegedly stabbed Persaud to his neck and relieved him of a gold chain and a quantity of cash after asking to see a product.
Police said the young businessman managed to exit the store and was assisted by several persons to the Dr Balwant Singh's Hospital in Georgetown where he died while receiving medical attention.
Persaud's father, Devin, who was present at court said that the accused did not have to kill his son. He tearfully said that there was money in the store which could have been taken rather than killing the young man.
Gangadin was arrested hours after the murder.
The gold chain he reportedly stole from Persaud was found in his possession. The Police reported that Gangadin allegedly confessed to Persaud's murder when the allegation was put to him. It is also alleged that the man confessed to the murder of Mangra while he was in custody.
Mangra's body was discovered with multiple stab wounds and lacerations on January 18, 2020. According to reports, he was attacked and killed during an alleged robbery. He had set out to sea on January 11, 2020, the police had said.
Vivekanand Ram and Roy Jaglall are currently on remand for Mangra's murder.