The Guyana National Bureau of Standards (GNBS) this week certified three additional companies from the Essequibo Coast (Region Two) under its "Made in Guyana" Certification Mark Programme.
The companies: Roopan Ramotar Investment, Centaur Holdings and Pomeroon Rose Products, are now approved to use the "Made in Guyana" Standards Mark on their locally- manufactured products.
Roopan Ramotar Investment is certified to use the mark on its brand, Roosters Coconut Water. At a simple ceremony held at Roopan Ramotar Investment at Land of Plenty, Essequibo Coast on Tuesday, Ramotar noted that this achievement means a lot to the company which is consistently working to improve the quality of its products.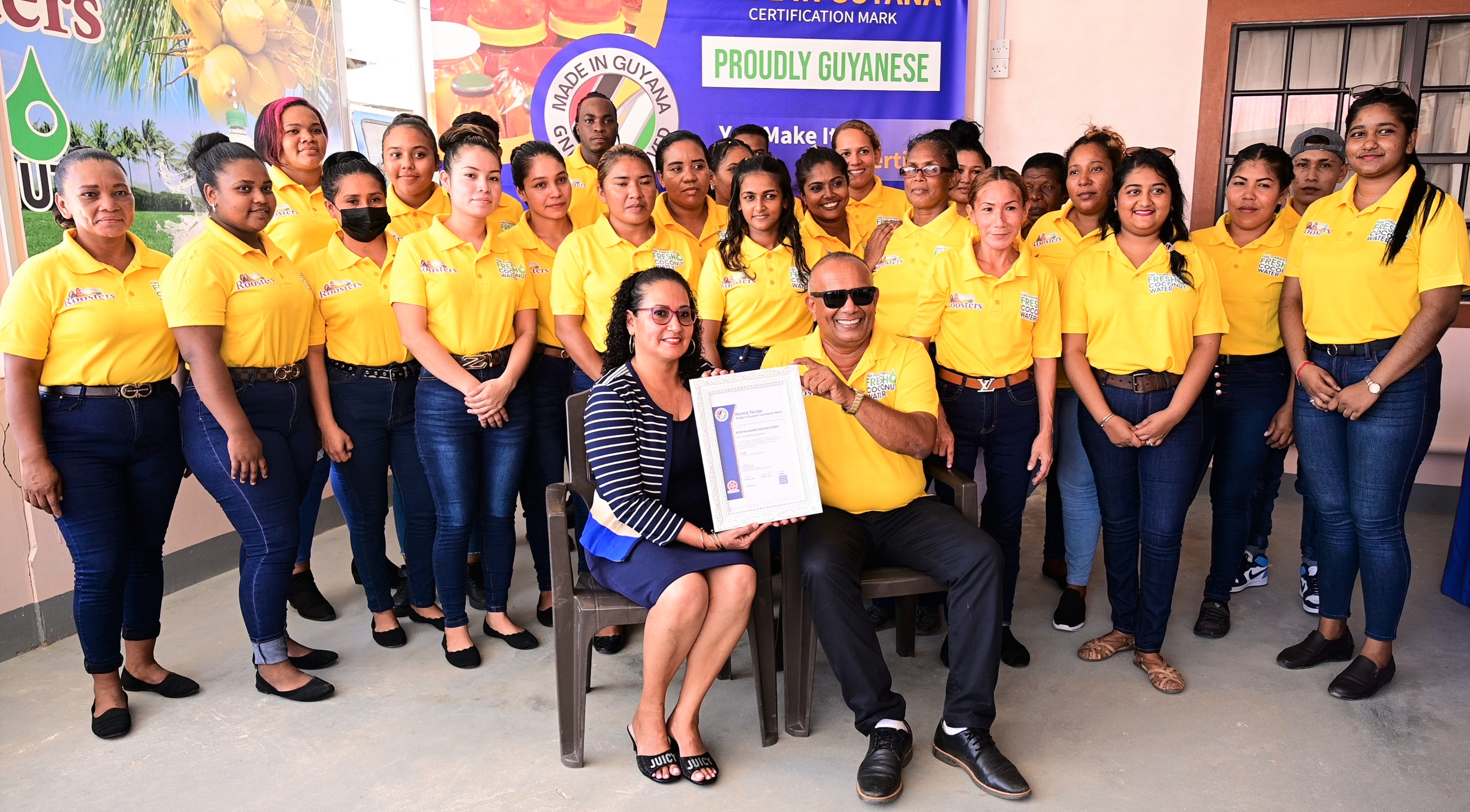 The event was attended by Mayor of Anna Regina, Rajendra Prabhulall who lauded the company for its strides. "This is a great move to have this certification done to signify the quality of products coming out of Essequibo, Region Two," he noted.
Also present were President of the Essequibo Chamber of Commerce and Industry, Suean Sewnarayan, and Regional Executive Officer, Region Two, Susannah Saywack.
The Certificates to Roopan Ramotar Investment and Centaur Holdings were handed over by GNBS Technical Officer, Keon Rankin.
Rankin, in brief remarks congratulated the companies, noting that the "Made in Guyana" Standards Mark seeks to reward the companies for their hard work. He further urged them to ensure that their customer service remains on par with the quality of their products.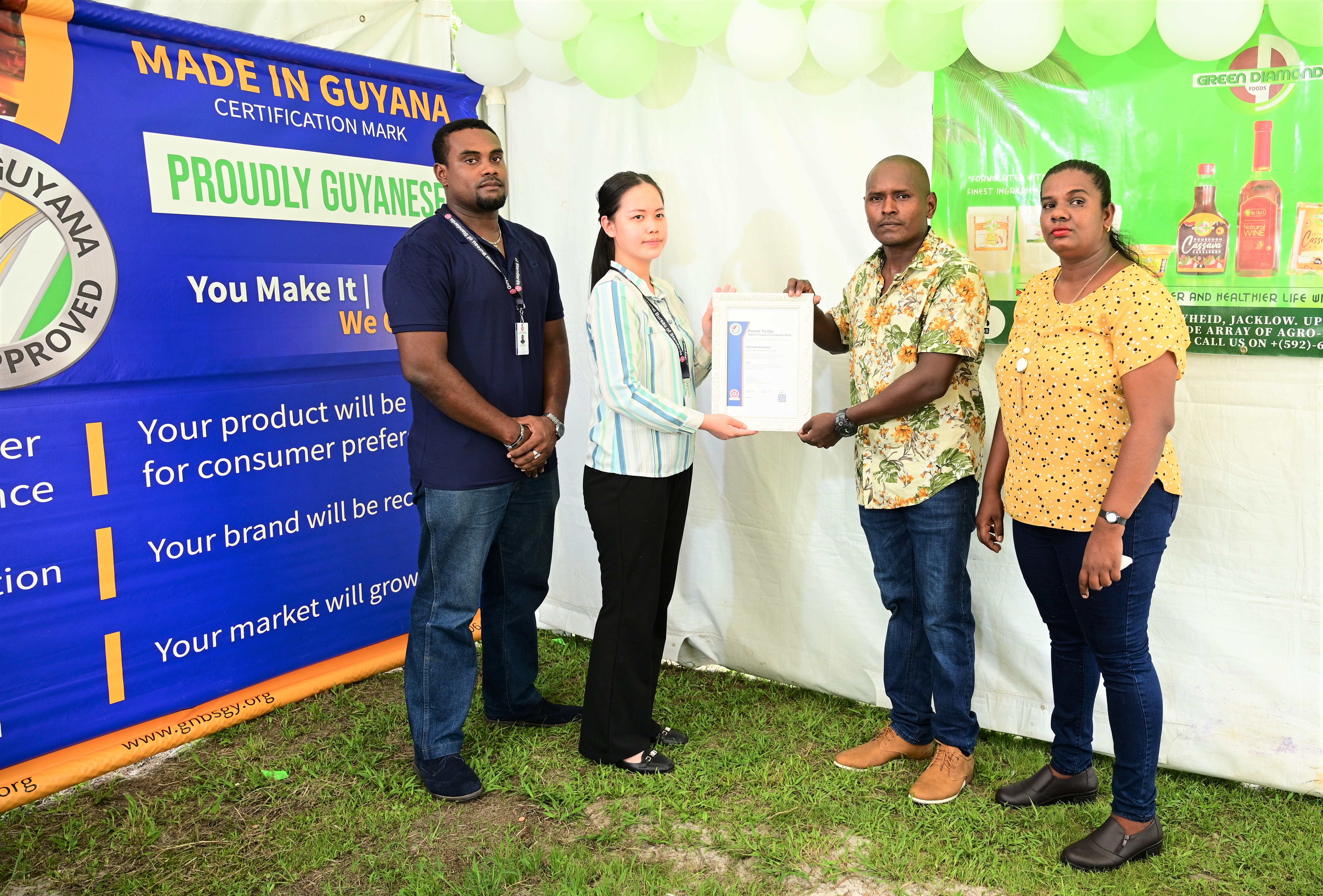 "Quality changes over time and with this fast-growing economy, I want to urge companies to grow with the economy; find ways to improve your products whether it is the quality or the packaging of the products," Rankin said.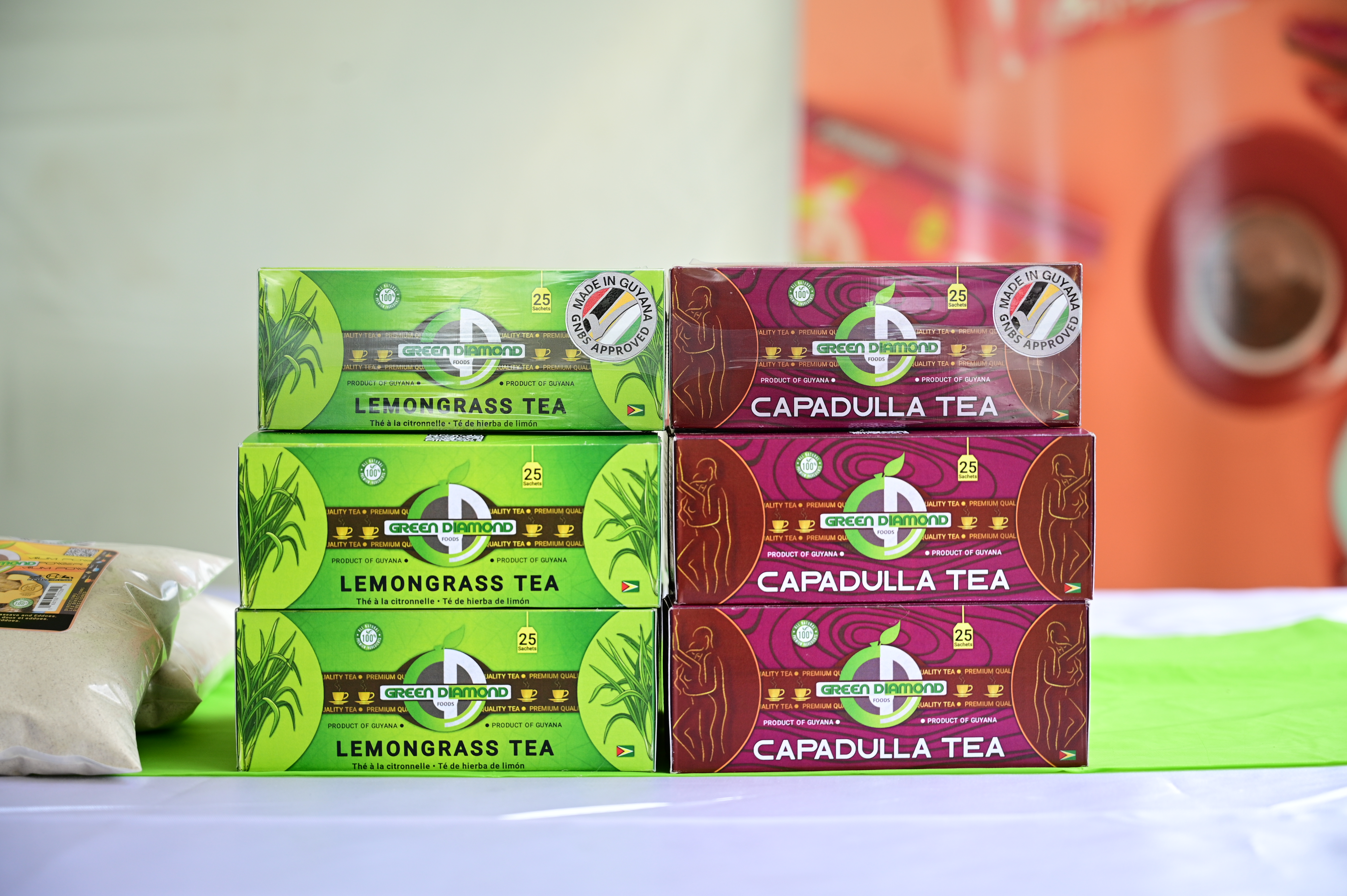 Centaur Holdings –the manufacturer of the Green Diamond Foods brand –is certified to brand its Lemon Grass Tea, Capadulla Tea, Plantain Flour, Power Mix Porridge, Cassava Cassareep & Carambola Fruits Mix 'Made in Guyana.'
On receiving the "Made in Guyana" Certificate at the company's Grant Vryheid, Jacklow, Upper Pomeroon River location on Tuesday, Chief Executive Officer of Centaur Holdings, Oscar Richmond said his company is committed to improving the quality of its products and services.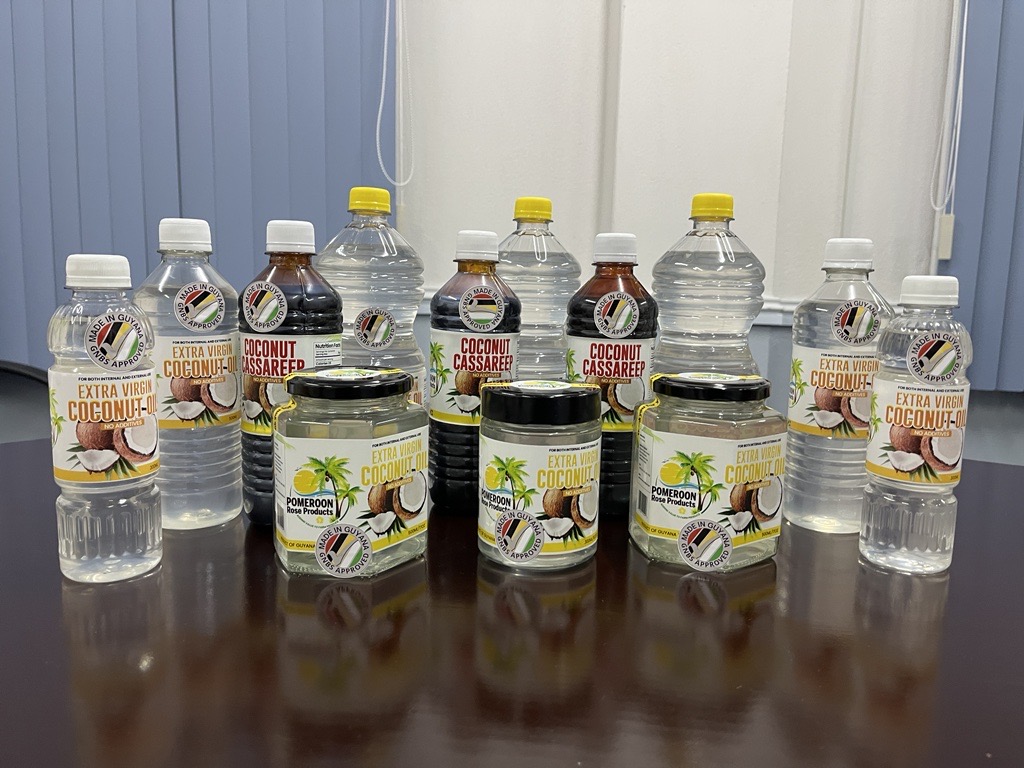 "This standards mark, when used on our products, will strengthen our products and attract more customers," he proudly stated, as he thanked the Government of Guyana for introducing such a programme to boost local content.
The ceremony was also addressed by Guyana Marketing Corporation General Manager, Teshawna Lall who emphasized that this certificate will build the brand's credibility as it seeks to penetrate local and international markets.
Meanwhile, at the GNBS Head Office, Sophia Exhibition Site, Pomeroon Rose Products was on Wednesday certified to use the mark on its Virgin Coconut Oil and Coconut Cassareep.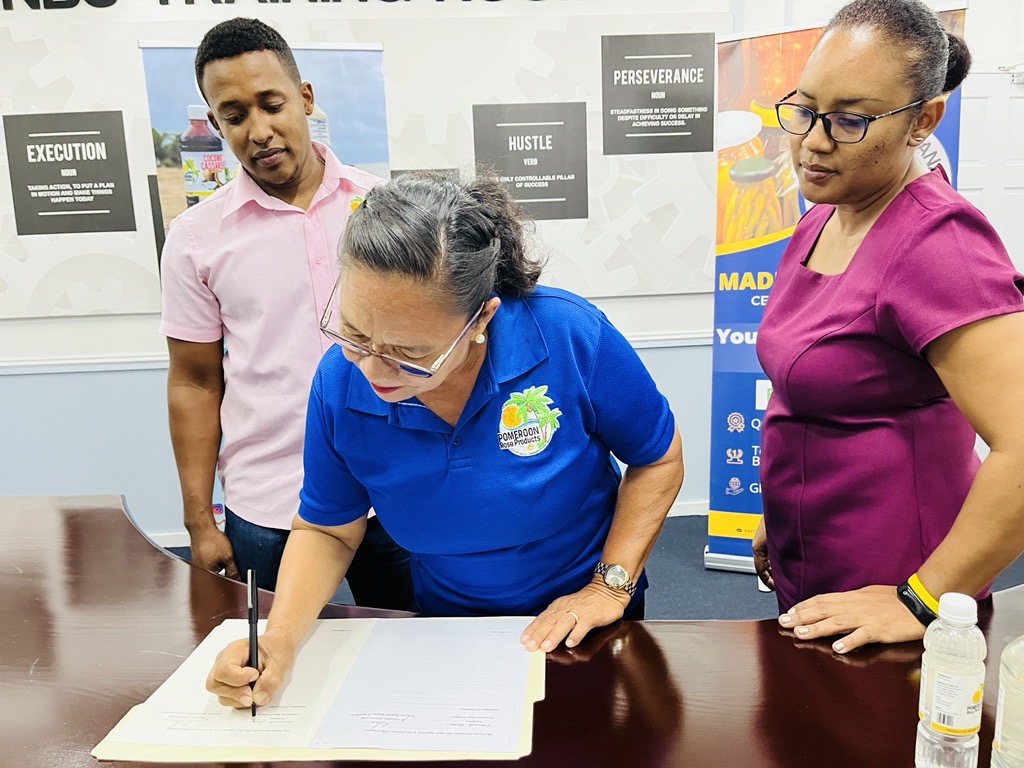 The company's co-owner, Rosamund Benn said the certification means a lot to not only her but her family since the business is run by herself, her husband and son.
"With this approval to use the Made in Guyana Standards Mark, I know many more persons will get to learn about Pomeroon Rose Products knowing that it has reached certain standard requirements. Having attained certification, customers will also find the products more attractive."
The Made in Certification is valid for a year and the GNBS will conduct surveillance visits to ensure the approved quality is maintained throughout the certification period in keeping with the respective terms and conditions.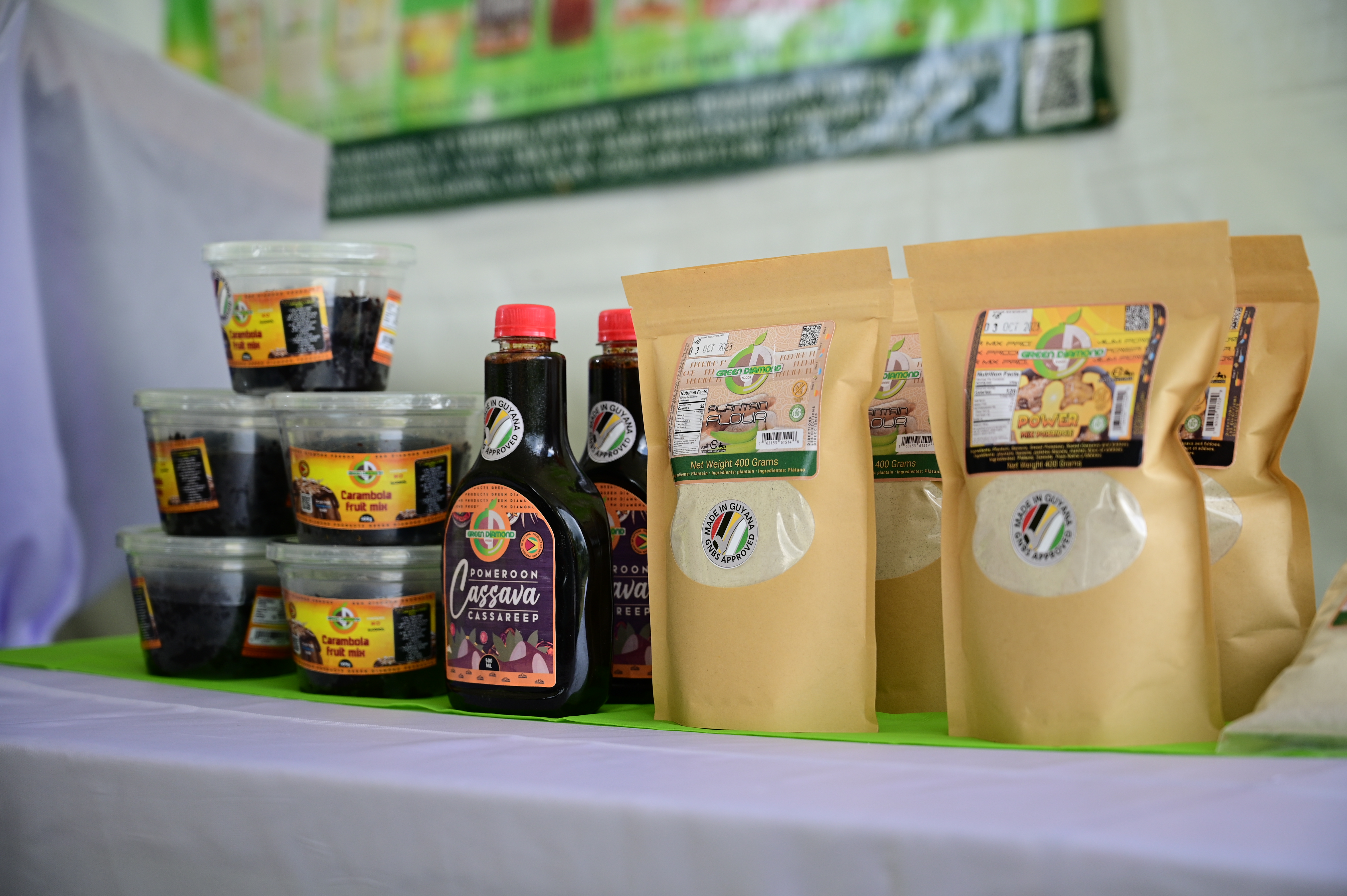 The GNBS is encouraging more businesses to sign up to be a part of the Made in Guyana Certification Mark Programme to give their products that competitive advantage in the local and international markets. Application forms can be accessed at https://gnbsgy.org/certification/made-in-guyana-certification/