In addition to securing direct flights to the United Kingdom as well as a waiver for a visitor's visa, President, Irfaan Ali indicated today that he is also trying to access financing facilities from the European nation for major infrastructural projects.
During a joint press conference with British High Commissioner, Jane Miller, the Head of State alluded that Guyana, being a new oil producer, along with the volatility in the market, has made access to cheap financing harder.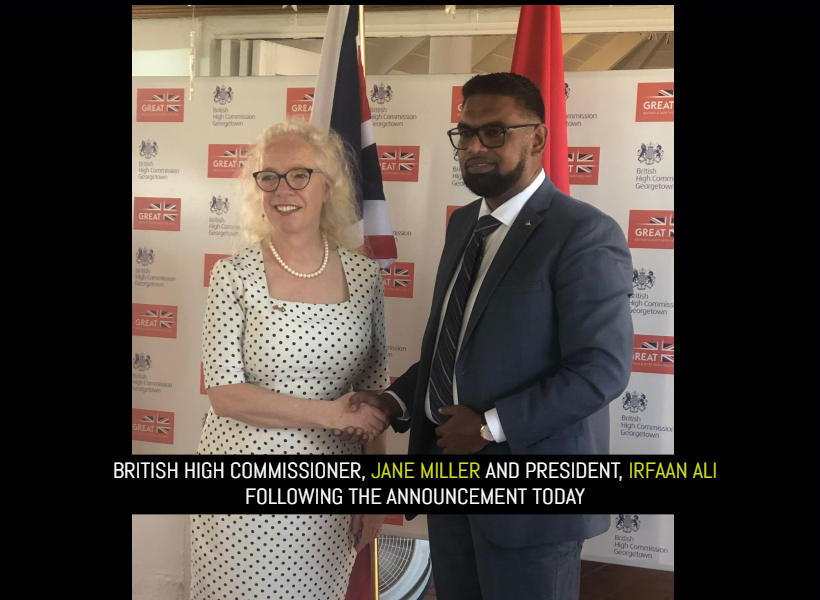 Be that as it may, Ali said, "We are pursuing very strong terms in favour of Guyana, that is to say, fixed-rate financing at less than three percent…it is difficult to achieve but still we are pushing for this."
Similar to the US Exim Bank, Ali said the UK also has a facility in which it is able to build, finance, and transfer. He said there are also facilities that allow countries to benefit from export credits. This helps companies with the support they need for international trade.
Additionally, Ali said work is continuing on access to UK technology to build concrete drains in Guyana at a very fast pace. "As you know, the drainage system in Georgetown needs to be completely rehabilitated. We have committed to the upgrade of the drainage system in South Georgetown and we are looking at the best technology available to do this in a very efficient manner," the President stated.
Overall, he said these efforts will go a long way in supporting the government's agenda for development.