Farmers from Canal No. 1 and 2 on the West Bank of Demerara (Region Three) were given all assurances this week that they will soon benefit from improved drainage systems in the farming community.
Agriculture Minister, Zulfikar Mustapha recently met with farmers from the area to discuss some of the issues faced with the hope of resolving same.
While the farmers acknowledged the government's efforts to develop the sector, they noted that constant rainfall coupled with the lack of effective drainage continues to pose major challenges to their livelihood. One of the major issues faced was the lack of maintenance for major canals and drains in the area.
Kevon John, a farmer from Canal No. 1,explained that while works are executed to dig canals and trenches, the lack of maintenance has resulted in them becoming deplorable.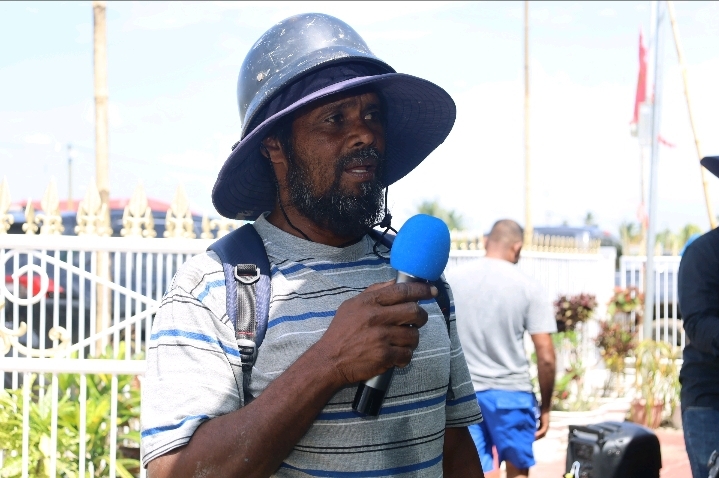 Another farmer noted that while the Neighborhood Democratic Council (NDC) is responsible for some of the maintenance work, they have not been able to execute those works effectively.
Farmers also noted that as a result of flooding their infrastructure was also affected. One farmer explained that, like many other farmers in the area, sections of his farm were sinking.
While responding to issues raised, Minister Mustapha said a holistic approach is needed to deal with the issues faced in the area and committed to making the resources available to commence the needed work.
"Here in Canal Polder, we have one objective, which is to have maximum production. In order to address these matters, we have to look at them from a holistic view. The middle trench that you spoke about, we will do it. The National Drainage and Irrigation Authority (NDIA) will do it but there are people who don't want that trench to be done. They are saying that they don't want the machine to go there. If we have permission tomorrow, we'll make a machine available before the end of the week to start those works," the minister noted.
He further stated that funds have been made available for the construction of a multi-million dollar pump station at Belle Vue that will offer major relief to farmers in the area.
While responding to requests with raising the level of farmlands, Minister Mustapha said that engineers from the NDIA will develop a programme to assist in this regard.
"I am willing to do those works to help the farmers. The NDIA will do a programme to see how many farmers need this form of assistance. I have to say that we cannot do all the work at one time or give endless hours because we know many people have very large acreages but we will do those works to avoid flooding," he explained.
Mustapha also committed to ensuring that officers from the National Agricultural Research and Extension institute (NAREI) meet with farmers to address crop issues after several farmers noted that their production levels were low following flooding in 2022.