Pritipaul Singh Investments, Noble House Seafoods (NHS), and Gopie Investments Inc. (GII) are the three large kings of Guyana's $7B seabob industry. But following closely in the line of domination are 305 Chinese fishers, 9 processors, and 107 market vendors. Though operating at various levels, these actors are considered critical in ensuring the sectoR stays on the course of sustainability. Making key recommendations on how this might be achieved was the Food and Agriculture Organization (FAO) of the United Nations.
In a January 2023 report, see link: [https://www.fao.org/3/cc3889en/cc3889en.pdf](https://www.fao.org/3/cc3889en/cc3889en.pdf "‌")), it was noted that Pritipaul Singh Investments, Noble House Seafoods, and Gopie Investments Inc. produced around 7, 600 tonnes of peeled seabob per year between 2015 and 2020. About 93 percent of this was exported to markets in the United States of America and the European Union, while 7 percent was sold to local supermarkets, hotels and restaurants.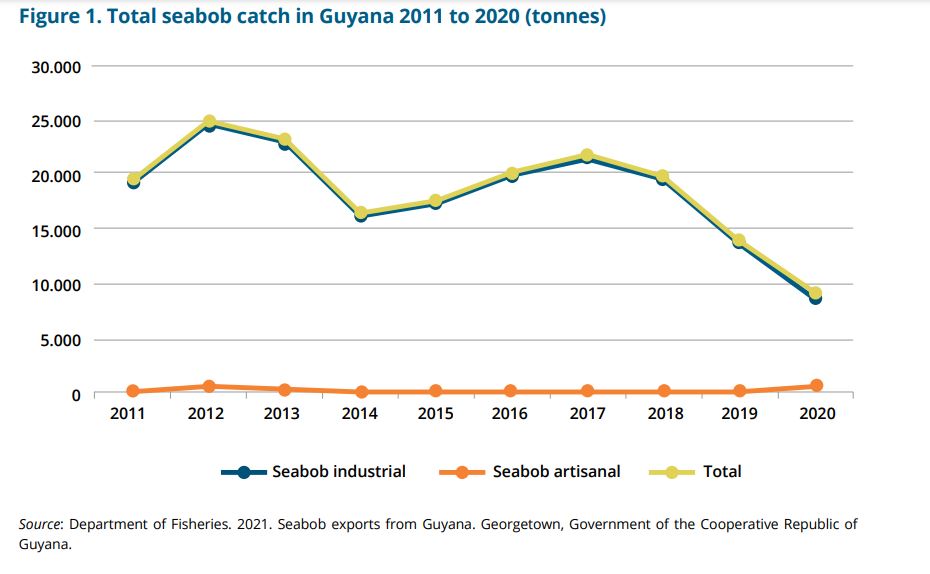 During the same period, small scale fishers accounted for a mere 1 percent of total seabob catch (or around 180 tonnes per year, in fresh, whole weight equivalent). These stakeholders focus on supplying the domestic market with fresh unpeeled seabob, fresh peeled seabob and dried seabob.
Though the foregoing can be deemed commendable in terms of output, there has been a notable decrease since 2017 (See chart attached). The industrial firms attributed this drop in catch to a reduction in fishing effort as a result of an increase in sargassum and an inability to find and capture seabob, possibly due to a declining stock. Challenges to fishing effort were further exacerbated by the COVID-19 pandemic.
With respect to those stakeholders in the artisanal bracket, the report states that they comprise three actors: 305 Chinese seine fishers who capture and sell fresh seabob, approximately 9 cottage processors who dry shrimp, and  approximately 107 market vendors who sell fresh (peeled and unpeeled) and dried seabob to end consumers, street food vendors and small restaurants.
The artisanal fishers are predominantly men who use various gear types to target multiple species such as whitebelly shrimp, finfish and prawns. The Chinese seine, used by around 300 vessels, is the only gear type used by artisanal fishers to catch seabob.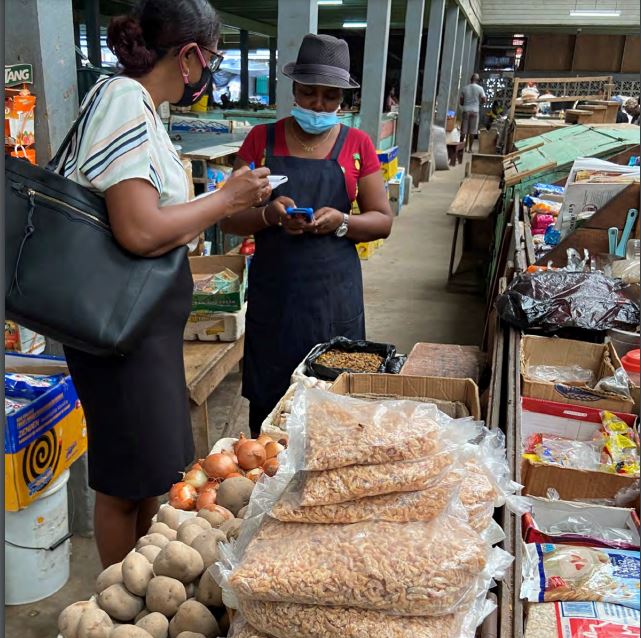 Almost 9 tonnes/year, or five percent of the artisanal catch of seabob is bought by about nine cottage processors. These are mostly small, female-owned businesses that dry seabob to sell locally to market vendors, street food vendors, and small restaurants. The major inputs they use are salt, wood and coconut shells. The cottage processors hire part-time female workers who clean seabob and then spread it on the floor to dry.
Guyana Standard also found that nearly 80 percent of artisanal seabob catch, or 150 tonnes of seabob in fresh equivalent weight, is sold in the local market by around 107 market vendors. The report states that market vendors sell different seabob products – including unpeeled fresh seabob, peeled fresh seabob, and dried seabob – to consumers and other buyers, such as street food vendors and restaurants. They source fresh seabob from fishers and dried seabob from cottage processors. The majority (>70 percent) of the fresh seabob procured by market vendors is sold unpeeled, while around 25 percent is further processed (cleaned and peeled) before being sold.
Considering the large number and central role of artisanal Chinese seine fishers and market vendors in the artisanal channel, the report states that they are the core actors with the most potential as a leverage point, especially for improving the sustainability of fishing practices, improving product quality and enhancing women's participation in the value chain. In the industrial channel, the three industrial firms listed are considered the leverage point for improvement interventions in the value chain.
In terms of end markets, two different marketing strategies are envisioned for the industrial and artisanal channels. Given that the United States of America and the European Union are currently the two most important export markets for Guyanese seabob – and demand remains strong – , the report states that they will continue to be the main export target markets for the Guyanese seabob industry in the future. It was noted however that stringent market requirements, such as certification from the Marine Stewardship Council, and the small amount of seabob captured by artisanal fishers imply that these export markets are not the target markets for the artisanal channel, at least in the next 10 to 15 years.
For the artisanal channel, the report states that the domestic market offers considerable potential. Consumer surveys suggest that there is untapped demand for seabob in Guyana, as consumers sometimes cannot find seabob products on the market when looking for them.
The report also states that potential options include increasing and improving the quality of cleaning, peeling and storing seabob to provide consumers with higher-quality and thus, higher-value products, and to enter higher-value markets such as supermarkets and the hospitality industry (hotels, restaurants). For both export and domestic markets, the report notes that more in-depth market studies are necessary to validate the market potential and opportunities identified in the report, and to discover the opportunities that may have been overlooked due to the unavailability of data, and resource and time constraints.
The foregoing findings and recommendations followed the implementation of FISH4ACP, an initiative of the Organization of African, Caribbean and Pacific States (OACPS) to support sustainable fisheries and aquaculture development. The five-year value chain (VC) development programme (2020 to 2025) is implemented by the Food and Agriculture Organization of the United Nations (FAO) with funding from the European Union and the German Federal Ministry for Economic Cooperation and Development.
The seabob shrimp value chain in Guyana is one of 12 value chains competitively selected from over 70 proposals worldwide for support from the FISH4ACP programme.