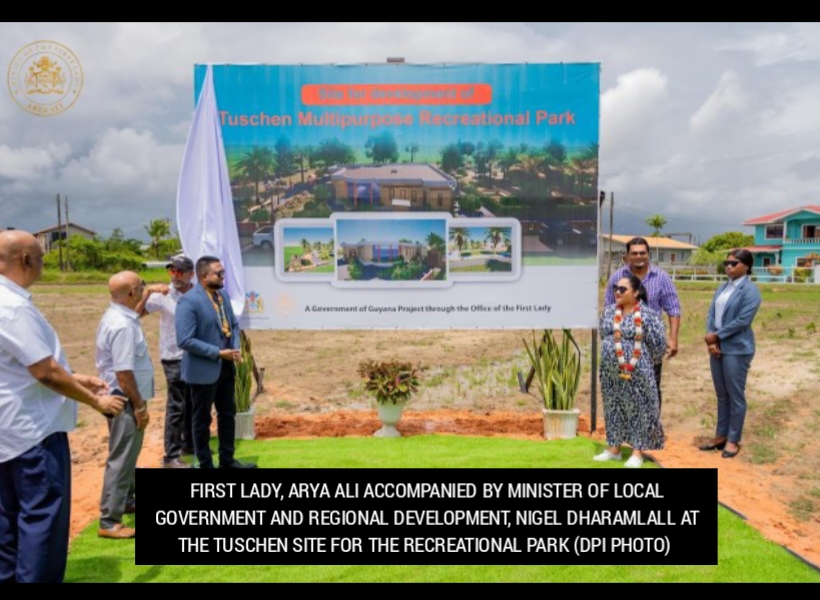 The Government of Guyana, through the Office of the First Lady, will be establishing a Multipurpose Recreational Park in Tuschen, Region Three, and another in Diamond/Grove, Region Four.
The projects which are aimed at creating safe spaces and enhancing the aesthetics of the communities, fall under the National Beautification Project.
First Lady, Arya Ali, who was accompanied by Minister of Local Government and Regional Development, Nigel Dharamlall, launched the two projects on Friday.
At the simple launching ceremony, the First Lady encouraged residents to make the most of the facilities.
"This multipurpose facility is for you the people. So, we're hoping that when it is done, you benefit the most, your children benefit the most, our elderly benefit the most, persons living with disabilities benefit and of course, it's a safe green space for all of you," she expressed.
She also urged residents to ensure the facility is properly maintained when completed.
The facilities will comprise exercise areas, food courts, and play areas. They will also be equipped with lights and benches, among other amenities.
Persons will also have a chance to gain skillsets in various areas, as a multipurpose hall will be established at the park.
Minister Dharamlall reminded those gathered that these developments align with President, Dr Mohamed Irfaan Ali's vision of enhancing communities nationwide.
"Let's hope that all of you are also going to come out and support the First Lady in making sure that this project is executed properly and is maintained and sustained and to the benefit of the people of Tuschen, Uitvlugt and across West Demerara," the minister stated.
Meanwhile, Chairperson of the Diamond/Grove Neighbourhood Democratic Council (NDC), Indrani Ramnarine welcomed the new development, noting that it is the first of its kind on the East Bank of Demerara.
"We are very grateful for this. We can't wait to see this become a reality and I promise the first lady that we will maintain this by showing and giving ownership for it," she assured.