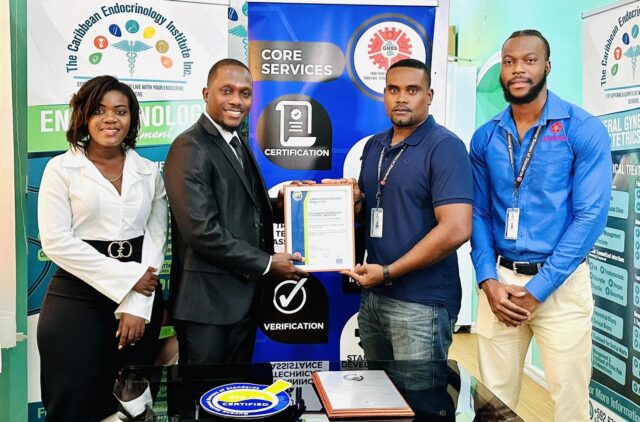 The Caribbean Endocrinology Institute Inc, the only one of its kind in Guyana, has achieved a significant milestone today as it received certification from the Guyana Bureau of Standards (GNBS) for successfully implementing the requirements of the GYS:170 Standard, a general requirement for laboratory operations.
Since its establishment on October 16, 2021, the institute has garnered a commendable reputation, providing valuable assistance to hundreds of Guyanese grappling with endocrine issues, including diabetes, hormonal imbalances, and more specific conditions such as polycystic ovarian syndrome (PCOS) and infertility.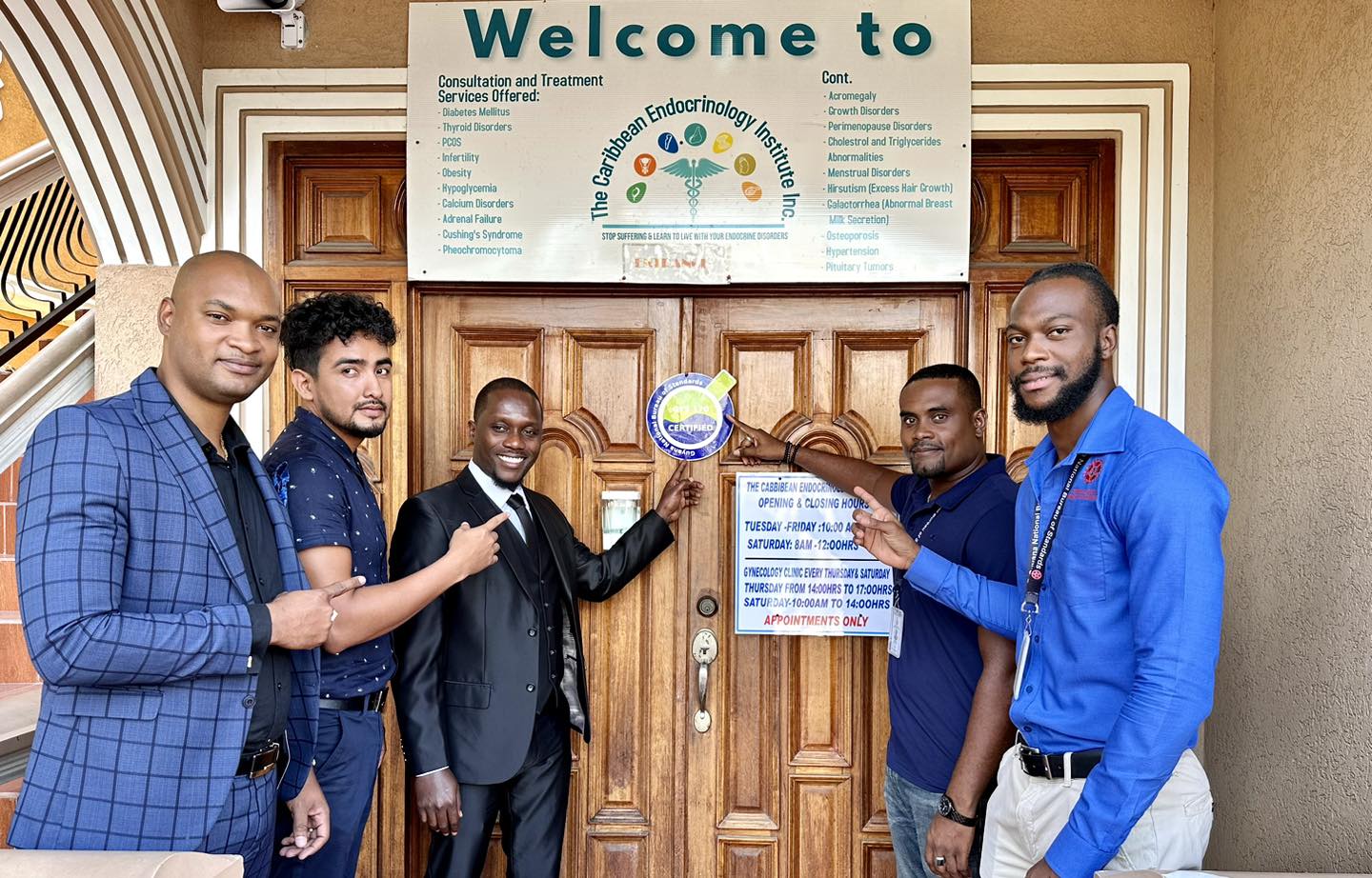 The institute is under the ownership of Dr. Caleb Mc Cloggan, Guyana's first endocrinologist, who also serves as the Head Consultant. Dr. Mc Cloggan pursued his medical studies in Cuba and returned to Guyana in 2013. However, his passion for specializing in endocrinology drew him back to Cuba in September 2018, where he furthered his studies in the field. After successfully completing his programme, he returned to Guyana in September 2021 and established his practice at the Caribbean Endocrinology Institute in Kitty, Georgetown. Since then, he has been a beacon of hope for many Guyanese affected by PCOS and other endocrine disorders.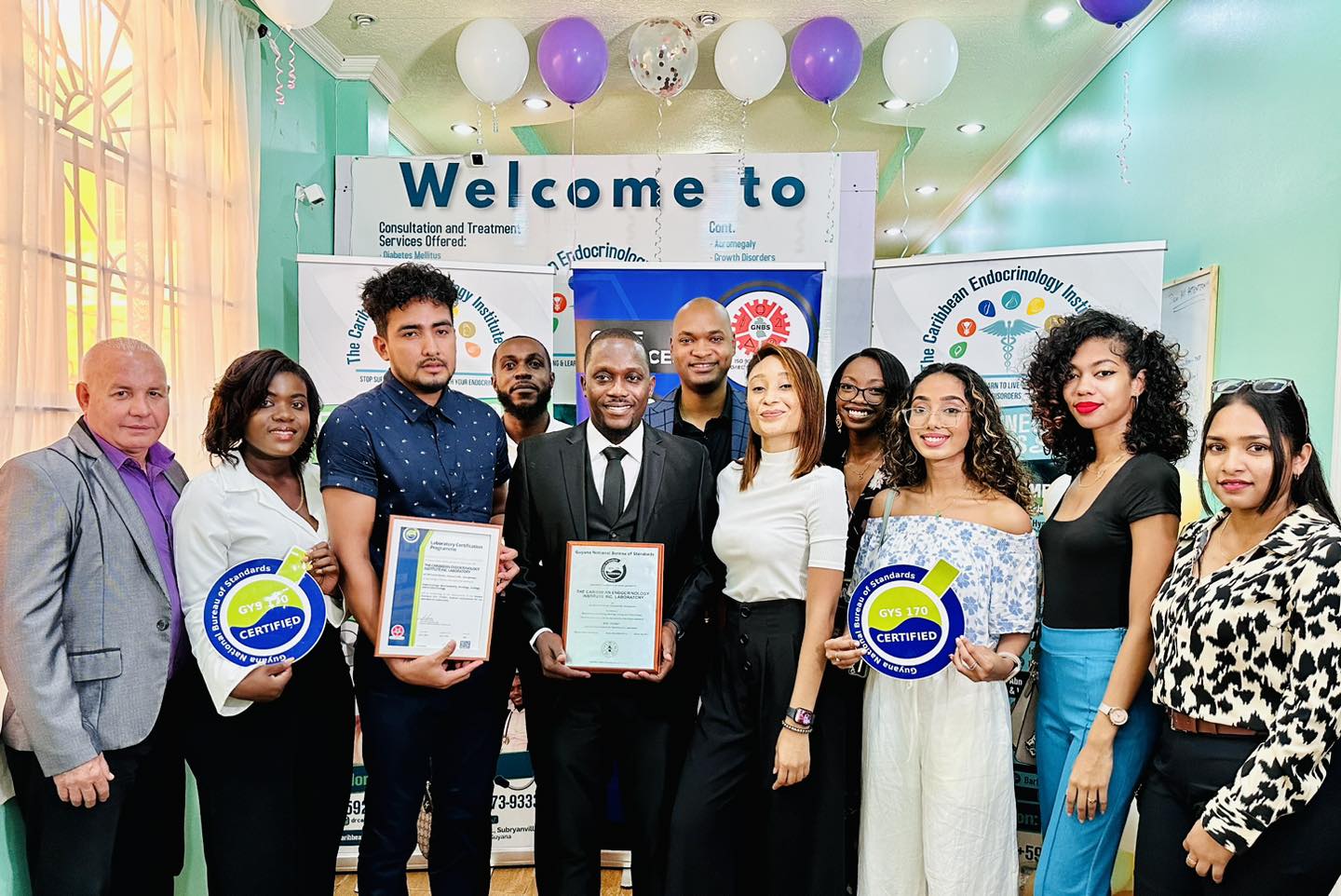 Addressing those at this morning's hand-over ceremony, Dr. Mc Cloggan expressed that obtaining GNBS certification had been a primary objective for the institute since its inception. He highlighted the institute's diligent efforts to meet GNBS standards, including undergoing various training programmes.
Furthermore, he emphasized that his laboratory is the only one in the country capable of performing certain tests. "We are the only lab in the country with the capacity of differentiating between Hashimoto thyroiditis and the cause of thyroiditis and the only lab in the country that can differentiate between type 1 and type 2 diabetes because we are the only lab that can actually test for those things," he stated.
With the GNBS certification, Dr. Mc Cloggan affirmed that the institute would be able to contribute to the healthcare sector and extend its laboratory services to institutions such as the Georgetown Public Hospital, Woodlands, and other medical facilities.
Expressing gratitude for the milestone, Dr. Mc Cloggan thanked the GNBS for its comprehensive training and hands-on approach, affirming that the institute would continue to apply its learnings in practice.
During the ceremony, a certificate and plaque were presented by Keon Rankin, GNBS Head (Ag) of Certification Services, and Orlando Sturge, Technical Officer, to Dr. Mc Cloggan MD DM ISCM- Endocrinologist, and the Operations Manager, Anesha Fraser, respectively. The event also witnessed the presence of Boris Fraser, Laboratory Manager; Dr. Rondell Stuart, Gynecologist; Dr. Gretchen Mc Cloggan, Anesthesiologist; Dr. Quasi Moore, Orthopedic Surgeon, among others.