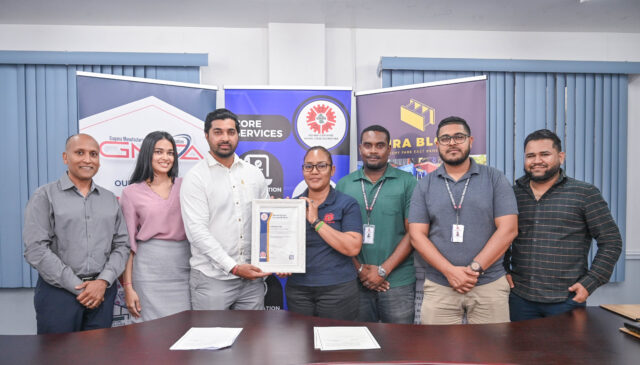 With the ongoing construction boom in Guyana, it is crucial for suppliers of building materials to keep pace with ever-growing infrastructural needs.
Consequently, some suppliers are continually transforming their businesses to meet quality and quantity demands for construction materials, especially concrete hollow blocks.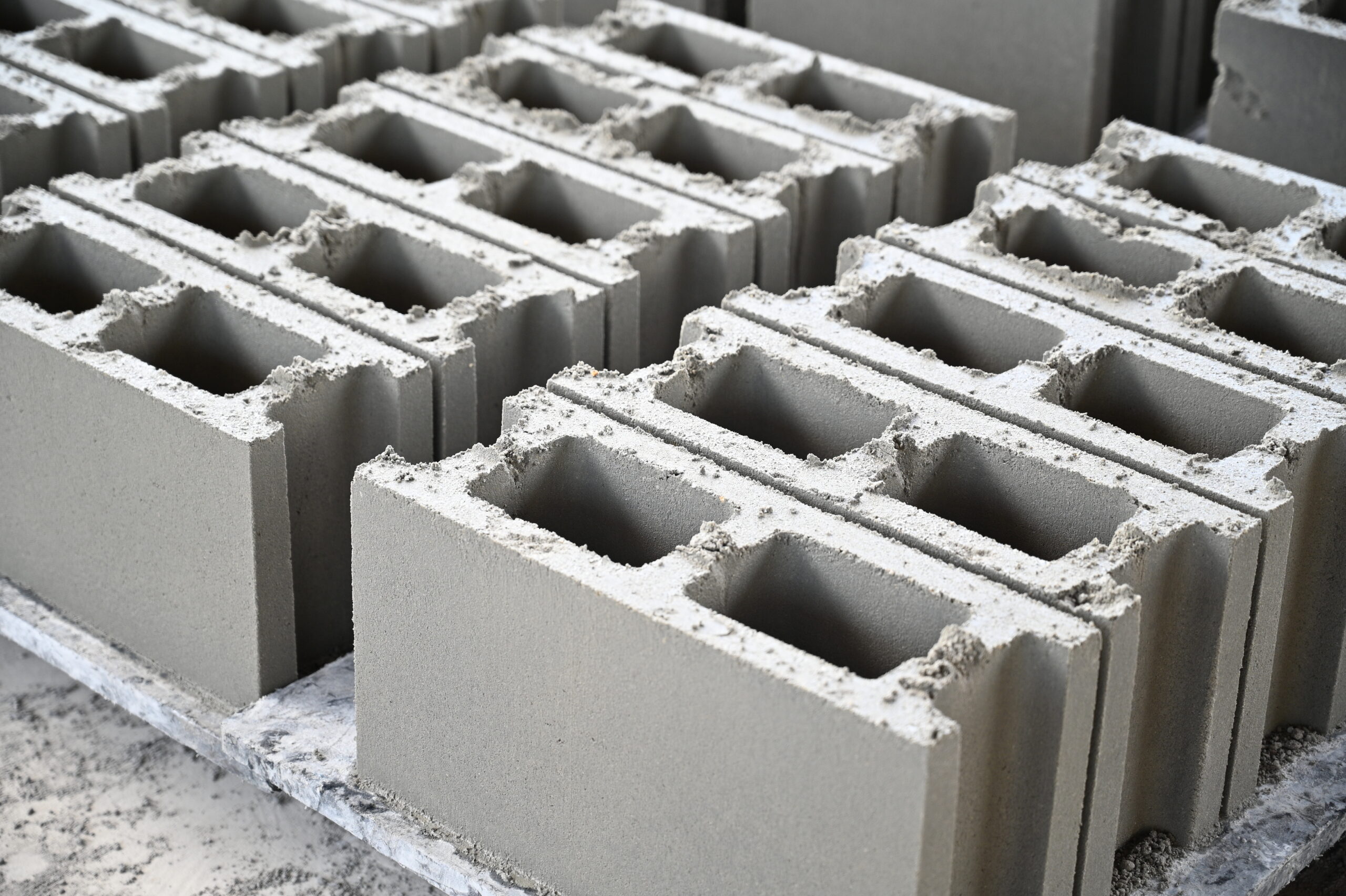 In 2022, Dura Block aligned its focus with the Government's infrastructure developmental agenda to complement the economic boom, with the manufacturing of machine-made, durable concrete hollow blocks.
Dura Block was established in 2021 by Chief Executive Officer, Vinash Chand, a man who is committed to ensuring quality promotes his business. After a year of deliberation, investments and extensive research, Dura Block became operational in November 2022, manufacturing machine-made, four-inch and six-inch concrete hollow blocks.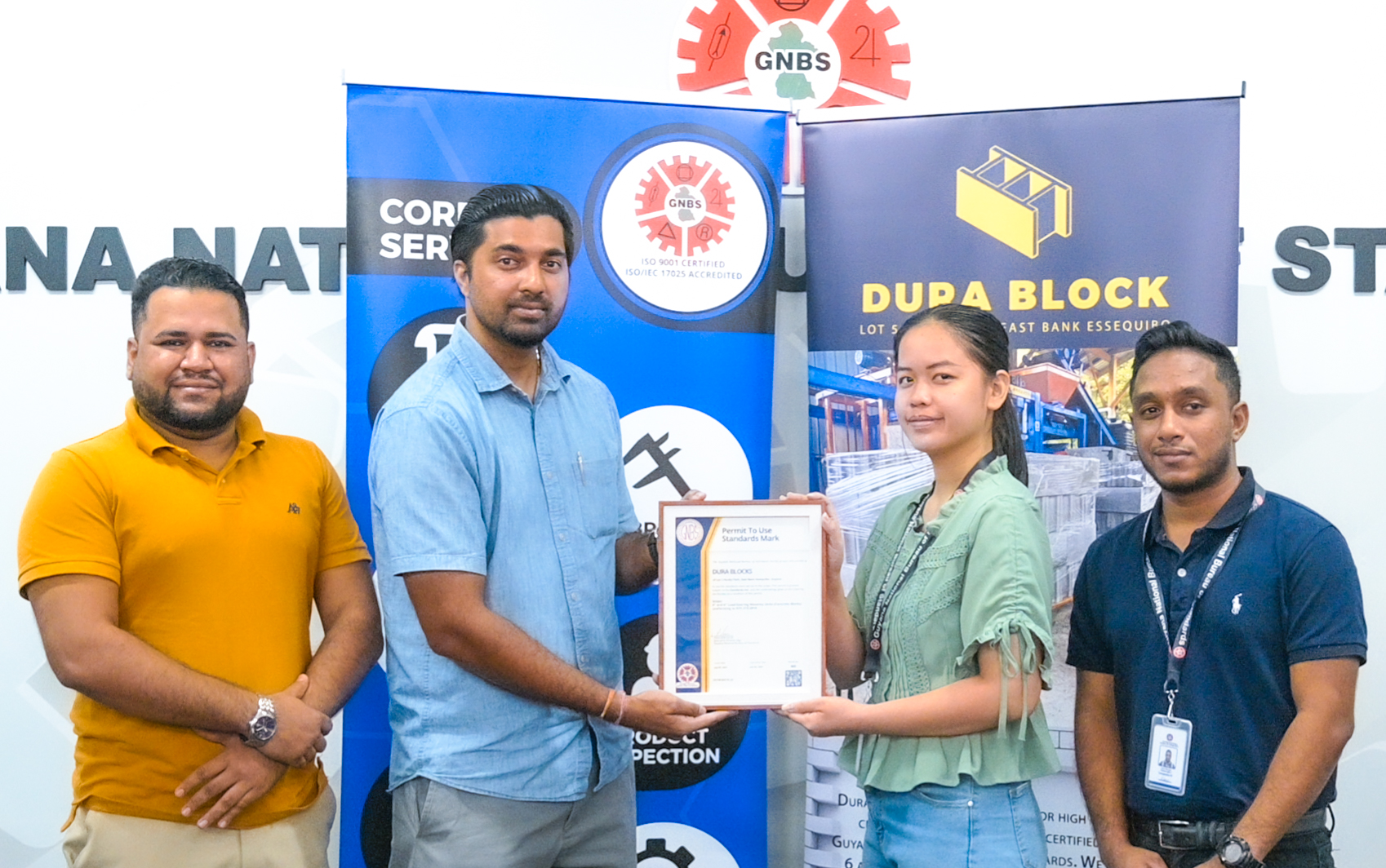 Not so long after production commenced, the company decided to pursue certification of its six-inch blocks to the Guyana Standard, GYS 215:2003 – "Specification for Load Bearing Masonry Concrete Units" and achieved certification in March 2023.
Chand noted there was an immediate demand for high-quality blocks and he was determined to meet that demand and at the same time set his business apart from the rest by becoming certified.
"The business idea was birthed in 2021, at a dinner hosted by the GMSA where the President highlighted in his speech, the shortage of concrete blocks. At the time, there was no one in Region Three meeting the demand, I capitalized on the opportunity and then pursued GNBS Certification to set myself apart from competitors, to add value to my products and acquire accountability and traceability. Maintaining a standard is important and is something every business should be doing," Chand proudly stated.
According to Chand, since his initial certification, Dura Block has seen a massive influx of clients. It was this that prompted him to further expand the company's scope of certification to include its four-inch blocks.
"Many customers, when I tell them my blocks are certified, are always surprised. It adds tremendous value and gives them security and confidence. Once they see the certificate and stickers, they don't ask further questions. It definitely attracts more customers."
Concrete hollow blocks are a versatile, cost-effective and eco-friendly building material. They are widely used because of their unmatched durability, and to ensure this prevails, the GNBS offers testing and certification of concrete hollow blocks.
Dura Block's initial certification came at a time when the GNBS began offering Non-Destructive Testing for concrete blocks, structures and cubes; a useful service to homeowners, contractors and engineers. In 2020, the GNBS began testing concrete blocks after its Industrial Metrology and Testing Department acquired the requisite training, equipment and facility.
Additionally, under its Product Certification Programme, the GNBS offers certification to local manufacturers and block makers who continue to demonstrate their blocks are meeting standard requirements.
Chand indicated that the certification process with the GNBS Officers was smooth and transparent from the very beginning, "a pre-audit, site visits and inspections were conducted. I was surprised with how easy and seamless the process is. The team is very friendly and efficient, and the communication was great. With their help, the certification process was just about two or three months, and it was very smooth and well advised."
He is urging all local companies to get on board with the GNBS to achieve certification, "I encourage other businesses, especially new block makers to contact the GNBS to get certified. Businesses are growing rapidly, and I think Guyana will really expand over the next few years, so why not get certified?"
According to Chand, many of his clients are prospective homeowners and this is testament that the housing sector is rapidly becoming dependent on concrete hollow blocks because of their superb quality. The businessman highlighted, Dura Block has plans to further extend their scope to manufacture eight-inch blocks very soon.
Dura Block is one of four other local block making companies that have been certified by the GNBS and continue to conform to standards. The others are KSM Investments, Gafsons Industries and Robin Hollow Blocks.
Ensure safe and durable construction with GNBS Certified Concrete Hollow Blocks. For more information on the GNBS Certification, visit our website at gnbsgy.org or call 219-0064-66 or the GNBS Hotline 219-0069 or WhatsApp 692-4627. (Guyana National Bureau of Standard)