In a compelling address during a side event at the United Nations Food Systems Summit +2 Stocktaking Moment, Guyana's Agriculture Minister, Zulfikar Mustapha, emphasized the need for immediate and decisive action if countries are to make headway towards achieving the United Nations Sustainable Development Goals (SDGs).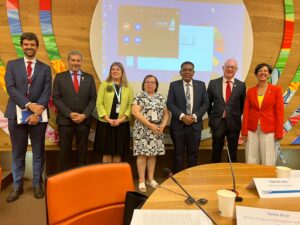 Minister Mustapha underscored that despite ongoing efforts, much remains to be done to meet the ambitious targets set by the UN SDGs. A host of challenges, including financial shocks, the Russia-Ukraine war, climate emergencies, energy access constraints, rising poverty, food insecurity, and inequality, have combined to create a complex web of crises that demand urgent attention.
The Caribbean region, especially small island developing states like Guyana, has been grappling with significant challenges related to food inflation and an escalating food import bill. These issues stem from the subregion's heavy reliance on imported food and agricultural products. Minister Mustapha pointed out that the prevalence of moderate or severe food insecurity in the Caribbean increased from 59.5 percent to 60.6 percent, with severe food insecurity rising from 25.7 percent to 28.2 percent in 2022.
Efforts to address these pressing issues are also underway at the regional level, with CARICOM showcasing a robust plan of action through its Vision 25 by 2025 initiative. In this regard, Minister Mustapha commended CARICOM's strong political commitment to reducing the US$6 billion food import bill by 25% before 2025. The initiative, as previously reported, focuses on forging partnerships to drive food and agricultural development, and leaders are working diligently to accelerate its implementation.
During the summit, there has been a renewed sense of urgency surrounding the financing of national food system pathways transformation. Minister Mustapha emphasized that Guyana has consistently advocated for such support.
It should be noted that the development of Guyana's National Pathway for Food Systems Transformation was achieved through collaboration and engagement with diverse stakeholders, including development partners, the private sector, farmers, investors, agricultural agencies, technical experts, government ministries, agro-processors, NGOs, and civil society. The resulting document addresses the challenges across the entire food system, ensuring a comprehensive and inclusive approach.
The success of Guyana's programmes in collaboration with its development partners is also attributed to the integrated nature of its implementation. Minister Mustapha reiterated this at the summit while noting that a targeted approach to food security, integrating agriculture, health, education, technology sectors, and climate change mitigation, is essential to guarantee progress towards achieving Agenda 2030.
In conclusion, Minister Mustapha's passionate call for immediate and decisive action to tackle the complex challenges facing nations on their path towards the UN SDGs resonated with attendees at the United Nations Food Systems Summit +2 Stocktaking Moment. The urgent need to address food security and sustainable development goals was evident, with many participants echoing the call for increased cooperation and support to ensure a more secure and prosperous future for all.