In an empowering move towards agricultural development, 30 farmers from Region Four (Demerara – Mahaica) were provided with essential inputs on Monday, worth $3.3 million. This initiative was made possible due to funding by the Inter-American Development Bank (IDB) under the Sustainable Agriculture Development Programme's (SADP) Component Two, an effort managed by the Ministry of Agriculture.
Component 2 of the SADP, primarily focuses on invigorating the ministry's extension system. This includes the vital training of ministry staff and farmers and also lays the groundwork for research and demonstration plots. To ensure that the newly introduced technology is well-received and adopted, a grant incentive program (non-cash) has been curated, targeting the upliftment of small and medium-scale farmers.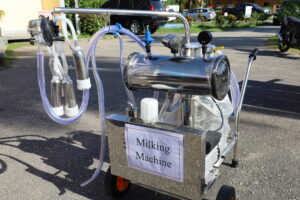 Last June marked a significant moment, as a ceremony was held at the ministry's Regent Street office. During this event, the honorable Agriculture Minister, Zulfikar Mustapha, graciously accepted the agricultural aids on behalf of the Government of Guyana from the IDB's Country Representative to Guyana, Ms. Solórzano Salazar. It was also a time of celebration for several farmers who received essential farming inputs through the project.
This project is a beacon of hope for 6,000 farmers residing across the Coast. They stand to gain from a whopping US $3 million worth of inputs and unparalleled technical assistance. All these steps are a testament to the government's unwavering commitment to reinvigorating Guyana's agricultural landscape.
In his remarks, Minister Mustapha highlighted that CARICOM has its eyes set on Guyana, expecting it to lead in agricultural advancements and food production. He emphasized the government's proactive measures to ensure that farmers are well-equipped to enhance production.
The government's vision doesn't stop there. They are keen on diversifying by introducing commodities like corn, soya, high-value crops, black-eyed peas, and enticing spices like ginger. "Our goal is to pioneer new crops, such as broccoli, cauliflower, and carrots, and embark on large-scale bean production. With our eyes on the Caribbean market, we're ensuring black-eyed peas are in abundance. Region One is also gearing up for a surge in spices like ginger and black pepper," Minister Mustapha elaborated.
This collaborative effort will benefit both crop and livestock farmers. They will receive crucial items ranging from small land tillers, breeding animals – including cattle, swine, small ruminants, and black giant birds – to improved planting materials, farrowing crates, and water pumps.