In a historic state visit, His Highness Sheikh Tamim Bin Hamad Al Thani, Amir of Qatar, and President Irfaan Ali of Guyana came together to elevate their nations' relations. As a symbol of the growing ties, Qatar announced its intention to establish a diplomatic mission in Georgetown.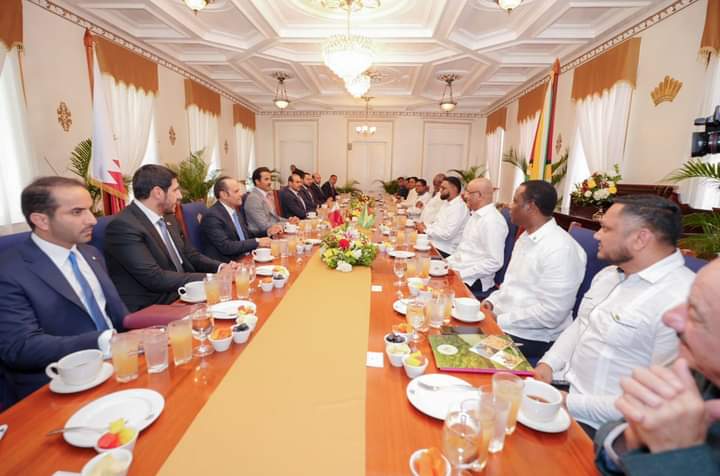 The decision was warmly welcomed by President Ali and both leaders expressed confidence that this step would enhance visibility and foster cooperation between their countries, contributing to the strengthening of bilateral relations and international cooperation.
The visit, which took place today also yielded agreements on mutual investment, economic cooperation, and a commitment to sustainable development. These developments signify a profound step towards a deeper partnership between Qatar and Guyana, fostering economic growth and addressing global challenges in unity.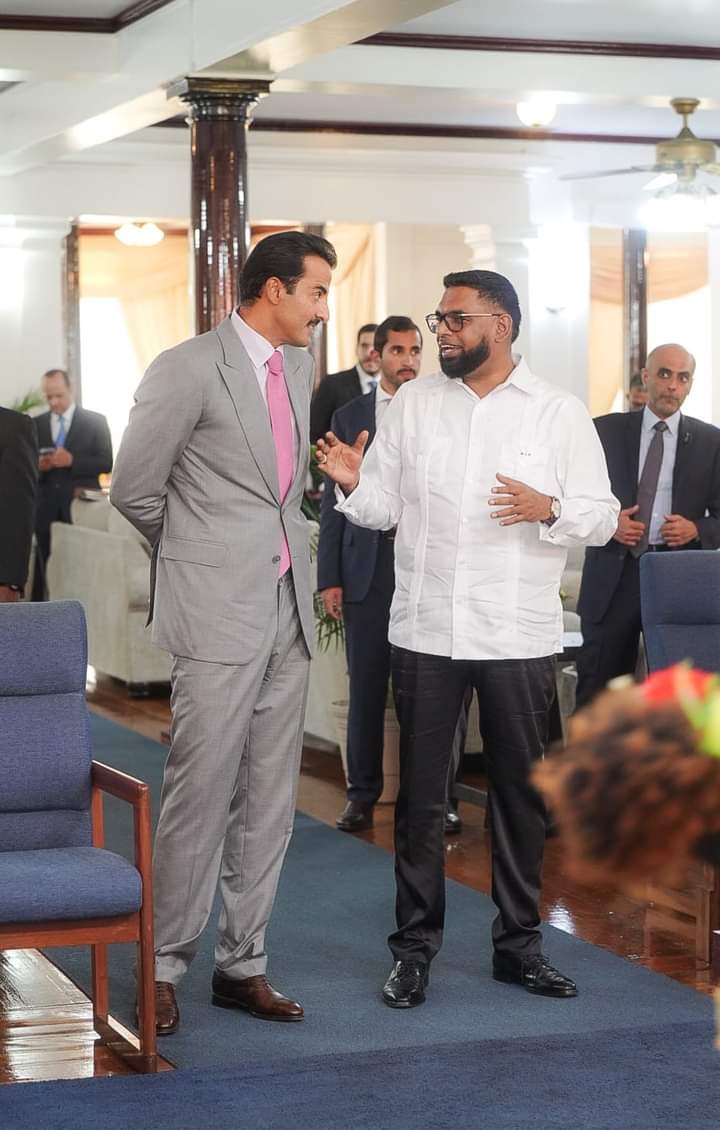 During the visit, both leaders engaged in substantive discussions on a diverse array of topics of mutual interest, with the primary aim of bolstering their bilateral ties. Their shared commitment to enhancing cooperation in various fields was a central theme of the meeting.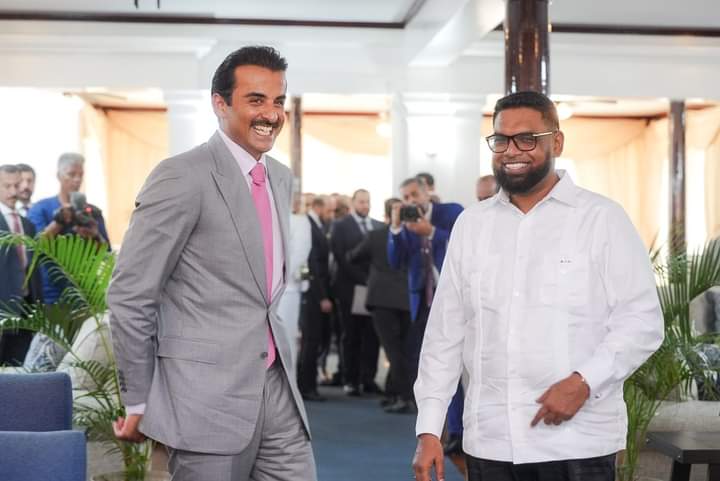 Both leaders expressed their satisfaction with the existing friendly relations between Qatar and Guyana, recognizing the untapped potential for deeper collaboration in areas such as trade, investment, energy, education, health, and culture. They were keen to explore opportunities to strengthen partnerships and investments, particularly in sectors like agriculture, renewable energy, infrastructure development, and tourism. The leaders also emphasized the importance of prioritizing sustainability and eco-friendly technologies in their shared projects to achieve sustainable development goals and reduce environmental impact.
Furthermore, the State of Qatar pledged its support for Guyana's road infrastructure redevelopment initiatives. This commitment signifies the strong commitment of Qatar to Guyana's development.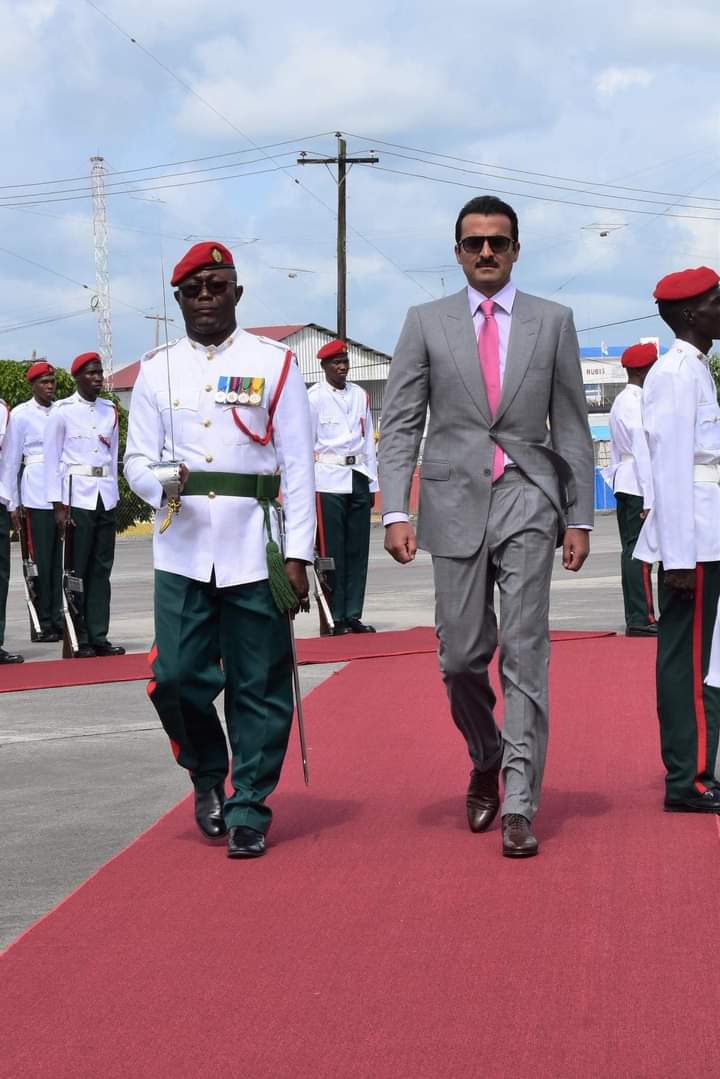 A pivotal moment during the visit was the signing of several agreements. The first was an agreement designed to foster mutual investment between the two countries, which aims to boost economic cooperation. Additionally, both nations signed another agreement focusing on economic, commercial, and technical cooperation, as well as a Memorandum of Understanding on Legal Cooperation.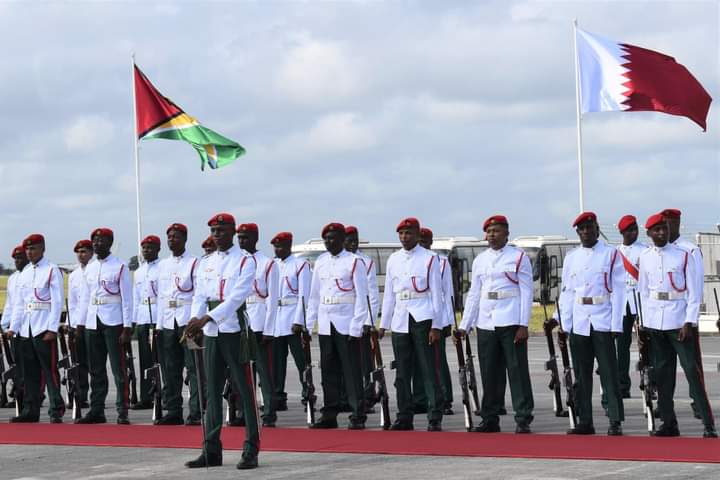 The leaders also underscored the significance of regional and international collaboration in addressing global challenges like climate change, terrorism, and the promotion of peace and security. They affirmed their dedication to working together on the global stage to advance their shared goals, thus contributing to global peace and security.