Vice President, Dr. Bharrat Jagdeo, announced today that the country's recent oil block bid round garnered significant interest, with offers received for eight out of 14 blocks. He said the bid round attracted bids from six different groups bidders, resulting in a total of 14 offers.
During his weekly press conference held today, Jagdeo noted that some blocks witnessed intense competition, while others did not receive any bids. Among the blocks without bids were D3, S1, S2, S6, S9, and S11.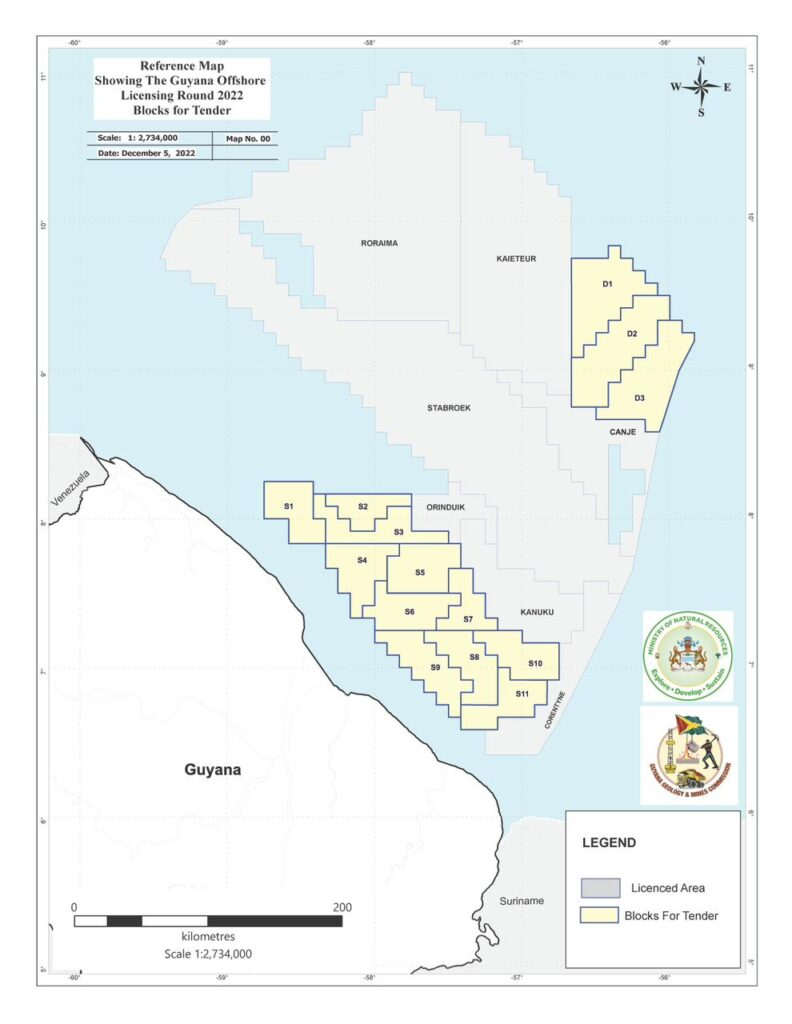 Addressing questions about the success of the bid round, the Vice President expressed the government's satisfaction with the outcome. He underlined the government's commitment to transparency in the allocation of blocks, a departure from the previous "first come, first served" method. He stated that the bid round adhered to a transparent bidding process, aligning with the government's pledge to enhance transparency.
Furthermore, the Vice President stressed that the government refused to conclude the bid round without implementing a new framework, a new Production Sharing Agreement (PSA), and a new petroleum activities bill, a commitment he said that has been upheld, ensuring that the bid round adhered to the new guidelines and regulations.
The 2022 Licensing Round was first announced in December last year. A total of 14 oil blocks were up for grabs – 11 in shallow water and three in deep water. The companies which put in bids were Stabroek Block operator, ExxonMobil, SISPRO INC (Guyana), Total Energies EP Guyana BV; Qatar Energy International E&P LLC; Petronas E&P Overseas Ventures SDN BHD (Malaysia), Delcorp Inc Guyana and Watad Energy and Arabian Drillers of Saudi Arabia, Liberty Petroleum Corporation of the US, Ghana-based company Cybele Energy Limited International Group Investment Inc and Montego Energy SA (London).
Jagdeo also provided context for the bid round, acknowledging global trends toward net-zero emissions and the resulting impact on the oil industry. He noted the challenges faced by oil majors, including divestment from fossil fuel assets and difficulties in securing financing for such activities. Internally, the new PSA introduced significant changes, including a higher royalty rate, the introduction of corporate taxes, and capped cost recovery.
In light of Guyana's recent oil block bid round attracting strong interest, with competitive offers for several blocks, Jagdeo has emphasised the government's commitment to transparency and that the implementation of a new regulatory framework demonstrates its dedication to responsible resource management.