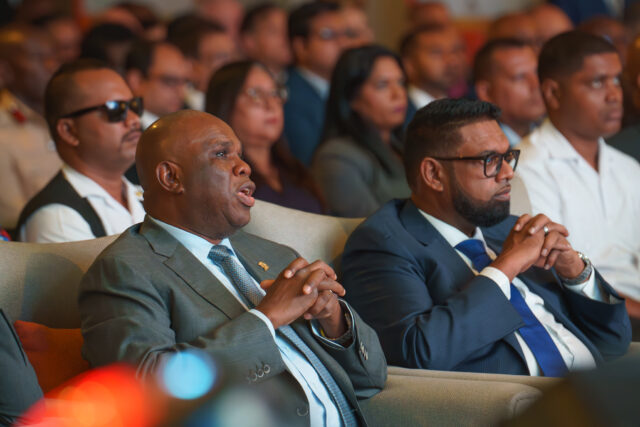 President and Chairman of the Board of Directors for the African Export-Import Bank (Afreximbank), Prof Benedict O. Oramah declared on Monday that the institution is ready to provide almost 50 percent of the funding needed to aid the creation of a CARICOM Exim Bank. The Chairman said such a body would be pivotal in strengthening economic ties between Africa and the Caribbean.
The official made the foregoing announcement, among other others, in his address at the Second AfriCaribbean Trade and Investment Forum being held in Georgetown at the Marriott Hotel. The opening of the forum witnessed the convergence of over 200 leaders and stakeholders from Africa and the Caribbean.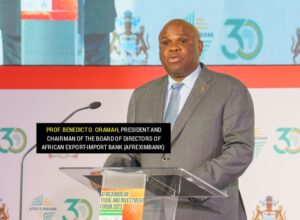 Prof. Oramah, during his remarks, recounted the historical ties that bind the two regions, emphasizing their shared vision of self-reliance and economic empowerment.
With a passion for seeing true financial liberation from eastern and western institutions, Prof. Oramah reaffirmed the Afreximbank's promise to "expeditiously establish a strong presence in the CARICOM."
He added, "We have delivered on the Caribbean presence and hope that our collective efforts can be expedited to create the CARICOM Exim Bank." Furthermore, the Chairman said the bank is primed to fund feasibility studies and is willing to advocate for up to 49 percent of the required equity, contingent on an invitation from CARICOM States.
Within a year since the establishment of the AfriCaribbean Trade and Investment Forum, the Chairman said tangible progress is evident. He said 11 out of the fifteen CARICOM Member States have ratified the Partnership Treaty. This accelerated collaboration he said led to the Afreximbank approving a lending limit of US$1.5 billion for CARICOM States, with potential augmentation to US$3 billion as more nations join.
He also shared that trade and investment missions, led by Afreximbank to CARICOM, have culminated in around US$2 billion in pipeline deals. This includes critical transactions for tourism revitalization in Barbados, climate adaptation initiatives in St. Lucia, and renewable energy projects in St Kitts and Nevis.
During the forum, the Chairman said a series of agreements will be formalized, including a Framework Agreement between Afreximbank's Fund subsidiary, Fund For Export Development in Africa (FEDA), and Nigeria's Access Bank Group to invest in the Caribbean's financial services sector.
Additionally, Afreximbank's Pan-African Payment and Settlement System (PAPSS) is slated to initiate a pilot programme for CARICOM Central banks, aiming to facilitate seamless transactions between Africa and the Caribbean.
Significantly, in August 2023, Afreximbank inaugurated its Caribbean Office in Barbados, symbolizing the resurrection of economic and cultural ties severed centuries ago. The Chairman said plans are underway to establish the Africa Trade Centre in Barbados, a multi-faceted facility promoting trade, tourism, and collaboration.
With a shared vision and a clear path, Prof. Oramah said the Afreximbank and CARICOM nations are poised to overcome global challenges, tapping into the immense potential of their combined markets.