While People's Progressive Party's (PPP) Presidential Candidate, Irfaan Ali is still to publicly put an end to speculations that his array of certificates from prestigious universities are falsified, his purported United Kingdom alma mater, the University of Sunderland, continues to be plagued by the online sales of fake degrees and transcripts.
At least one of Ali's claimed universities was forced to issue statements against persons who were selling fake degrees online.
It is now well over two months since Ali's certificates were brought under question. In early January, veteran journalist, Julia Johnson highlighted the issue on the local newscast, Prime News. While Ali promised to furnish Johnson with his transcripts to prove that he legitimately obtained his certificates, he never did.
The story was later picked up and followed by daily newspaper, Kaieteur News. Ali promised Kaieteur News as well to provide his transcripts but, once again, he failed to do so. Further, Guyana Standard understands that Ali made promises to meet with the newspaper but never made good on these.
While several articles were published highlighting some pertinent facts, Ali kept his silence.
Next, PPP General Secretary, Bharrat Jagdeo, who endorsed Ali during the race to become the party's Presidential Candidate, told the media that he nor Ali will be responding to queries about the qualifications until the transcripts are made available.
That was several weeks ago. To date, nothing has been forthcoming.
Ali is still to give the name of the tertiary institution he attended where he landed his first bachelor's degree that made him eligible for his master's degree. That master's degree, secured at an Indian university, was purportedly issued in 2003. However, in 2006, Ali reportedly received his first degree from the University of Sunderland, a British University, in "Business Management".
The order in which he has allegedly received his qualifications has raised red flags; usually, a bachelor's degree precedes a master's degree.
Over a number of years, there was outrage in the United Kingdom over the issuance of fake degrees online. One of the main universities targeted is the very same that Ali purportedly received his degree from: the University of Sunderland.
In 2008, The Journal (UK) published an article highlighting the dilemma.
The Journal stated, "fake degrees from the North-East's top universities are on offer for less than £40 a time. The bogus certificates, printed on parchment, carry replicas of university crests and embossed seals." The report continued, "The certificates were being obtained at the touch of a button from an internet site which boasts that, with its help, getting a certificate "is as easy as 1, 2, 3".
The Journal reported, "On offer are phoney qualifications in the name of Newcastle, Durham, Northumbria and Sunderland Universities." In describing the fake degrees, the Journal noted that the documents came "with the additional use of authentic crests and logos; you're the only one who will know that it is fake."
All the universities involved issued strong statements calling it fraud and a slap in the face of those students who actually invested time, money, and energy into securing their accolades the right way.
Sunderland University said, "We naturally take a dim view of companies trying to copy our degree parchments. We would expect all employers, as we do, to have a number of checks in place to ensure a potential employee's credentials."
Sunderland and other universities were keen on promoting the checks for spelling mistakes and other inaccuracies no matter how minor they might seem.
Furthermore, Sunderland has indicated that, even until now, transcripts are easily and readily available.
But the publicly circulated Journal article has seemingly done little to dissuade scammers. Upon further investigation, Guyana Standard discovered scores of online sites providing fake degrees and transcripts. The University of Sunderland features prominently on these sites.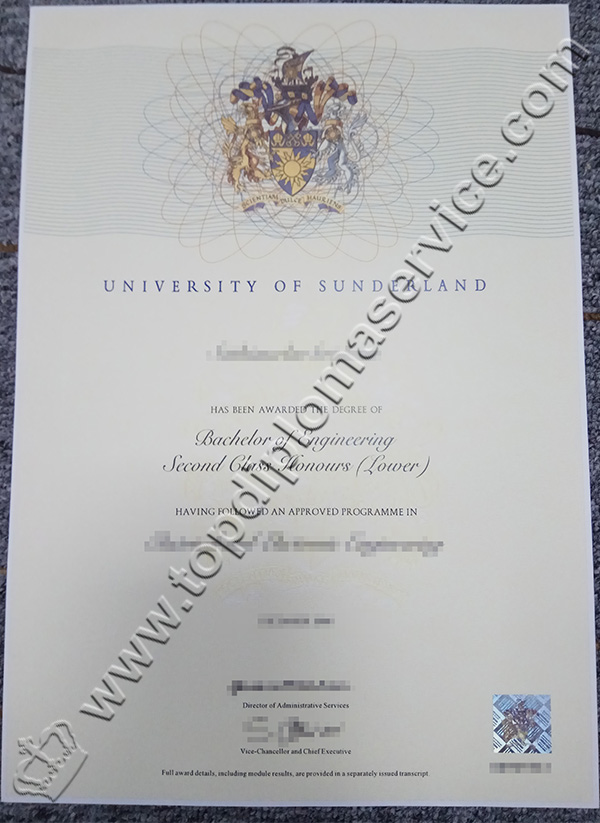 DISCREPANCIES
Ali's name was incorrectly spelled on his purported degree from Sunderland. Ali released about four other certificates; on these additional certificates, his name is noted as "Mohamed Ali" but on the Sunderland degree, his name is recorded as "Mohammed Ali".
Also, the course Ali reportedly graduated from as stated on the certificate is "Business Management," but Sunderland offers a degree in "Business and Management."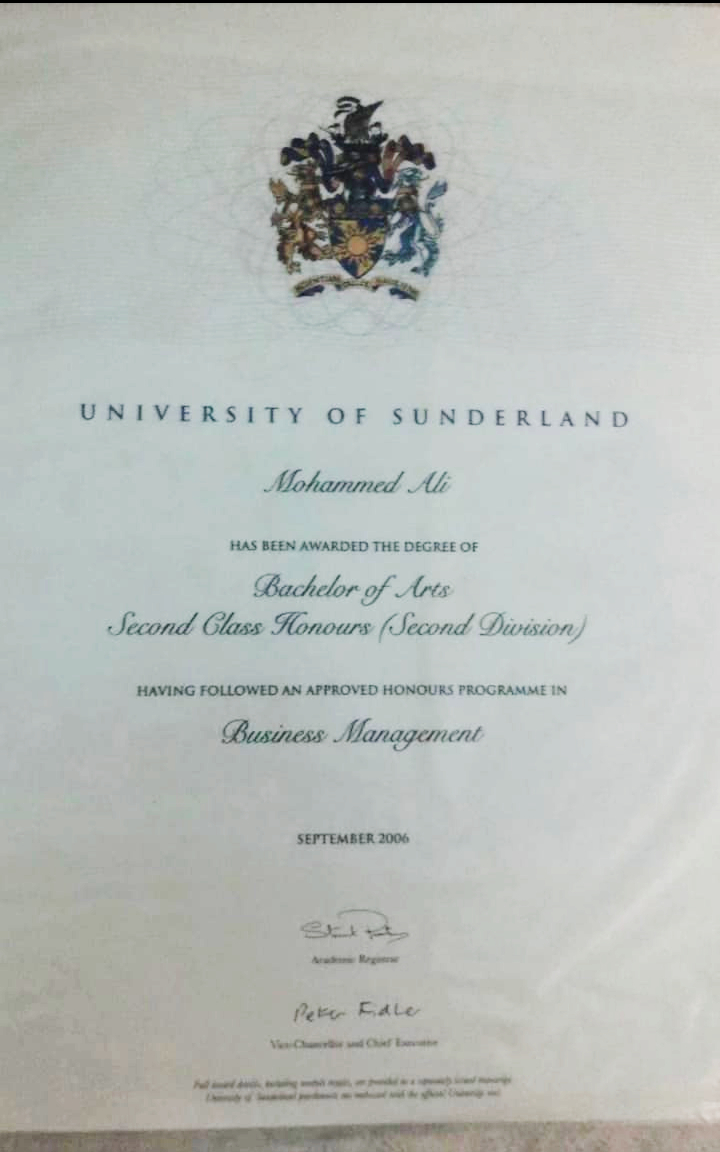 What about the transcripts that can put the matter to rest?
The University of Sunderland makes it clear on its website that it is always willing to provide former students with transcripts. The university website states, "From time to time, you may need to provide confirmation of your degree. We offer a free service to confirm your qualification and give you a transcript to qualify your degree.
"Please allow time for our Student Records Office to source this information. For alumni who graduated when Sunderland was a polytechnic, these records are maintained in off-site storage and will take up to three weeks to process. Complete our online enquiry form below to request a transcript."
Sunderland stopped being polytechnic and became a full university since 1992. Ali reportedly graduated in 2006. This means that he would not even have to wait three weeks.
More in follow-up reports.