"We need to be concerned about the fact that PPP's Presidential Candidate, Irfaan Ali, has failed to address concerns that his qualifications may be fake. I believe that his failure to address this matter should disqualify him from running for office. Morally, he has lost the right to do so."
That is the opinion recently expressed by political activist, Dr. David Hinds.
It has been over two months since Ali's degrees were brought under question. But, to date, he has failed to say which tertiary institution he attended to gain his first bachelor's degree that earned him a place at an Indian University where he pursued his master's.
Ali graduated with his master's in 2003 but then graduated with his bachelor's degree in 2006.
**There is compelling evidence to suggest that the bachelor's degree he received in 2006 from the University of Sunderland is not authentic.**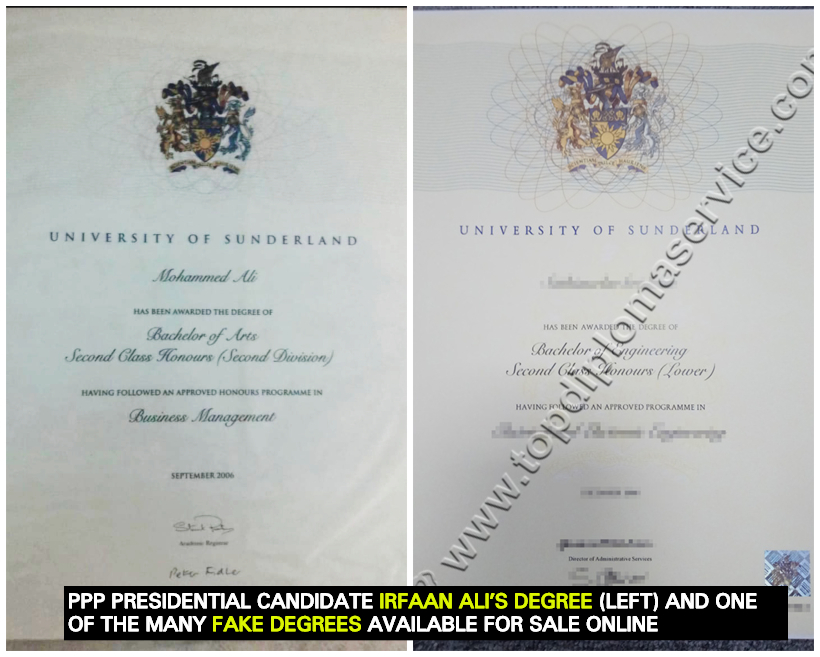 But Ali remains silent and still cannot prove that he legitimately obtained his degrees.
Considering this, Dr. Hinds said, "We don't want somebody to be President of the country who would then be susceptible to manipulation by others because they feel that he has some secret that they know he is hiding. I would think that Ali, taking so long to deal with this matter, leaves the country to conclude that there is something there that if it comes out into the public, would be injurious to his political ambition. It is time that we conclude that this person should give way to someone else for his own good and the country's own good."
The political activist continued, "Let me also point out that in academia if you are found to have lied about your qualifications, it would be enough grounds to kick you out of the institute. If he was working at a University and they asked for proof of qualifications, and he took so long, he would have been fired. That is what happens for something as basic as that so for the highest office of the land, it is valid to ask him to step aside."
Dr. Hinds added, "If he becomes President without this matter being resolved, it would be a national embarrassment. People would laugh at us and say that we have someone who can't even come straight on his qualifications. It would diminish the standing of the country."
Further to this, the University Professor said that whatever criticism one might have of President David Granger, it is undeniable that he was able to lift the standing of the Presidency.
Dr. Hinds said, "I would argue that he lifted the standing of the Presidency because I think that post went under some serious moral damage during the tenure of the PPP."
The columnist said that whoever is to occupy that position after the next elections should be able to maintain that standing. He stressed that the presidency embodies the integrity of the country and whoever holds that office should come as close as they can to representing integrity.