The Guyana Prison Service (GPS) is in need of over 100 workers. Having people apply is one thing, but finding workers who fit the bill in every respect is proving a problem. This is what Guyana Standard was told by Prison Director, Gladwin Samuels even as his agency calls for recruits to fill the void.
Noting that the service's established strength is 601, Samuels indicated that there are currently 495 staffers. The official explained that there have been several hiccups in recruiting individuals in the past, with a large percentage not being able to make the cut.
Samuels was contacted by this publication after the Public Security Ministry announced that the GPS will be conducting its Entrance Test for interested persons this Saturday at the Guyana Police Force (GPF)'s Officers Training Centre, Eve Leary Georgetown.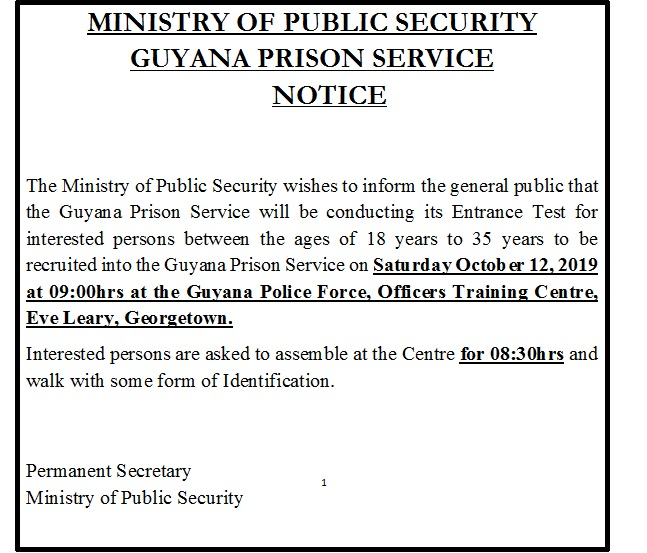 "How many [candidates] we attract is not the issue. We attract a whole lot. Whoever turns up, they will be given the test. But we've had a serious issue in terms of persons not meeting the criteria," he said.
Samuels explained that passing the entrance examination forms part of the GPS's multipronged recruitment process, which, after its completion, drastically reduces the number of candidates, ultimately resulting in a low hiring percentage.
"There are several steps that need to be followed after the written test: you have medical examinations; [and] there is a board interview. All of that they must successfully complete. So, in the past, we've had 200 persons turning up to write the test, and a situation whereby you have a less than 50 percent pass rate, and then you send them to do the random drug testing next, [where] you have another 50 percent-plus being eliminated," Samuels said.
The GPS's shortage in manpower has been long ongoing and has been said to be a contribution to mayhem. In fact, this shortage, along with overcrowding were flagged by a Commission of Inquiry (CoI) into a fire at the Camp Street Prison in 2017 which claimed the lives of 18 inmates. Also, a prison worker was killed during those disturbances.