A Wakenaam farmer has found himself in hot water after he was photographed driving a combine harvester on a newly-paved road on the island. He is about to be served a bill for damaging the critical infrastructure. This was confirmed by sources at the Ministry of Public Infrastructure (MoPI) have confirmed.
"He will have to stand the cost of repairs to the damaged section of the road," the Manager of Traffic, Safety & Maintenance at MoPI, Kester Hinds informed the Guyana Standard over the weekend.
This publication understands that the authorities are in the process of calculating the cost of the damage before proceeding further.
The damaging of public infrastructure due to improper use of agricultural and construction equipment is not new. In fact, it is a sore issue for resident commuters and vehicle operators who complain frequently of farmers failing to use the appropriate mechanism to transport equipment with metal tracks.
Recently, an excavator was photographed on a newly-paved road at the Vreed-en-Hoop junction. The owners of that machine have since accepted responsibility, despite claiming that the machine was rented to another contractor, who had allegedly committed the infraction.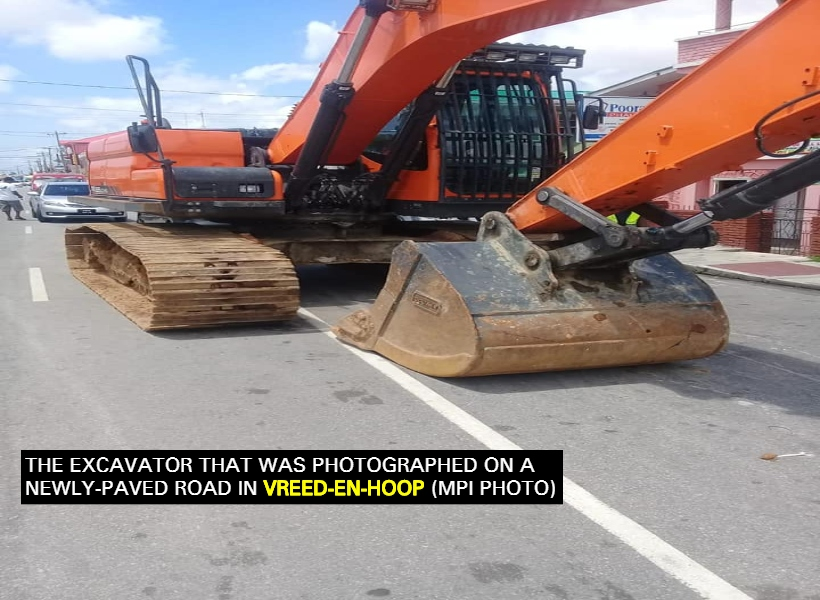 MoPI Public Relations Officer (PRO), Krest Cummings, told Guyana Standard recently, that the ministry is working along with the Guyana Police Force (GPF) to improve enforcement and monitoring.
Quizzed on whether these incidents have increased over the past months, the official responded in the affirmative; she noted that damage has already been imposed on the soon-to-be-completed East Coast Demerara Highway and there have been reports of similar incidents occurring in Berbice and Essequibo.
Cummings said too that residents have a role to play in protecting public infrastructure by reporting instances of vandalism and improper use, to the police or the ministry.