As Guyana braces for what is expected to be another bout of unusual high tides from tomorrow, efforts to plug breaches along the sea defence structures in Region Five (Mahaica/Berbice), is proving to be a challenge for the Ministry of Public Infrastructure (MPI).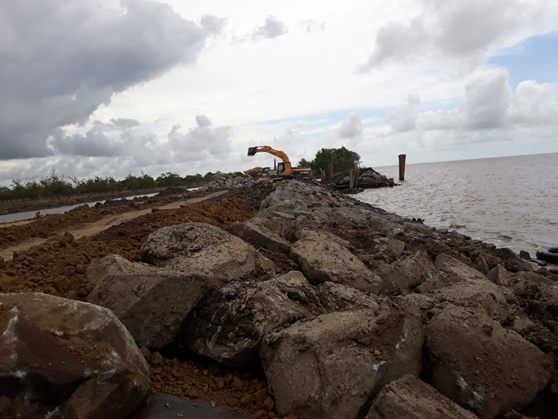 The Ministry's Chief Sea and River Defence Officer, Kevin Samad, in providing an update to the MPI, reported that emergency works being undertaken have been challenged by severely compromised access dams and the deterioration of the sea defence embankment, which have increased the difficulty of transporting construction materials to the breached and critical areas along the site.
Efforts to deliver rock materials directly to the foreshore by barge have also proven difficult due to the rough conditions at high tide. According to Samad, there have been multiple incidents where tugs and barges have been accidentally grounded while delivering boulders to the site. These challenges have contributed to delays in the advancement of the works being undertaken.
Nevertheless, the MPI says that it will forge ahead to execute the emergency flood protection works to restore critical sections of the Mahaicony sea defences which have been impacted by the cyclic erosion of the foreshore and natural depletion of the mangrove forest.
The sea defence embankment within a 3.0 kilometres stretch of shoreline between Fairfield and Dantzig has become exposed to intense wave impact causing significant overtopping to occur in a number of sections and some sections of the embankment were completely breached during the last spring tide period.
That phenomenon had affected approximately 400 households.
The Sea and River Defence Department is currently executing emergency works to reinstate heavily eroded and breached sections of the earthen embankment by constructing a rock armour facing on the seaward slope as an erosion control measure.
The emergency works are being undertaken by A&S General Contractors Inc. and BK International Inc. and the rock materials are currently being delivered directly to locations along the Mahaicony foreshore by barge and also with lorries via the East Coast Demerara Highway.
Currently, A&S General Contractors Inc. is working at the Fairfield and Broomhall area while BK International Inc. is working at the Dantzig area. Additionally, four other contractors have been engaged to simultaneously deliver boulders to the work sites.
The Ministry provided assurance that the Sea and River Defence Department will continue to actively pursue the required measures to mitigate the impacts on flooding on coastal communities. Residents of low-lying coastal communities are advised to take the needed precautions during the remainder of the spring tide period.