Residents of Bagotstown, Peter's Hall and Mocha on the East Bank Demerara, can now breathe a sigh of relief as the deplorable road leading to the Haags Bosch landfill site is expected to be rehabilitated to the tune of $32M.
Announcing the award of the contract yesterday was the Director-General of the Ministry of the Presidency, Joseph Harmon.
During the post-Cabinet press conference, Harmon said that Cabinet noted the award, which will see B&J Civil Works initiating works on the link. The Ministry of Communities was announced as the procuring entity.
The road is used to access several housing developments including the Young Professional Housing Scheme aback Eccles, Windsor Estates stretching from Bagotstown to Providence, and the Eccles Industrial Site. It is also one of the roads used by persons to gain access to the "Model Village" in Perseverance.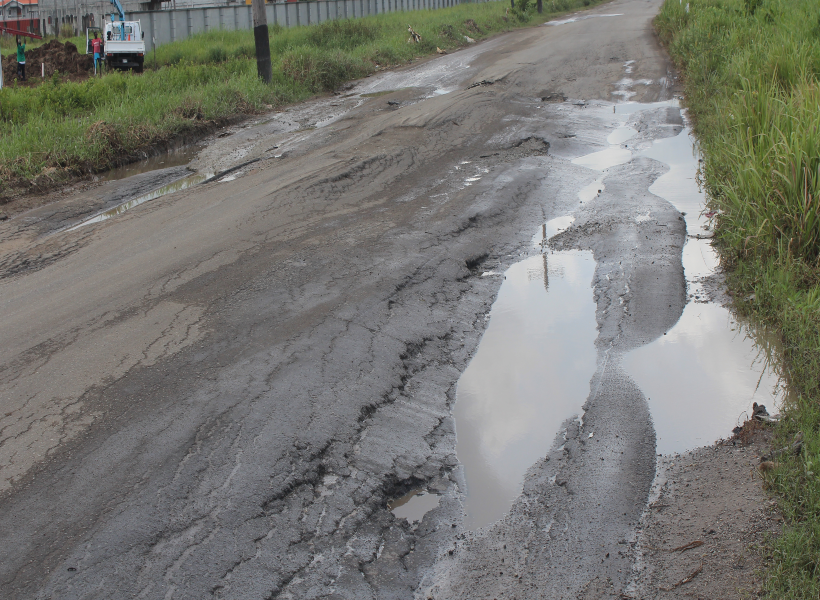 Further, the road serves as an alternative route for commuters during the rush-hour periods as persons living in villages south of Providence would enter the Mocha Access road and use the Dumpsite Road to dodge the traffic buildup at the Demerara Harbour Bridge.
When Guyana Standard visited the link on November 3, several depressions along the road heading east of the southern entrance of the Eccles Industrial Site were observed. Near the Young Professional Housing Scheme, this publication observed what appears to be ruts and sinking in multiple areas.
In that area, there is an almost 12-inch drop on both sides of the road, with the centre – bearing an approximate 24-inch wide surface – being the only part that seems to retain its original elevation.
This pyramid-like layout is creating headache since the two opposing inclined areas cannot facilitate the passage of vehicles because these slopes themselves contain ruts and potholes.
Signs of rust on the elevation point suggest also that "stumps" of vehicles would come in contact with these areas, as drivers would try to manoeuvre the depressions.
It was observed too, that a 36-inch wide drain was dug across the road to facilitate the planting of what appears to be an 8-inch steel pipe, to feed water to one of the developing housing schemes south of the road. The pipe was initially covered with loam and following the recent rainfall, the loam was being washed away, leaving behind a runnel along the width of the road. That drain has now been filled with what appears to be crusher run.