Speaking via video link, President David Granger, at the 2nd Annual International Petroleum Business Summit and Exhibition (GIPEX) 2019 at the Guyana Marriot Hotel, said that Guyana will use its petroleum industry revenues to strengthen the traditional pillars of the economy.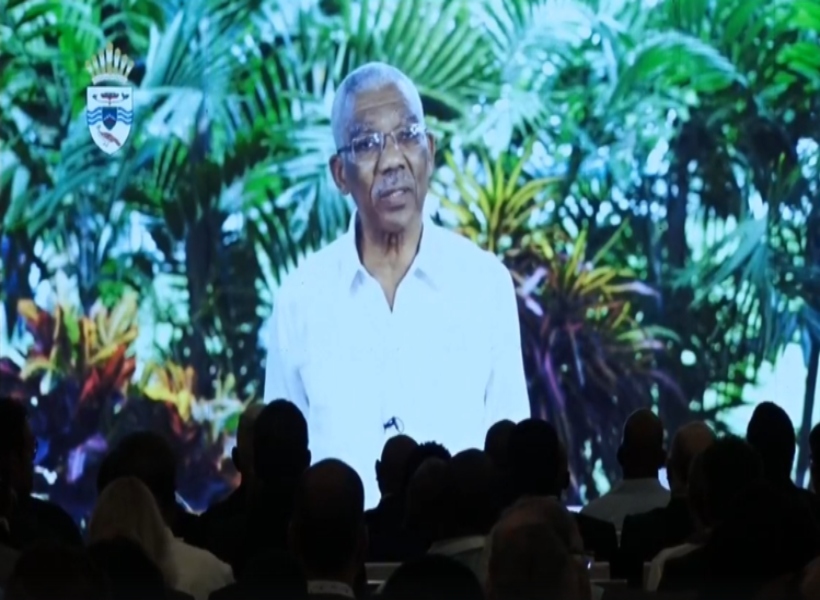 He made specific reference to the extension and improvement of the country's infrastructure, diversification of the economy along a green trajectory of development and the further enhancement of the state's human resources and institutional capacity. These developments, he said, will catalyze tremendous business and employment opportunities.
The Head of State noted too, that Guyana is being "prudent" about managing its incipient petroleum industry. It is seeking the best advice and assistance and is adopting the best international industry practices.
"It will establish a robust institutional legal and regulatory architecture to manage this industry in a manner which will ensure transparency and which will secure the best interests of the country and fair returns for investors and businesses," he noted.
Furthermore, the President said that Guyana welcomes further investment, both in the petroleum industry and in the emerging green economy.
"It is keen to ensure conditions which encourage increased local content and which promote more partnerships between local and foreign investors. I welcome all the participants to the Guyana International Petroleum Exhibition (GIPEX) 2019. The exhibition is a demonstration of the country's interest in the incipient petroleum industry. The Government of the Cooperative Republic of Guyana is committed to ensuring an enabling environment for investment. I extend best wishes for a successful exhibition," the President concluded
The event is being held at the Marriott Hotel, Kingston. It will conclude on November 22. GIPEX 2019 is expected to provide immense opportunities for companies across North and South America, Europe, Africa, and Asia.