A long-serving public servant's efforts, to function in the best interest of her country, have been met with serious opposition from a newly posted Minister who is "still trying to find her foot."
Yesterday, the Ministry of Foreign Affairs announced that Audrey Jardine-Waddell has been removed from the post of Director-General and that the post is scrapped and replaced by a Permanent Secretary.
Further, the Ministry announced that several ambassadors are to be recalled soon. Jardine-Waddell was responsible for the ambassadors of Guyana and the running of the Foreign Affairs Ministry. It was inferred that the decision to displace Jardine-Waddell had to do with the extended services of ambassadors.
However, Guyana Standard has been able to confirm that this could not have been further from the truth. Several sources indicated that Jardine-Waddell was sent packing because it was perceived that she was undermining the Minister of Foreign Affairs, Karen Cummings.
It is a fact that Jardine-Waddell has been critical of Cummings as it is believed that the Minister, being a rookie, has not been making decisions that are best for Guyana, given the many critical circumstances facing the country at this point, including the Venezuela controversy.
Guyana Standard learned that Jardine-Waddell recently wrote President David Granger bringing his attention to an issue that is of significant importance, one that can hurt Guyana if Cummings has her way. As this publication understands, Venezuela is asking Guyana to make certain commitments on the international stage that is only advantageous to that neighbour that has hinted hostility on many occasions. It is perceived, in some quarters, that Guyana will "shoot itself in the foot if we are to make the commitments that are being asked of us."
In the letter to the President, it was highlighted that Cummings was authorizing Ambassador Rudolph Michael Ten-Pow, Permanent Representative of Guyana to the United Nations, to negotiate an agreement with Venezuela that is "dangerous."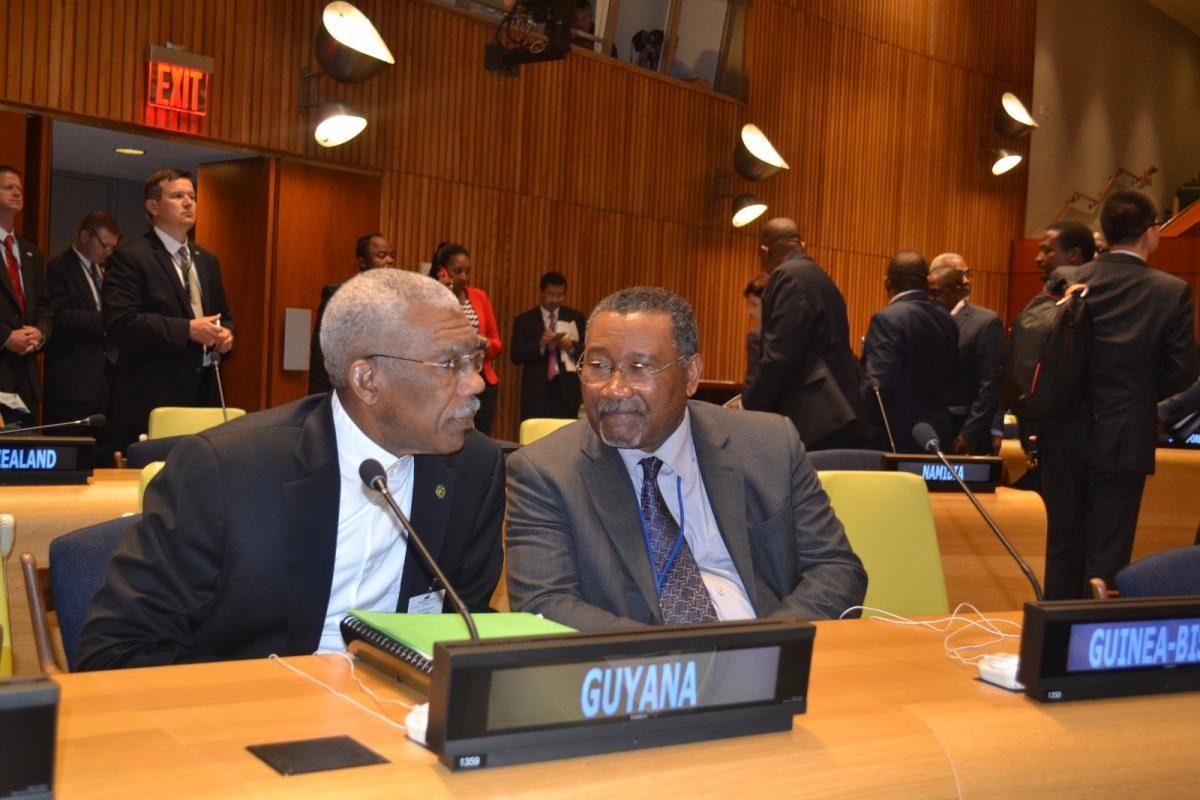 When Cummings learned of the letter, she retaliated by complaining to the President that Waddell is undermining her. Guyana Standard understands that the President has not even so much as given Jardine-Waddell a hearing.
On November 30, avid People's National Congress Reform (PNCR) supporter, Rickford Burke, who is the President of the Caribbean Guyana Institute for Democracy (CGID), posted that efforts are afoot to undermine two female ministers, Cummings and Simona Broomes. He said, "Minister Cummings is being undermined from the foreign affairs directorate. He then said, "Be mobilized supporters. Stay tuned. Fireworks are coming!" That post was made just after lunch that day. By 6:30 pm the same day, Burke posted: "Breaking News: Director General of the Ministry of Foreign Affairs Audrey Waddell proceeds on leave indefinitely."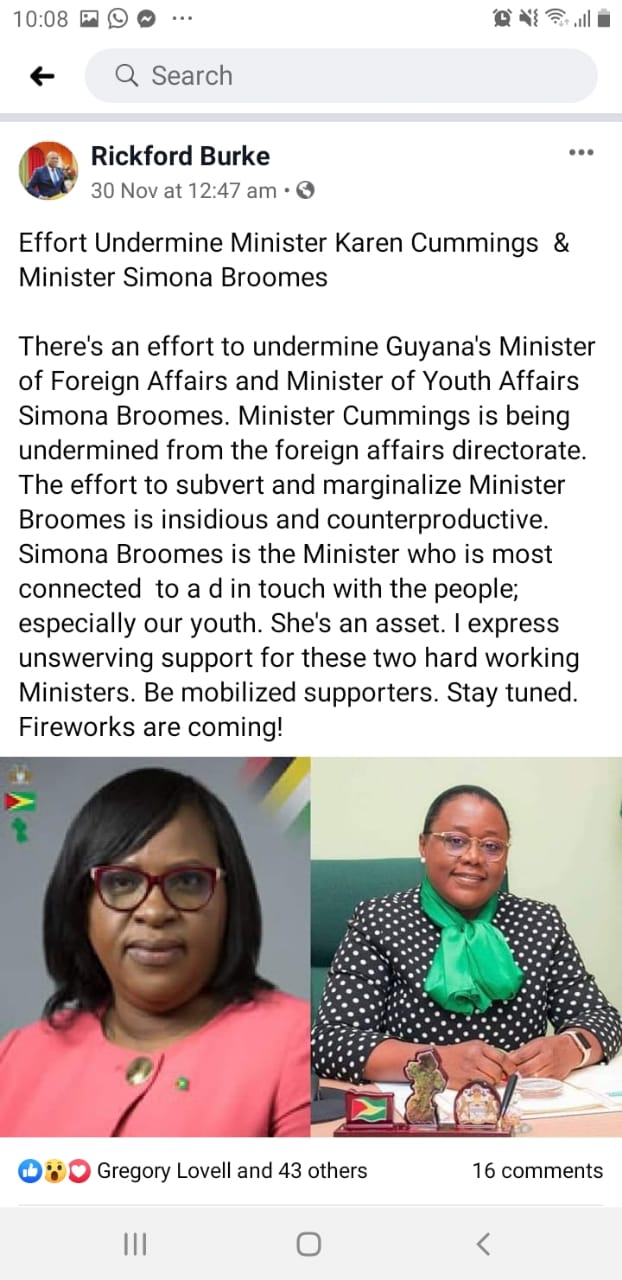 On December 1, Kaieteur News reported Director-General of the Ministry of the Presidency, Joseph Harmon as saying that the woman was moved as efforts are being made to rebalance ministries.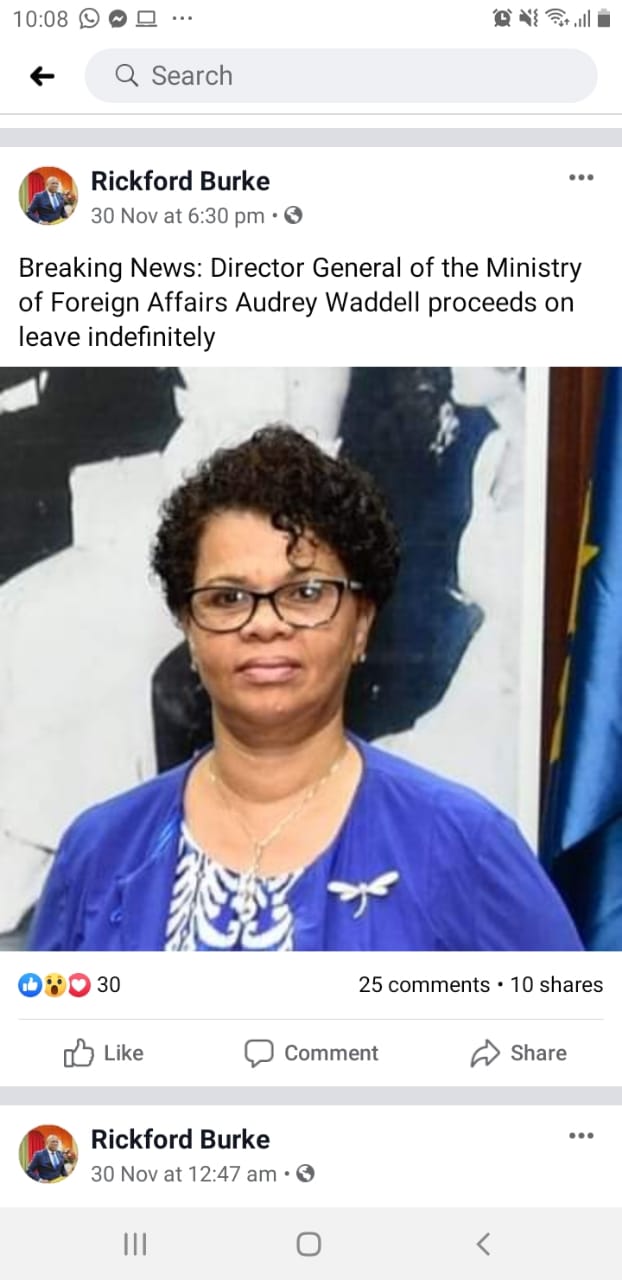 A source told Guyana Standard "that is fraudulent, there are no such efforts to rebalance and all that you seeing with the recalling of ambassadors is just a front to get rid of Jardine-Waddell, a woman who was just trying to serve in the best interest of her country…Even the announcement to change from Director-General to Permanent secretary is not plausible. What position does Harmon hold at the Ministry of the Presidency? Besides, how can changing the title of a senior public servant, make the ministry more efficient?"