A total of 24 witnesses are expected to testify on behalf of the prosecution in the trial of 22-year-old Kemo Evans who is accused of the April 15, 2015, murder of Farouk Ghanie, called 'Brother', the owner of Hamson's General Store. This morning, Evans was arraigned before Justice Sandil Kissoon at the High Court in Georgetown where he pleaded not guilty to the charge which alleged that he murdered the 56-year-old businessman during the course or furtherance of a robbery.
The trial commenced today with a voir dire. Appearing for the murder accused is lawyer Dexter Todd, while Senior State Counsel Tuanna Hardy, State Counsel Tiffini Lyken and State Counsel Nafeeza Baig are appearing for the Prosecution. Yesterday, another man, Floyd Rammit, who was jointly charged with Evans for the businessman's killing was sentenced to 30 years' imprisonment after admitting to the crime.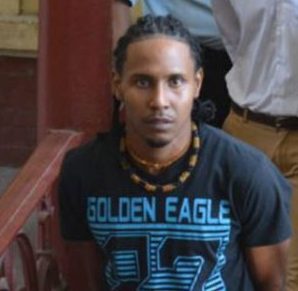 According to reports, on April 15, 2015, the 56-year-old businessman also known as 'Brother', left his home and went to his place of business on Regent Street, Georgetown. Ghanie returned home around 18:00hrs on the said day. At about 20:00 hrs, Rammit and another man were seen at his home. Sometime later, the men were reportedly seen by eyewitnesses leaving the man's home in a hurried manner.
The following day, neighbours found Ghanie's body; there were wounds to his left side chest and cheek. The police were summoned and found that the dead man's firearm, cell phone and other valuables were missing.