Errol Khan is currently on trial before Justice Brassington Reynolds and a 12 person jury at the High Court in Demerara for the May, 2014 murder of Haslington, East Coast Demerara fisherman Chetram Bharrat, who was chopped to death. On Monday, Khan, 44, was arraigned before Justice Reynolds. Upon his arraignment, he pleaded not guilty to two indictments; the first being murder and the other being larceny and felonious wounding.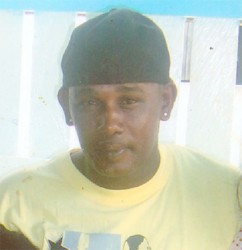 According to the first indictment, on May 02, 2014 in the county of Demerara, he murdered Bharrat. As it relates to the second indictment, there were two counts. The first count alleged that on the same day at the same location, he stole $370,000 from the dwelling house of Bharrat and his reputed wife, Lomattie Ramdat.
The second count alleged that on the said day, he wounded Ramdat with intent to murder or to maim, disable or disfigure her. It was previously reported that Ramdat told police she and her spouse came about their injuries during a robbery at their home. Police, however, found evidence that the attack had its origin after a relationship between the woman and Khan went sour.
Attorney-at-Law Rabindra Mohabir is representing the murder accused, while the case for the State is being presented by Prosecutors Abigail Gibbs and Sarah Martin.