By Feona Morrison
It warms anyone's heart to know there are still selfless, compassionate people out there in times like these- a decade in which the world is grappling to cope with the unprecedented Coronavirus disease 2019 (COVID-19). But sadly, there are still those who continue to treat healthcare workers, in fact, our frontline workers inhumanely although we need them now more than ever. And even though they are fighting to save the world from a pandemic, they, too, are in a fight to save their own lives.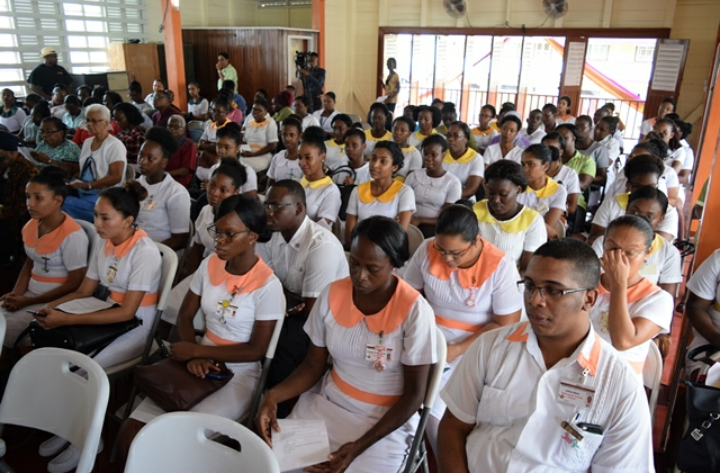 Despite several public pleas to end discrimination against healthcare workers, it still continues. Our doctors and nurses and other healthcare workers are still being refused entry into public transportation. They continue to be shunned when they are moving about in the supermarkets and other places.
In light of the foregoing, some of them have already indicated that they will call it quits if this continues as they believe the system has failed them. With that being said, Guyana Standard wishes to highlight the philanthropic work of 32-year-old Keoma Pearson.
On Saturday, April 04, 2020, Pearson embarked on a mission to rescue female nurses working the night shift who are finding it difficult to acquire transportation to get to and from work. Driving a 16-seater minibus, Pearson has made it her duty to ensure these nurses feel appreciated for their effortless works during these very trying times.
Pearson disclosed, "I take on average five to six nurses into work and then I take a maximum of eight home." During an interview yesterday, this courageous young woman said, "I only pick up the girls coming from Parika to Crane, West Coast Demerara. The hospital's bus transports the nurses heading to the West Bank area."
She made it clear that she will only stop what she is doing when nurses are provided transportation for every shift- night and day; when every ward and every nurse on every shift is provided with their need of sanitizer, gloves, masks, hand soap and tissues. According to her, they need not be left to feel vulnerable. And while she acknowledged these are issues faced by every country, and that their needs are nothing new to every other country, she believes more can, and should be done to safeguard these workers.
"We have locally made sanitizers, locally made masks for now, based on the shortage due to the worldwide demand. Being guaranteed these little things goes a long way – nurses won't have to be engaged in fights of hiding and locking away these items from each other."
But nothing is without its challenges here and there. Pearson, who is self-employed, revealed that one of her biggest challenges is getting the nurses to communicate their schedule with each other and stick to it. She said should things run smooth without any hiccups, it would help her as she would be better able to plan timings.
"If I get all the girls to agree to a 7pm pick up then I can assure the girls waiting at the hospital that they leave at 8pm," an optimistic Pearson noted. Nevertheless, she went on to say, "We all need each other. Just as they need you to take them home, you also need them; to care for you, your friend, your loved ones."
A NURSE LEFT TO STAND IN THE RAIN
Pearson continued, "Being refused a drop that cost them $200 the most, gave them the burden of paying a car $1,500. One nurse shared that one day around 3pm she was standing in the rain and busses passed her straight, a police car saved her. A lot of the nurses were contemplating giving up and simply not going to work. They're grateful and more so grateful for the donations of sanitizers, masks and food stuff. They said this gives them motivation to work. No one has missed work since this all."
According to her, since she commenced transporting the nurses to and from work, she has noticed systems being put in place to assist them in that regard. She added that school buses are now transporting nurses, with some even catering for every shift the nurses work and some during the day. I'm grateful for that, Pearson remarked.
Asked to describe her experience, especially being out on the roads at nights, she explained, "I've been driving for 15 years. It's nothing strange for anyone, seeing me driving. It's nothing strange for me given that I know what to expect out there- the good, the bad and the ugly. Being a female driver, transporting nurses at a time like this; my parents taught me that when I pray, it's with a condition. That condition being – if I pray about something I have to have faith and I can't be afraid anymore. I'm not afraid."
I FEEL SAFEST AROUND THEM
"Public transportation drivers and captains are advised to practice social distancing. To date, people refuse to take what's going on seriously. I walk among careless people every day and that for me is frightening," she highlighted in a sad tone.
Further to that, she also said that despite being given guidelines on how to safeguard against the deadly virus, some persons seem to think they are immune to it. She added, "We've been given a curfew, everyone. A curfew that only the business community adheres to. We've been given guidelines on how to tackle COVID-19 head on – no large gatherings, wearing masks, sanitize, wash your hands, wash, store and buy items."
As a matter of fact, Pearson confessed that she feels safest around the nurses.
She related, "The nurses I transport all have had a firsthand look at the reality of this disease and the consequences of not doing what needs to be done. The girls are all masked up, they are all spread out in the vehicle, they all constantly wash their hands and in the vehicle, they sanitize their hands."
"These are the people I feel safest around. The ones who wear their mask in anticipation of the possibility of them having the virus- to protect me and their colleagues from contracting it. The ones who wash their hands, sanitize them, practice social distancing and stay at home until they have to work again."
The following is a story Pearson shared via her Facebook page:
She said, "We're at the hospital at 8:30 pm and I'm directed to park outside of the hospital. A nurse goes to relieve her colleagues who are surprised to be leaving early. Relieved nurses enter my vehicle. All masked up and in no time I hear sanitizers spraying. No one attempts to join me at the front and they are all spread out."
She said that one nurse shared with her: "I got home after 11pm after my shift ended at 9″. Another, she said, offered, "I got to the head of Tuschen the other night and eight taxis were out, they all said they weren't working; I had to walk in."
The nurse, Pearson noted, lives at the back of the scheme.
Pearson said, too, "I got home at 9:30pm, one and a half hour after leaving home. I wore under clothes so I was able to take that off at my door. I sprayed my feet, my shoe, my hands and after entering my home- I washed my hands, took off my remainder of clothes and soaked them along with the cap I wore in soapy water and showered right away."
While she disclosed nurses continue to thank her for caring enough for doing this, Pearson pointed out that a mere drop pales in comparison to what they are doing for the country.
STOP DISCRIMINATING HEALTHCARE WORKERS
"I know that I'm at risk…and to the people who are worried about me and themselves, I really am sorry. I just feel like we're leaving our soldiers in the battlefield to die and we don't realize that when that happens, we'll soon be left most vulnerable because they'll either be too tired from begging people to take them home. They will give up owing to frustration or just won't care anymore."
She cautioned, "The very people we are turning away, are the very people we will run to if this befalls us. Maybe they should pick and choose too. I have been extremely paranoid since the first case was made known. I don't feel bad for that paranoia; I've gone so far as to decide not to go into the market for the things I need."
During an impassioned plea, Pearson begged, "Please stop ostracizing the healthcare workers. Please don't attach that stigma to me or my business for simply trying to help."
In the meantime, Pearson will continue what she started under guidance from one of her favourite quotes, "Nothing human can be alien to me" by Roman playwright Terence.
"We are humans, nothing human should be alien to us," she noted in closing.