Ensuring residents of New Amsterdam, Region 6, adhere to the nationwide curfew remains a priority for Mayor of the Town, Winifred Haywood.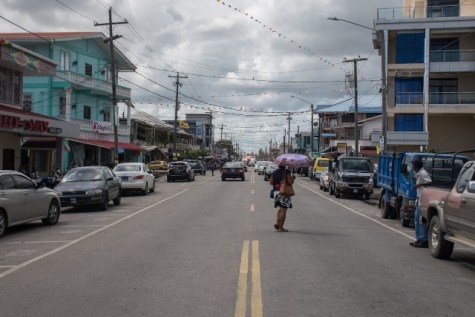 Speaking to DPI via Zoom on Thursday, Mayor Haywood said: "Once you belong to this town and its environs you have to go by the order of our government. We are strict on that."
She commended the Police in B Division for their support in ensuring that the curfew is adhered to.
The Mayor noted that efforts were made to ensure persons were heeding the sanitisation advisories that were issued. Business owners were advised to install a handwashing station at the entrance of their buildings she related.
"We walked this town and informed all the businesses. We went to the stores, restaurants, the bars, barbershops, salons and we had lengthy awareness conversation with them about the virus."
The Mayor also disclosed that vendors in the municipal market were given strict guidelines so they would be aware of what was required during this time, as they ply their trade.
Social distancing, she said, continues to be maintained and customers must wear a mask before entering the market.
"We would sanitise the market on Wednesdays and Sundays. We also washed the roads in the town," she added.
According to the Mayor, the collection of solid waste has improved since the Council was given the green light to advance the workforce.
"They used to collect the garbage every other week, but now it is done weekly. Those workers must wear their masks and be clad in the protective gear," Her Worship disclosed.
Mayor Heywood noted it was necessary to implement alternative strategies to address the payment of rates and taxes.
"We have been collecting taxes but because persons were cautious about coming out, it was slow. Therefore, we advertised our work schedule and that has helped tremendously. We have been able to at least pay salaries and wages." (Department of Public Information)