As Guyana joins with the rest of the world today to commemorate International Nurses Day (IND), Linda Johnson, Chief Nursing Officer highlights that nurses continue to risk their lives to safeguard the nation from the deadly Coronavirus disease 2019 (COVID-19) pandemic.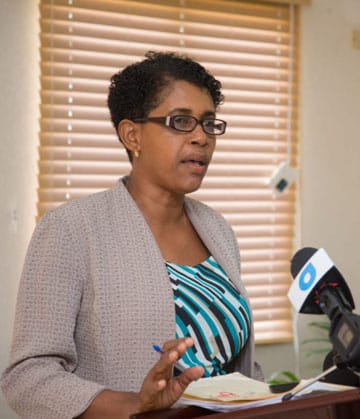 Below is Nurse Johnson's message:
The world over, nurses are commemorating IND but within a less celebratory way.
It is a day that marks the 200th birth anniversary of the icon of modern-day nursing, Florence Nightingale a/k/a, the Lady with the lamp.But today, instead of celebrating, nurses are currently battling on the frontline, doing all within their power to stop COVID -19, and save the lives of those that are affected.
Today we are grateful more than ever, for all our Nurses who continue to show commitment and resilience in this fight.
Many of you have and continue to risk your life to safe- guard us from COVID-19; you've traded your comfort, having to wear body suits and other pieces of protective equipment, for several hours. Some of you are away from your families (you have moved out temporarily) for fear of becoming infected and infecting your loved ones in the process.
You are doing all of this for us, and for your loved ones. So, you can show that you love and care for our Nurses too, by simply adhering to the advice of the Ministry of Public Health.
You have a civil responsibility, stay at home if it is not necessary for you to get out; if you have to, then wear a mask. Practice physical distancing, regular handwashing and other hygienic practices.
To all nurses, I salute you on this marked occasion of our noble profession. I pray that God continues to strengthen and protect you as you continue to be soldiers waging the war on the Coronavirus Disease.  I can assure you that your service is highly valued and appreciated.
On behalf of the Office of Nursing and Midwifery and the Ministry of Public Health, a hearty thank you Nurses for the exceptional job that you are doing every day! We are in solidarity with you.
Protect yourself & stay safe. Thank you!