In February last, the Energy Department had invited interested applicants to submit their bids to market Guyana's share of crude from the Liza Phase One Project of the Stabroek Block.
After receiving applications from 34 companies, the department notified the media via a press release this morning that a five member Evaluation Committee was formed and tasked with producing a shortlist. It said that the list was compiled after a detailed check of each firm's Expression of Interest was made for general and technical data in relation to qualifications and experience pertinent to the assignment at hand. Following this process, the department disclosed that 19 companies have been shortlisted. Unlike previous practice where it had listed all the companies that had submitted bids, the Energy Department did not disclose the names of the companies that made it onto its shortlist. In fact, the Department of Energy had said in a post on May 21, last on its Facebook page that it would release the shortlist on its website. Up to the time this article was published, the list was not made public in the interest of transparency and accountability.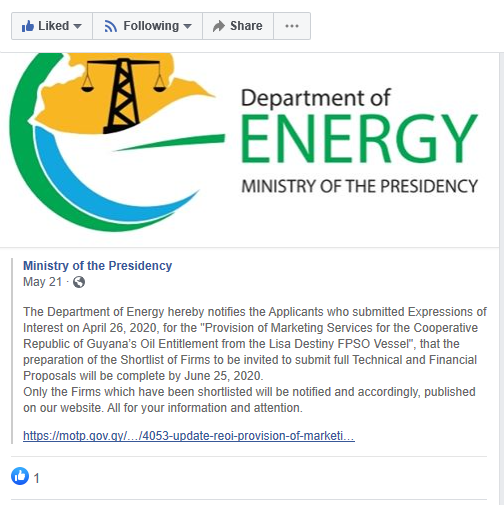 The first company that was selected to take Guyana's first three million barrel lifts of sweet, light crude from the Liza Destiny was Shell Western Supply Trading Limited (SWSTL) which is based in Barbados.
The next company that wins the bid to market Guyana's crude will be required to provide support to the Energy Department in all operating and back office responsibilities of managing crude sales and for each individual lift from the Liza Destiny, Guyana's first Floating Production Storage and Offloading (FPSO) vessel.
The successful Crude Marketing Agent will also have to support the Energy Department in the first year of introduction of the Liza grade in multiple geographies and refinery systems, and work closely with the Department in understanding the behaviour and yields of the Liza Blend and how these affect pricing differentials.
Of note is the fact that it will have to conduct training sessions for personnel attached to the department in matters relating to Crude oil Supply and Trading fundamentals, and more specifically, those relevant to the Liza grade pricing. The Crude Marketing Agent would have to use all reasonable efforts to provide relevant information, documentation and/or training in a timely manner for Energy Department personnel.
Below is a list of the companies which had applied to market Guyana's crude.
1. Gunvor
2. Bonroy Tetchem Co Ltd & Guyana Crude Oil
3. China Offshore Oil Singapore Int'l PTE
4. Enteq Resources
5. MAB Oil Limited
6. Hartree Partners LP
7. Mercuria Energy Trading
8. Shell Western Supply and Trading
9. Sacoil Energy Equity Resources
10. Mercantile and Maritime
11. Unipec America
12. BP Products North America
13. ExxonMobil
14. PPT Energy Trading
15. BB Energy
16. Freepoint Commodities
17. Sinochem
18. Cathay Petroleum Int'l
19. Heritage Petroleum
20. Concord Energy
21. PetroCo Oil
22. Totsa Total Oil Trading
23. Lukoil Oil Trading and Litasco
24. Core Petroleum
25. AISAA Petroleum Shipping
26. Century Tamara Energy Services
27. PetroChina International Brazil
28. Gladius Commodities
29. Equinor
30. Vitol
31. Glencore
32. Petrobras Global Trading BV
33. Interchem PTE
34. Aramco Trading