"I see him as a criminal. In good conscience, I believe that the people of Guyana deserve to see this statutory officer, who betrayed their trust, face the brunt of the law, and answer for his misgivings."
This is what General Secretary of The New Movement (TNM), Josh Kanhai told Guyana Standard when he spoke about his motivation for filing criminal charges against Chief Elections Officer (CEO) of the Guyana Elections Commission (GECOM), Keith Lowenfield.
The fraud charges were filed against Lowenfield by a concerned voter, Desmond Morian and Kanhai.
Kanhai is convinced that Lowenfield acted out of his jurisdiction and acted against the people of Guyana when he presented the numbers reflected in his latest report. The political activist said that Lowenfield acted out of bounds when he opted to disenfranchise 150,000 voters for the benefit of one party. "He is robbing the Guyanese people and he deserves to face the court for his actions," said Kanhai.
Guyana Standard also spoke to prominent attorney-at -law, Sanjeev Datadin who said that Kanhai's case is "strong" and the charges are in no way misdirected.
Datadin referenced the name of the charges brought against Lowenfield to be Conspiracy to Commit a Felony, and Misconduct in Public Office.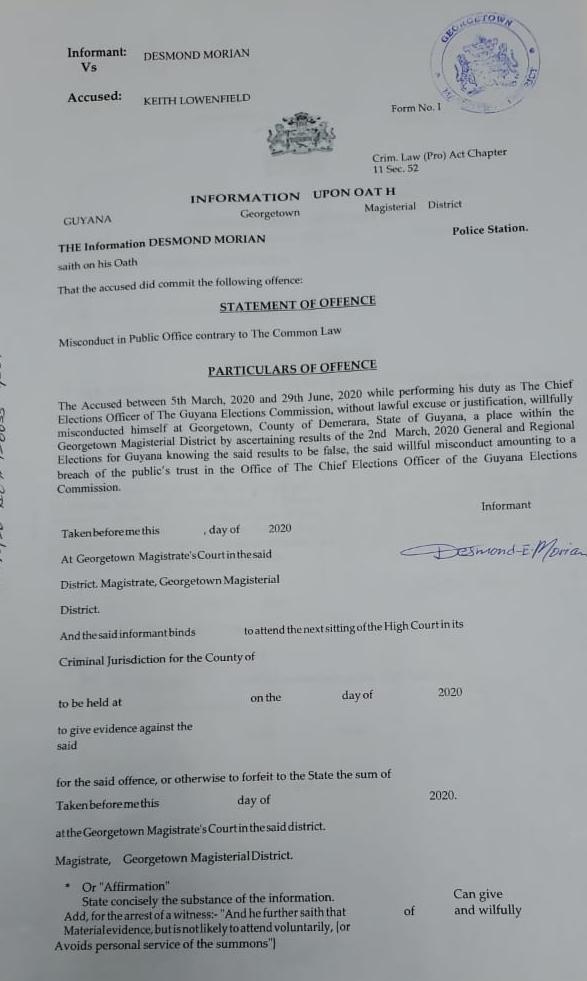 Datadin said that the charges are indicative of the level of frustration felt by citizens living in a country where the police are allowing lawlessness. Datadin said, "It is unfortunate that, in the face of clear breaches of the law, the police are taking no action and allowing the law to be breached with impunity, putting Guyana and our very fragile democracy at risk."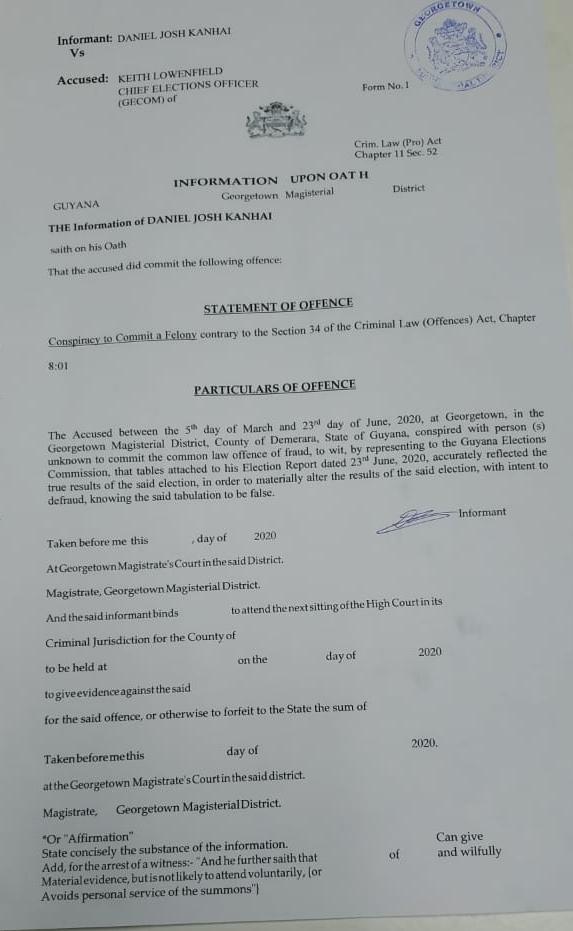 Datadin said that in a more civilized society and one where the law is upheld to a certain standard, there would have been no need for private criminal charges. "These charges really should have come from the police but look how long ago Lowenfield submitted this report and there has been no action by the police. Similarly, if we all remember, since March private criminal charges were filed by Charles Ramson Junior against (Clairmont) Mingo and those are still pending in the court when it was clear for all the world to see during the recount that Mingo was clearly making up those numbers as is Lowenfield."
Datadin said that the action taken by Kanhai is a way that citizens can participate and enforce their laws "and I hope it is resolved quickly. It is about high time citizens take an active part in fighting for law and democracy.