Chief Elections Officer (CEO), Keith Lowenfield is seeking clarifications on a request made by the Guyana Elections Commission Chair, Justice (Retired) Claudette Singh relating to his preparation and submission of the final report of the March General and Regional Elections.
Lowenfield was given up to 2pm today to make his submission to the Commission.
However, the CEO, in a letter today said that he has reviewed the judgment of the Caribbean Court of Justice (CCJ) and some clarifications are needed prior to the compilation of the report and to "safeguard against any action deemed to be unilateral".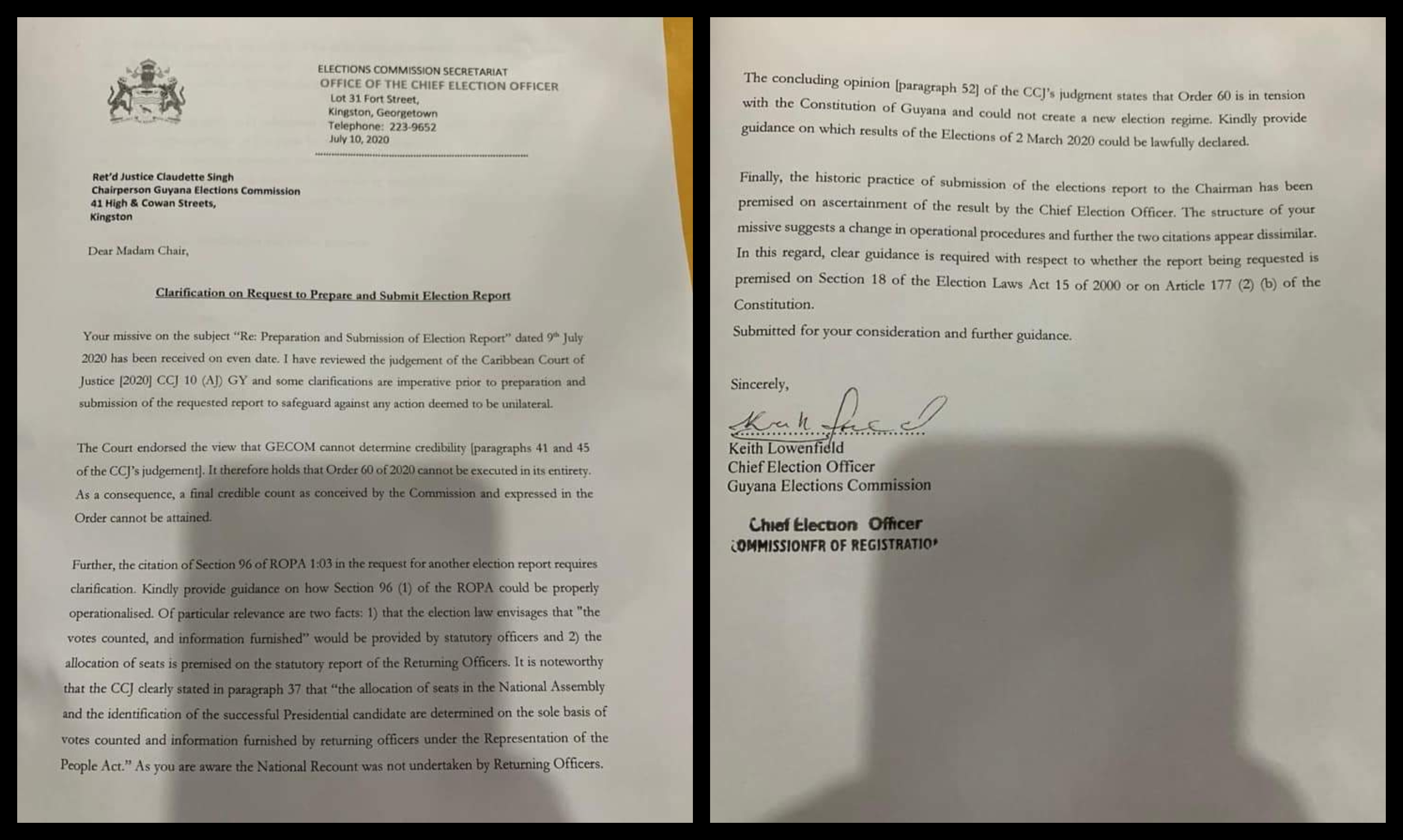 Lowenfield said that the CCJ endorsed the view that GECOM cannot determine credibility, and therefore holds that Order 60 of 2020 (Recount Operationalisation Order) cannot be executed in its entirety. He said that as a result, a final credible count as conceived by the Commission and expressed in the order cannot be attained.
Further, the citation of Section 96 of the Representation of the People's Act (ROPA) 1:03 in the request for another election report requires clarification.
Lowenfield is asking the Chair to provide guidance on how Section 96 (1) of the ROPA could be properly operationalized.
He added that the election law envisages that the "votes counted, and information furnished" would be provided by statutory officers, and the allocation of seats is premised on the statutory report of the Returning Officers (Ros). Lowenfield pointed out that the national recount did produce figures which the Chair has requested to be used in the final report. However, that recount process was not undertaken by ROs. He is seeking guidance on this as well.
Indeed, the CCJ had expressed the view that Order 60 is in "tension" with the Guyana Constitution.
However, the previous report that Lowenfield submitted to the Commission, saw the elimination of more than 115,000 votes; votes he deemed to be invalid. The CCJ has made it clear that no person or authority can invalidate the votes from the recount.
Also, the previous declarations made by the ROs were overtaken by the figures produced from the recount process.
The CCJ also pointed out that a final count has already been attained through the recount process.