Even as it noted that the operator of the Stabroek Block, ExxonMobil, is in the process of evaluating two additional reservoirs at the Yellowtail complex, Hess Corporation recently revealed to the market that the oil find is similar to the sweet light crude in the Liza field.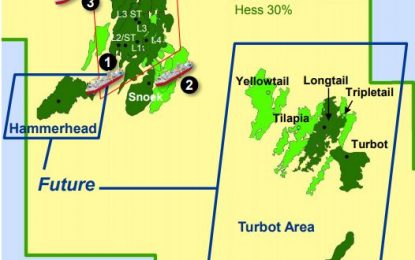 Specifically making this known to industry stakeholders was Hess Corporation's Chief Operating Officer (COO), Greg Hill. During the company's second-quarter earnings call, Hill noted that the Stena Carron rig recently completed appraisal drilling at Yellowtail-2, located one mile southeast of Yellowtail-1. He noted that the drilling led to the identification of two additional high-quality reservoirs, one adjacent to it and the other below the Yellowtail field.
In providing more colour on the discoveries, Hill said, "…Those reservoirs are very much Liza like, so very high-quality oil, very high quality reservoir…"
Hill said it is clear that the Yellowtail complex is just getting bigger. And given the quality of the oil and the reservoir, the Chief Operating Officer said it makes a lot of sense to move that development forward.
The Yellowtail discovery was made in April last year by ExxonMobil's subsidiary, Esso Exploration and Production Guyana Limited(EEPGL). It was dubbed one of the largest discoveries in the world for 2019. It encountered approximately 292 feet (89 metres) of high-quality oil bearing sandstone reservoir and was drilled to a depth of 18,445 feet (5,622 metres) in 6,046 feet (1,843 metres) of water. According to Westwood Global Energy, it is believed to hold more than 300 million barrels of oil equivalent resources.