Losing a parent can feel like losing part of yourself, especially when they have always been there supporting you.
This is the case for the Isfehani family after their loved one was killed yesterday morning in an accident involving a garbage truck and a motor lorry at Montrose, East Coast Demerara (ECD).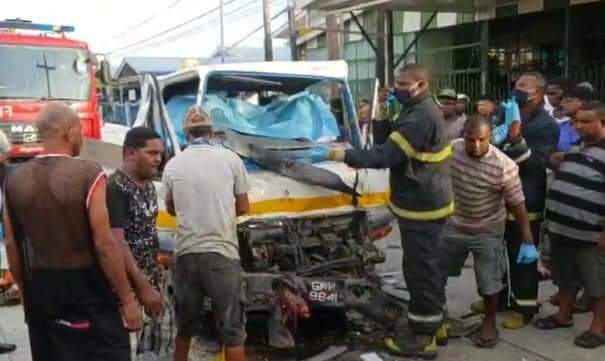 The collision resulted in the instant death of 45-year-old Zameer Isfehani, a garbage collector and a father of two of Lot 12 Leonora West Coast Demerara (WCD).
According to information received, the accident occurred at about 05:30hrs while Isfehani was standing at the rear of the garbage truck, when motor lorry GWW9841, which was proceeding at a fast rate of speed collided with him.
Police were summoned to the scene, and the garbage collector was rushed to the Georgetown Public Hospital Corporation (GPHC), where he was pronounced dead on arrival.
The dead man's son, Mahesh Isfehani in an interview with this publication, stated that his father is the sole breadwinner who wanted the best for his children. The young Isfehani said that with the sudden and gruesome death of his father, the future is looking very bleak.
"I got a call from my sister, and she said that our dad got into an accident on the garbage truck, and then we saw the video and the situation that we never expected he would have died like that," Mahesh explained.
He relayed that his father usually leaves home around 4:00hrs -4:30hrs to go to work every morning to ensure that a meal is on the table for his family.
Losing a parent can be heartbreaking, but according to Mahesh, he is at a point in his life where he misses his father now more than ever.
"I feel very sad to see my father in that kind of condition; I never expected him to die in a way like that. I miss my father already," the young man stated as tears flowed.
Reflecting on his father's word of wisdom, Mahesh said that he remembered that his father would usually implore his children to be a man like him.
"He is a great man and everybody is talk about our father.  He always wanted the best for his children them. You know how fathers stay they always want their children to go in the right way and not the wrong way. He never let us go out of the way," he concluded.
Meanwhile, the driver of the motor lorry that crashed into the garbage collector along with the porter, is currently hospitalized.
The Guyana Police Force in a statement later said that the truck driver, a 52-year-old resident of One Mile Hill Foot Soesdyke, Linden Highway, reportedly suffered a heart attack.
However, it is unclear whether he suffered a heart attack before or after the fatal crash.
Additionally, the porter, a 46-year-old resident of Kuru Kururu Soesdyke Linden Highway, suffered a fractured leg.