Eighty-three out of every 100 Guyanese tested for COVID-19 would have recovered, Health Ministry data as of December 5, 2020 shows. Statistics also show 17 out of every 100 tested, were positive.
Guyana would have confirmed 5637 cases since March 11, 2020. This translates to an average of almost 21 cases per day over a 271-day period. Some 31,684 tests would have been conducted over that period, with an average of over 116 per day.
In terms of gender, men represent 51% (2915) of the confirmed cases, with women accounting for the remainder (2722). This means that out of the 17 persons who test positive out of 100 subjects, nine are likely to be men, with eight being women.
Since March 11, 4733 persons would have recovered from COVID-19, which means that out of 100 persons, who test positive, 83 will overcome the virus. Notably, of the 17 positive patients out of the 100 tested, 14 are likely to recover.
There are 36 new cases as of Saturday, December 5, 2020, 53 in institutional quarantine, 695 in home isolation, 37 in institutional quarantine, and five in the COVID-19 Intensive Care Unit (ICU).
The Region Four (Demerara/Mahaica) accounts for 45% (2540) of the confirmed cases; Region One (Barima/Waini), with 874 (16%); Region Seven (Cuyuni/Mazaruni), 503 (9%) ; Region Three (Essequibo Islands/West Demerara), 412 (7%); Region Nine (Upper Takutu/Upper Essequibo), 388 (6.8%); Region 10 (Upper Demerara/Berbice), 310 (5.4%); Region Six (Essequibo Islands/West Demerara), 258 (4.5%); Region Two (Pomeroon/Supenaam), 130 (2.3%); Region Eight (Potaro/Siparuni), 181 (2%); and Region Five (Mahaica/Berbice), 41 (0.7%).
See Distribution of COVID-19 cases per region below: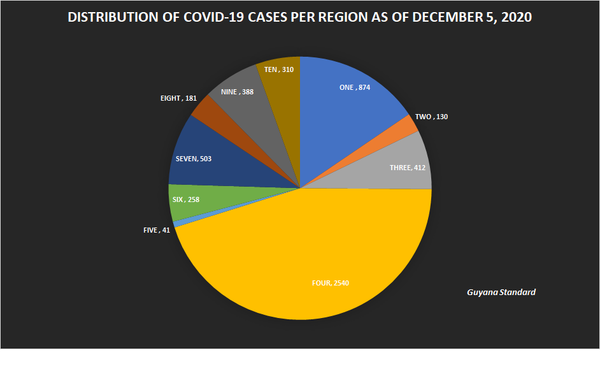 DEATHS
The number of deaths in Guyana stands at 151, or 2.6% of confirmed cases. According to data from the World Health Organisation (WHO) – updated at 3:02pm CET, December 5, 2020 – Guyana has recorded more deaths than several of its Caribbean counterparts: Suriname (117); Trinidad and Tobago (121); Barbados (7); St. Lucia (2); and Antigua and Barbuda (4).
Meanwhile, Brazil remains the South American Nation with the highest number of COVID-19 cases. As of yesterday, there were 6,487,084 with 175,270 deaths. Columbia recorded 1,343,322 with 37,305 fatalities, and Venezuela confirming 103,548 cases, with 909 deaths.