It's never easy launching your own business in an ultra-competitive business environment, let alone surviving in a niche market for more than a decade. There are always so many risks waiting in the shadows. There is the potential of facing cash flow problems, there will most likely be issues with hiring the right individuals who share your vision and passion for success. And then there lies the real possibility of not having access to concessions that would aid in providing a strong launching pad for success.
Even though the foregoing does not begin to describe the uphill task entrepreneurs face, Narvini Dewnath, Managing Director of the Coffee Bean, has never given up on her dream of providing a sanctuary for families; an escape from the hustle and bustle of the city life to enjoy a delicious breakfast at any time of the day. Buttressed by the strength, love, and encouragement of her mother Seeta, Narvini intimated during an exclusive interview with Guyana Standard that she is able to stand as the proud owner of a business, the service which has become undoubtedly synonymous with excellence, warmth, and happiness.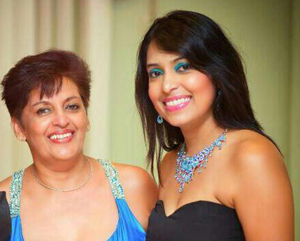 Just recently, Narvini and her mom who also helps to manage the business located at Lot 133 Church Street, South Cummingsburg celebrated the company's 10 year anniversary. Being an observant member of the business community and the many entrants who are now long gone, Narvini told Guyana Standard that she feels elated and enamored by the fact that her business has been able to stand the test of time. Upon reflection of the journey, she has taken thus far as an entrepreneur, the youthful lover of life said, "We have really come a far way. For those who may not know, the Coffee Bean Café was the first business venture for our family. It was conceptualized back in 2010, and we were very apprehensive about what the reception would be like."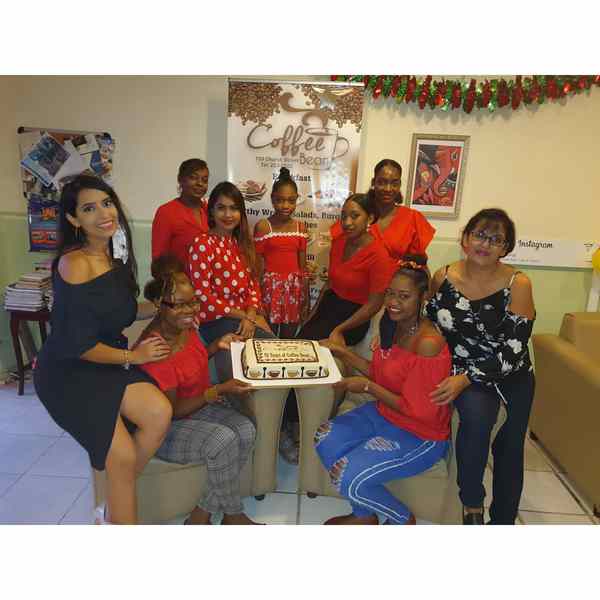 Narvini shared that the conception and realization of the beloved city café came from the absence of an all-day breakfast spot which boasts of fresh yet sinfully delicious delicacies that are perfectly paired with coffee that awakens the soul. "And from there, our ideas on menu grew based on the recommendations of our customers. So 10 years later, especially after this year of Covid-19, it's amazing to look back at the anxiety and nervousness we started and how we were able to adapt and transform to where we are today."
Along this journey, Narvini was quick to note her deep sense of gratitude for having the love of her mother through each challenge she faced For her, the business served as a stepping stone to fortifying their bond. As the corners of her lips turned upward into a heartfelt smile, Narvini intimated that there is no question that her mother's tender love and care is now indispensable to the smooth running of the business.
"My mom Seeta is an amazing and strong woman as I'm sure most mothers are. She's the mother figure to all our girls at the café who hold her in high regard not because she's the boss but because of the type of person that she is. She is nurturing and caring and firm when needed. Because of her, and the relationship we have developed with our staff, the Coffee Bean has a family feel to it."
"I would say too that working with someone who has the same goals and expectations has definitely been an advantage especially when you need an unwavering sense of support in unusual times as we would have had to this year."
The businesswoman was keen to note that 2020 has been an incredibly challenging one as the pandemic has taken a toll on everyone; while adding that she was forced to close her doors for quite some time. "When we reopened, we were lucky that we've had our loyal customers who supported us but it's still difficult to maintain the balance of remaining open and staying safe," expressed the proprietress.
Given the economic constraints brought on by the pandemic, Narvini opined that more needs to be done to help small businesses. In this regard, she said that there should be more concessions given to small businesses for assistance with utilities, along with tax relief measures.
As she remains hopeful that her humble recommendation is given consideration, Narvini was keen to note that for the Christmas season, customers can expect to see the cafe continuing its tradition of providing busy families with tasty pepperpot, mouth-watering ginger beer, eggnog, and Guyanese fruit and rum cake. "We always try to promote seasonal items and our pepperpot craze has begun! The only difference now is that because customers can't do dining, we're doing our Christmas flavours to go!"
A cheerful Narvini said she looks forward to seeing customers throughout the season and even beyond while adding that she and her fantastic team of female employees will always stand ready to provide high-quality dishes at an affordable price.