Beverley Persaud, the woman police said contracted Barbadian national Oswald Yaw, also known as "Meow" to kill her husband in 2015, both pleaded guilty to the crime.
The duo appeared today before Justice Navindra Singh in the High Court of Demerara. This hearing was done via Zoom.
On Monday, the two were indicted for murder before a 12-member mixed jury and had pleaded not guilty. However, this morning, the duo decided not to waste the court's time and pleaded guilty.
Persaud admitted that she hired Yaw to kill her husband—block maker Nathan Andrew Persaud. Justice Singh has since set February 16, 2021, for sentencing pending a probation report.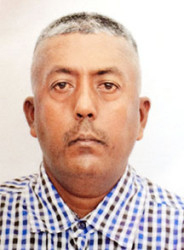 Nathan's motionless body was discovered on September 10, 2015, at his Lot 66 Herstelling, East Bank Demerara (EBD) home in a pool of blood.
Media reports stated that a neighbour heard screams from the man's house but did not investigate until a man was seen leaving his home several minutes later, which aroused suspicions.
The neighbour alerted others, and they proceeded to the house where they discovered Nathan's body.
A brick and a hammer were found at the crime scene, leading investigators to believe that the objects were used to murder the blockmaker.
The number '20' was also found smeared on a refrigerator in the house, equivalent to the number of times the man was hit, as confirmed by a post-mortem examination report.
Yaw had reportedly confessed to the crime and told investigators that Beverley Persaud met with him several weeks before the murder and had pushed him to carry out a hit on her husband in return for $1.7M to cover his travel overseas. He was reportedly paid $10,000 and promised $100,000 in weekly payments.
The State was represented by prosecutors Tiffani Lyken and Teriq Mohammed, while Attorneys-at-law Racheal Bakker and Ravindra Mohabir represented Beverly Persaud and Yaw, respectively.