For 2021, the International Monetary Fund is projecting that Guyana will realize a 16.4 percent growth rate in its Gross Domestic Product (GDP), making it the fourth-largest spike in global projections. This positive growth will be buttressed by the nation's booming oil industry.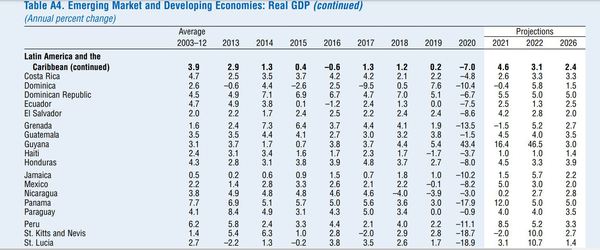 According to the Fund's April 2021 report, the Maldives is projected to see the third highest growth pegged at 18.9 percent while Macao SAR is estimated to reach 61 percent, the second largest growth projection. Libya holds the highest estimate with 131 percent.
It should be noted that Guyana's GDP had grown to 43.3 percent in 2020 thanks to the oil sector but the effects of the COVID-19 pandemic saw modest projections being outlined for this year. The PPP/C Government is hopeful that GDP will actually reach 20.9 percent for 2021.
With respect to global growth, the IMF said this is expected to moderate to 3.3 percent over the medium term—reflecting projected damage to supply potential and forces that predate the pandemic, including aging-related slower labor force growth in advanced economies and some emerging market economies.
Thanks to unprecedented policy response, the financial institution said the COVID-19 recession is likely to leave smaller scars than the 2008 global financial crisis. It noted however that emerging market economies and low-income developing countries have been hit harder and are expected to suffer more significant medium-term losses.